A complete guide to Vufold French door ranges
---
If you are considering replacing your old patio doors with a new French door set, you will want to consider a number of different door ranges from manufacturers. This will allow you to compare key details such as the material of the door frames, glazing, size options and energy efficiency, so that you can be sure the range you eventually purchase is definitely the right one for you.
At Vufold, we have four French door ranges. Our Master and Elite doors are wooden, whereas the Status and Supreme ranges are made from aluminium. All of our French patio doors are designed to complement our external bifold doors of the same name. We offer a number of sizes and configuration options, and all of our French door ranges feature low E argon-filled glazing units which use toughened tempered safety glass.
Additionally, all Vufold French doors are provided with a five-point lock system on the main access door that passes PAS24 and BS6375 security standards.
This guide provides more detail on Vufold's French door ranges, to help you understand which may be more suitable for you and your property.
---
---
Master French doors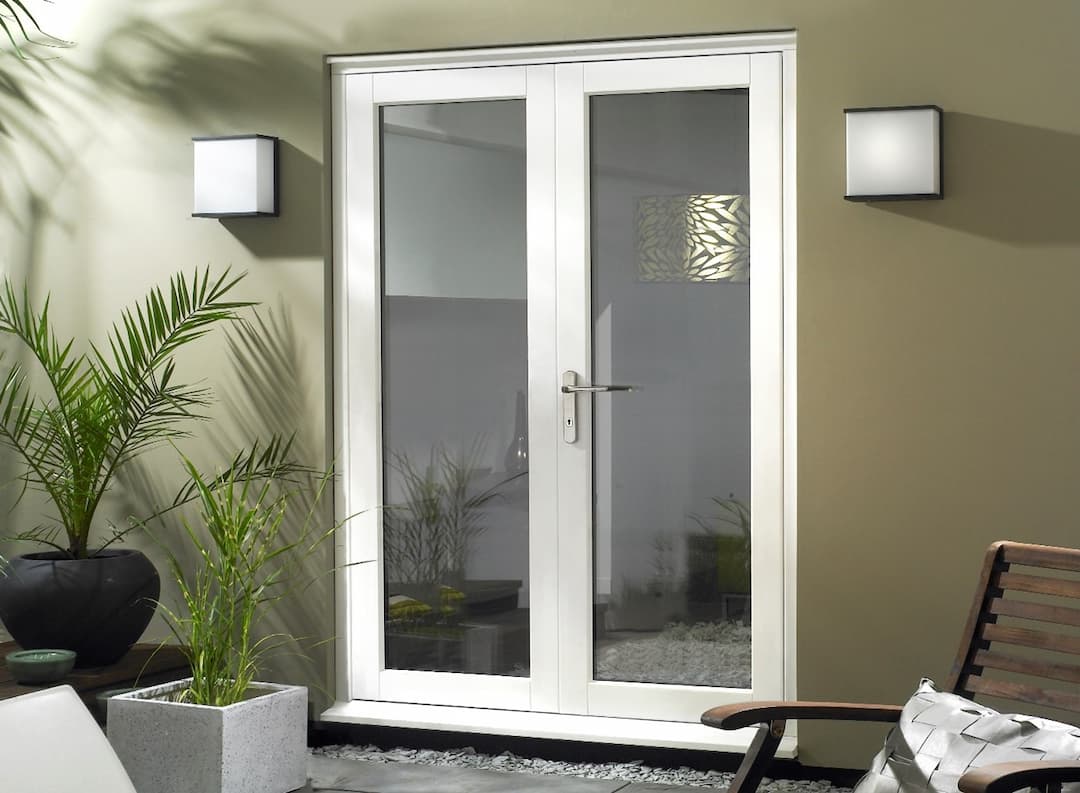 ---
Our engineered hardwood Master doors feature a high-quality construction designed to prevent the doors from warping and twisting. The strength and durability of these doors ensure they won't deteriorate the way softwood doors often do.
They are available fully factory-finished in contemporary grey or white, using the same three-layer microporous system as all of our doors. Master doors are 54mm thick and are available in three sizes: 1.2m; 1.5m; or 1.8m. They are designed for outward opening.
They are the most affordable French Vufold door range but don't compromise cost for performance or style.
See our whole Master range of French doors, or read our guide for more information.
---
Elite French doors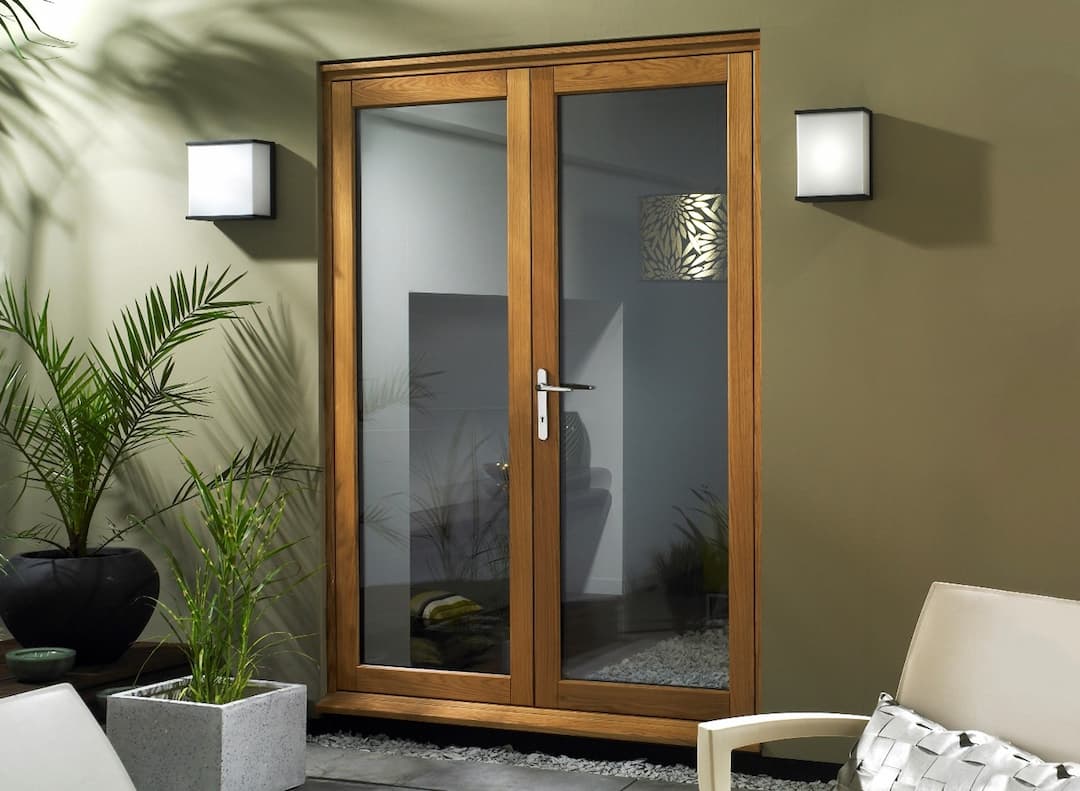 ---
Elite French doors are also constructed from engineered hardwood, but unlike Master doors have a 3mm real oak veneer. This achieves a more natural timber look that would suit any type of property and never fall out of fashion. However, this means they are only available in one colour, though many customers appreciate this simplicity and minimalism.
These doors come with full-thickness, 24mm, low-E toughened tempered safety glass using double glazing units as standard. This provides high levels of security and a glass U-value of 1.1W/m2K for excellent thermal efficiency.
All Elite doors are 2.1m in height, are designed to open outwards and come with zinc alloy hardware and chrome or graphite handles.
See all of our Elite French doors, or read our guide to learn how the range compares to our other external doors.
---
Status French doors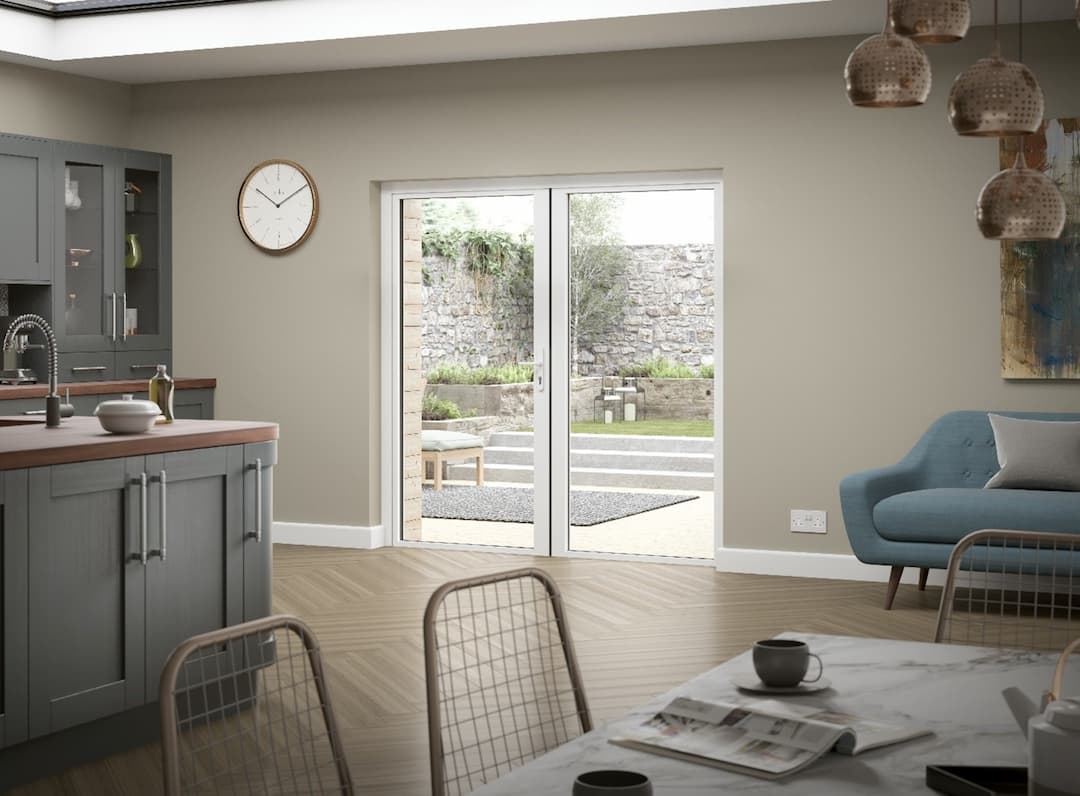 ---
Vufold's Status French doors are constructed from premium aluminium. They feature a polyamide thermal break between the aluminium sections, which reduces the transfer of heat from the inside and outside.
These doors are offered with double or triple glazing. The double-glazed option achieves an overall door set U-value of 1.8W/m2K, and the triple-glazed option offers 1.4W/m2K.
Status doors boast very slim sightlines which, because of the strength of the construction, don't compromise on performance. The powder-coating finish in a number of RAL colour choices is extremely easy to maintain and comes with a 15-year guarantee for doors installed at least 800mm from the sea.
We also offer different opening options with Status doors, including inwards or outwards and left or right. You can also upgrade your French external door system to include a bottom track with a cill, which will help to drain water away from the face of the brickwork.
View the Status range, or read our guide for more detailed information if you are considering these external doors for your home.
---
Supreme French doors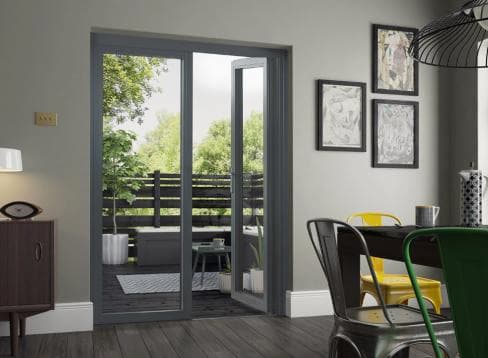 ---
Supreme is our most premium French door range and these sets are made-to-order. Made from a premium aluminium construction, they have been designed with the specific needs of UK homeowners in mind.
These doors are fully weather-tested and are thermally broken for added insulating properties within the doors themselves. This offers excellent energy efficiency, durability, robustness and resistance to the elements.
Like the Status range, Supreme French doors are offered with double-glazed units as standard but can be upgraded to feature triple glazing. Double-glazed Supreme doors have an overall door set U-value of 1.7W/m2k, and triple-glazed doors have a value of 1.5W/m2k.
Supreme doors are available in black, grey and white. All doors are 2.1m in height, and there are two width options: 1.5m or 1.8m. Every Supreme aluminium door set comes with all door furniture included, such as brushed metallic handles, and can be upgraded to be fitted with blinds.
View all of the Vufold Supreme range of French doors, or head over to our guide for more information.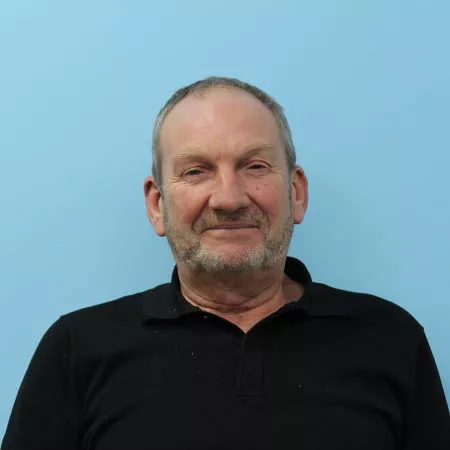 About John Collins
John has built Vufold into a unique online door and window company and has spent 20 years bringing innovative products and designs to fruition, recognising niches in the market and placing them in the likes of Wickes and Travis Perkins, he started Vufold in order to sell them directly. John founded Vufold and has amassed a wealth of experience in product design and development, and in particular timber-based products
Read more about John Collins