Oak bifold doors: benefits, considerations and finishes
Oak bifold doors combine beautiful aesthetics with practicality and durability. In this guide, you will find information on the benefits, costs and finishes of oak bifold doors.
In this guide:
Benefits of oak bifold doors
Internal and external oak bifold doors
Finished vs unfinished Oak
Benefits of oak bifold doors
Thermal efficiency –– Oak bifold doors are energy efficient due to the denseness of the wood. Oak bifold doors help trap heat during the cold winters, which can help keep your energy prices down
Timeless style –– Oak is a popular type of wood and compliments many different types of furnishings including wooden floors, tables, chairs and cupboards. The natural wooden tones mean that no matter your home's decoration, oak doors are a fantastic option
Durable and long lasting –– Doors should be an investment and they should last you a long time. Oak doors are solid and incredibly durable, which is why Vufold offer up to a 15-year guarantee on some of their oak bifold doors
Environmentally friendly –– Oak is a natural material and requires less manufacturing compared to synthetic materials. Less manufacturing means less harmful carbon dioxide. Vufold's oak doors only come from responsibly sourced locations and compliant with environmental, health and safety protection requirements
Sound absorption –– Oak is not only excellent for thermal efficiency but sound absorption too
Oak veneer vs solid wood
When researching oak bifold doors, you will find two terms that are frequently used: oak veneer and solid wood. These terms reference the way the doors were made.
Oak veneer
Veneer is created by gluing layers of wood veneers together over an engineered core. Veneer is one of the most popular types of oak door because:
Veneer is less likely to warp when applied over an engineered core (ensuring durability)
Veneer is a sustainable material due to the amount of veneer that can be created from a single block of wood
Veneer is beautiful with a range of styles to choose from
Solid wood
As the name suggests, solid wood doors are made from a solid wood slab. Solid wood doors are a viable option but can be more costly. They are also more likely to expand and contract due to varying temperatures and exposure to moisture.
Costs
The benefits mentioned above mean that oak is not the cheapest material available. However, Oak is an investment. Cheaper materials risk poorer quality doors, higher chances of damage and reduced longevity.
The table below showcases the prices for aluminium, oak and uPVC bifold doors. Oak sits comfortably as a mid-range material that doesn't sacrifice quality for price.
Costs: aluminium, oak, uPVC
Aluminium

Oak (Finished)

UPVC*

1.8 Metres

£1849

(2 door)

£1699

(3 door)

*£1249

(3 door)

2.4 Metres

£2649

(3 door)

£1999

(3 door)

*£1499

(3 door)

3.0 Metres

£2749

(3 door)

£2629

(4 door)

*£1749

(4 door)

3.6 Metres

£3449

(4 door)

£3199

(5 door)

*£1999

(4 door)
*Based on average prices. Vufold do not stock uPVC bifold doors.
Internal and external oak bifold doors
Internal and external bifold doors require different considerations. For example, weatherproofing needs to be considered for external doors but not internal doors.
In this section, you will find considerations you need to make depending on whether you are choosing an oak internal bifold door or oak external bifold door.
Considerations for internal oak bifold doors
Key considerations:
Access
How much you intend to use your internal bifold door will dictate whether you need a daily access door (also known as a lead door or traffic door). A traffic door acts as a traditional door that opens without having to operate the entire bifolding door.
If you are installing an internal bifold door in a location with high footfall, you should look at purchasing a bifold with a lead door. The Vufold inspire range is available with two, three or four doors (depending on the size). The three and four door versions include a central opening door which offers daily access.
Space and stacking
The amount of space a room has will dictate which direction and side the bifold door should open. Your bifold door should open into the room with the most space.
Internal bifold doors can open towards or away from you. This can be decided before fitting but cannot be changed after, so ensure you take the time to plan.
For a standard 3-door bifold, such as Finesse or Edge ranges, you need to choose which side your door will stack – left or right. This can also be chosen prior to installation but not after. You can use the diagram below to see some examples of bifold door stacking.
You can also find four door systems which utilise an access door along with three leaves which operate like a standard three door system.
Space saver: Vufold Inspire
The Vufold Inspire range utilises a brand-new design to help save space. Unlike standard bifold doors, the Inspire range opens centrally and fold 180 degrees against the wall on either side (except on a two door version). This maximises the size of the opening itself and minimises the stacking size. A lead door is provided for easy access.
The Vufold Inspire range is perfect for houses where space is an issue. You can find out more by visiting the Vufold Inspire product page.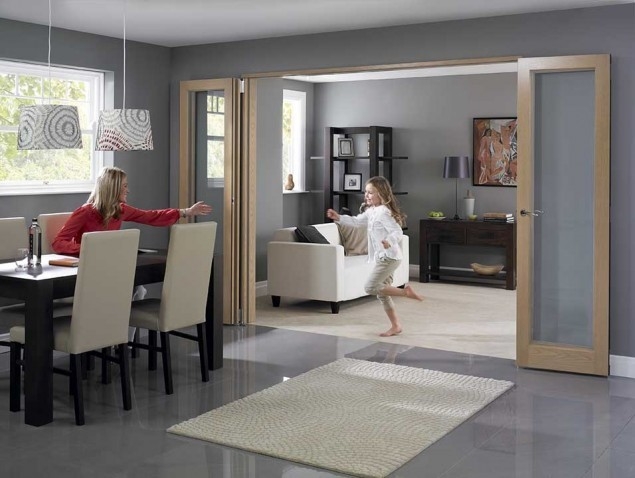 Finishes
Vufold's oak doors are available in two styles:
Unfinished oak – this allows you to add your own finish including stains, varnish or paint. This is available for both external and internal bifold doors
Finished oak – this is only available for external bifold doors
Internal bifold doors can use clear finishes as they will not require protection from UV rays. They will need refinishing every few years to ensure durability.
You can find out more about finishes including a comparison between finished or unfinished oak in our section below.
Best oak internal bifold door: Edge
The Vufold Edge range offers a stylish contemporary look to your room, utilising four glass panes of toughened safety glass. The Edge range combines specially designed hardware with a top-hung system for smooth operation.
The top hung system means that the Edge can be installed with or without a threshold (also known as trackless) which creates a seamless transition between rooms. Trackless systems are perfect if you are looking for a seamless transition between rooms. A track system is better for stability.
Prices start from £1,039.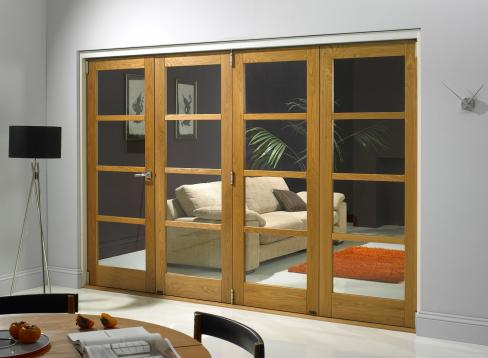 Considerations of external oak bifold doors
Key considerations:
Thermal efficiency
Ensuring your bifold door is thermally efficient is incredibly important. Thermal efficiency keeps your rooms cool in the summer and warm in the winter. A thermally efficient bifold door does this by trapping heat whilst allowing some ventilation. A thermally efficient bifold door is also known as energy efficient, this is because it requires lessenergy to keep your rooms hot/cool - saving you money.
To ensure your bifold door is energy efficient, you need to check it's overall U-value.
What is the U-value?
The U-value is the measurement of material insulation effectiveness. The lower the U-value, the better the insulation of a material.
What is the overall U-value?
Bifold doors have two U-values for each major component:
The overall U-value is worked out by combining the U-value of both components. The U-value of the glass is generally better than the frame due to thermal breaks installed in the glass. It's important to ask for the overall U-value, not just that of the glass.
According to building regulations for existing dwellings, the overall U-value should be 1.8 W/m2K or less.
Glazing
Glazing is important for external bifold doors due to their ability to improve the overall U-value. There are three types of glazing available:
Single glazed –– mostly found on listed buildings, consisting of a single pane of glass
Double glazed –– the most common type of glazing, taking two glass panes and separating them with a spacer bar
Triple glazed –– uses the same technology as double glazed but adds an extra layer for further thermal insulation
You are very unlikely to find any single glazed bifold doors unless they are specially made. You should try to install double or triple glazing to ensure thermal efficiency.
Security
Keeping your house secure will be high on your priority list. Bifold doors offer excellent security features without sacrificing aesthetics. These features include:
Locks
A high quality lock ensures a top level of security. Vufold recommends multipoint locks. A multipoint lock uses multiple types of locking mechanisms for extra stability and security. They are an excellent choice for any security conscious buyer, offering three times the level of security offered by standard deadbolt or mortice locks.
Vufold supplies door handles that fit a Vectis type locking system. Vectis type locking systems are safe and secure due to their high security specifications.
Glass
All external bifold doors should use glass that is safe and secure without being detrimental to quality. Most external bifold doors come installed with one of two types of glass:
Tempered (toughened) glass –– is 4 to 5 times stronger than standard glass, created by heating and cooling standard glass in a tempering furnace
Laminated glass –– does not shatter when impacted, created using 2 pieces of glass with a vinyl layer sandwiched between them
UV protection
External doors that are exposed to the sun's rays will eventually become damaged. The best way to protect your oak bifold door is by purchasing a tinted finish. It will be able to protect from UV damage for many years, with regular maintenance.
Best oak external bifold door: Elite
The Vufold Elite range offers the slimmest door stiles on the market, offering a greater glass area for greater views. The Elite bifold door range boasts strength, durability and reliability. A combination of stunning aesthetics and finger-tip operation cements the Elite as one of the best external bifold doors available.
The Elite is pre-finished with three coats of microporous factory-applied finish for maximum UV protection. Its glass is double-glazed toughened tempered safety glass for excellent thermal efficiency.
Prices start from £1,399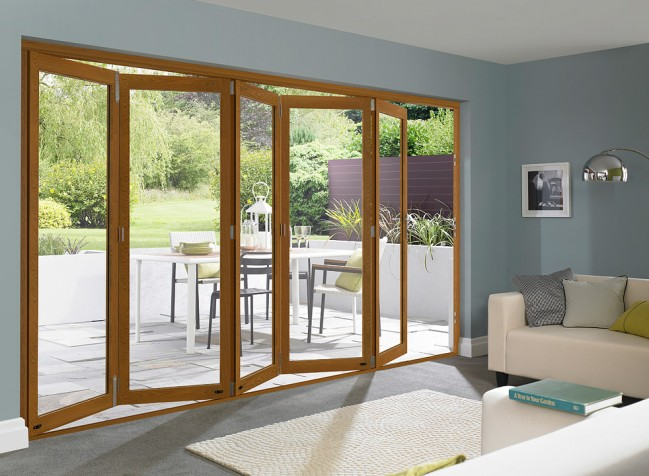 Factory finished or Unfinished Oak?
When purchasing oak bifold doors, you will need to make a decision between purchasing a factory finish or not. Both choices have their benefits and drawbacks. In this section, you will find further information
Finished Wooden Bifolds
A finished door is one that comes ready for installation. It is already fully finished and sealed ensuring minimal effort during installation.
These kinds of bifold doors are manufactured to specific standards by using cutting-edge equipment and techniques that are far beyond what you can afford to do at home. Factory conditions ensure your doors arrive in an optimum state, with less risk of accidental damage or contact with moisture prior to finishing.
Vufolds factory finished doors are painted and stained to the highest quality. The doors are also provided with all frames, tracks and hinge positions pre-cut to size, along with all hardware and fixings; ready for simple onsite assembly.
Unfinished Wooden Bifolds
An unfinished door is designed to be finished either by you or your installation team.
If you have a particular finish or colour you are looking to paint your door in, an unfinished door will be your best choice.
Vufold's unfinished oak doors are also pre-cut to size, all hardware supplied, and ready to assemble.
The downside to unfinished doors is that they require application of several coats. This should be done after sanding and cleaning the door. This ensures that your door surface will be smooth and that there's no risk of moisture getting trapped in the wood.
Factory Finished:
| PROS | CONS |
| --- | --- |
| Factory finish conditions are optimum and you have less risk of your doors being exposed to the elements or scratched prior to being fully sealed and varnished. | You cannot influence the final colour as much as you can with a local tradesman. |
| Your warranty with Vufold dictates that the doors are professionally sealed and varnished. | |
| Goes through a rigorous coating progress to strengthen and increase durability. Uses micro-porous finish to allow the timber to breath. | |
Unfinished:
| PROS | CONS |
| --- | --- |
| You get complete control over the final look and finish. | If you make any mistakes during the treatment process, it may invalidate your warranty |
| You can save money on your order especially if your doors are being fitted as part of a wider project, for example, a new extension. | Vufold only recommends using a microporous wood coating system. Your warranty will be invalidated should you not follow these explicit conditions as listed in our owner's manual. Vufold does not recommend the use of a wax or an oil. |
| | You have more risk of damage and/or exposure to the elements before the wood is properly sealed and varnished. |
Related content
Making the case for aluminium bifold doors
Kitchen bifold doors: styles and considerations
Internal bifold doors: materials, tracks, handles installation, finishes and glazing