Kitchen bifold doors: styles and considerations
Bifold doors are an excellent addition to any kitchen. They can brighten rooms, offer views and create a feeling of space. In this guide, you will find information on the benefits of kitchen bifolds, the best types for certain kitchens and some of the considerations you face when purchasing.
In this guide:
Why install bifold doors in the kitchen?
Kitchen bifold doors offer many benefits for the kitchen. Whether you are altering your current kitchen or building a new extension. These include:
More natural light
The more natural light you can get into a room, the better, especially in a kitchen where you may be intensely concentrating on delicate tasks. Bifolds can fill your kitchen with natural light, giving it a bright and airy appearance.
Great views
Kitchen bifolds can allow you to see your garden, decking, patio or beyond in all their beauty. Bifold doors have large panes of glass that can offer unobstructed views. If you have a particularly nice garden or view to show off, bifold doors work perfectly to showcase these features.
The feeling of space
Kitchen bifold doors can give smaller kitchens a much larger look. Removing a wall and replacing it with a bifold creates the feeling of space by bringing in more natural light and offering a view of the garden.
Blending the outdoor and indoor spaces
Bifold doors are incredibly useful in the summer when barbeques and garden parties become popular — opening fully to create a passage of uninterrupted space between the kitchen and the garden.
Kitchen bifold door styles
In this section, you will find the best types of kitchen bifold doors for the most common situations, including the following:
Best kitchen bifold for showcasing the garden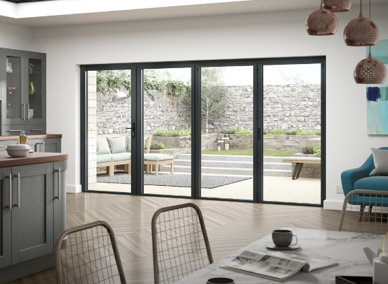 If you want an unobstructed view, you should look for a bifold that has thin sightlines. Sightlines are the frame section between the panes of glass. The thinner the sightlines, the better the view.
The Status aluminium range
Vufold offers the Status aluminium bifold range. The Status aluminium range offers:
slimmer sightlines for a better view
secure multi-point locking systems
energy efficiency and weather testing
15-year guarantee
You can find out more by watching our informational video (right).
Click here to view the full range
Best bifold for large openings
Larger openings require larger bifold doors. Poor-quality large bifold doors can be difficult to operate. Such doors are more likely to get stuck or become difficult to operate. When looking for larger-style doors, you should invest in high-quality bifolds. Higher-quality doors not only promise a smoother sliding operation, they usually also offer wider door panels for a better aesthetic and uninterrupted views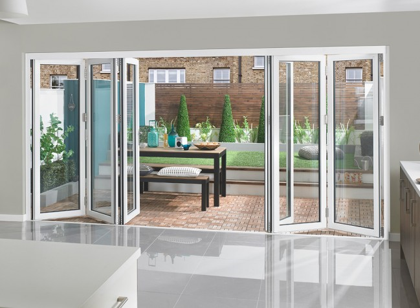 Supreme aluminium range
The supreme range of aluminium bifold doors offers the perfect combination of high-quality aesthetic and operation. This includes a specially designed bottom rolling system. This system is self-cleaning, meaning it provides an effortless opening and closing action without the risk of jamming.
Other benefits include:
fingertip operation
fast and easy installation
energy efficiency
multi-point locking system
You can find out more by watching our informational video (right).
Click here to view the full range
Best bifold door for traditional kitchens
If you have a traditional style kitchen, aluminium bifold doors may not fit the décor. Maybe you live in an older traditional home with strict building regulations that stop you from installing aluminium bifold doors.
Timber bifold doors offer a high level of energy efficiency and security while also showcasing a rustic aesthetic. Timber bifold doors can be stained to the finish of choice, meaning you can personalise your door to suit any décor.
The Elite timber range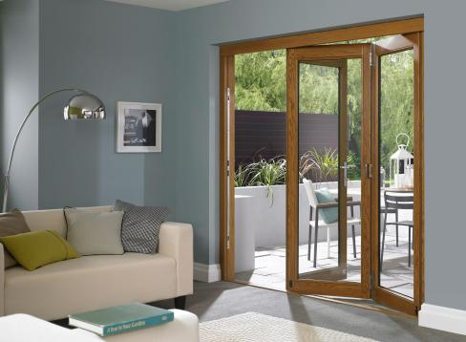 The Vufold Elite range is the perfect kitchen bifold door for traditional homes. These bifolds are available in finished or unfinished oak. The Elite range is affordable without compromising on quality, design or performance.
Other benefits include:
Thermal efficiency – with a U Value of 1.5 W/m
10-year guarantee
Designs built for strength, durability and reliability
Smooth operation
Slim sightlines
You can find out more by watching our informational video (right).
Click here to view the full range
Best bifold door for contemporary style kitchens
Grey and other neutral colours are a popular colour scheme in contemporary kitchens. Grey is a relaxing colour that offers several shades which can be combined to create a monochromatic look. Grey can also hide stains/damage better than brighter-colour walls.
Matching your kitchen bifold door to other parts of your kitchen will create a stylish and unified theme.
The master range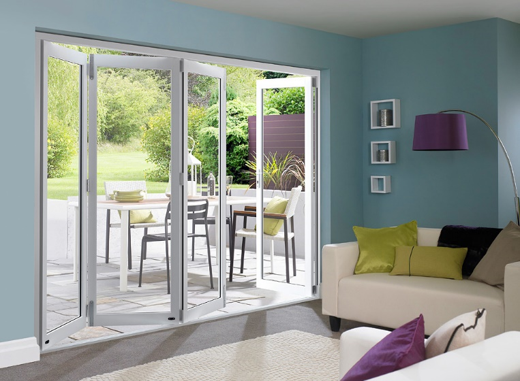 The Master timber range offers the aesthetic of a timber bifold door along with a choice of a grey or white finish. The master combines affordability and quality for a bifold door that will suit any contemporary-style kitchen.
The Master timber range also offers:
excellent Thermal efficiency
easy installation – pre-machined, ready glazed, with drill bits and fixings included
multi-point locking for added security
slim sightlines for a better view
10-year guarantee
You can find out more by watching our informational video (right).
Click here to view the full range
Considerations when buying a kitchen bifold
When purchasing a bifold door for the kitchen, you should consider the following factors to help you decide which type of bifold you to buy:
Energy efficiency
Energy efficiency is important when choosing bifold doors. An energy-efficient door keeps your rooms cool in the summer and warm in the winter. This saves you money and keeps your kitchen properly insulated.
The best way to keep your room insulated is by choosing a bifold door with a low U-value.
What is U-value?
The U-value measures how effectively a material insulates a room. This is obviously important as it will directly impact how much heat is lost from your home.
When checking the U-value of a certain material: the lower the U-value, the better the insulation of a material.
Bifold doors may have two U-values for each major component – the glass U-value and the frame U-value. Generally, the U-value of the glass is better than that of the frame due to glazing and thermal breaks. The two separate U-values are then combined to a single overall U-value.
The current building regulations for new dwellings (approved document L1A) state the overall U-value of a glazed door (bifold) should be 1.4 W/m2 or less. For existing dwellings (approved document 1LB), the value should be 1.8 W/m2K or less. Vufold bifolds have U-values as low as 1.0 W/m2k (Vufold Ultra range).
When is the U-value the most important?
Large openings and extensions require particular attention to U-values:
Large openings — The larger the opening, the more important the U-value.
Extensions — Thinking about multiple bifold doors in a single room? Consider U-values
Both of these examples require particular U-value consideration because of the differences between window/door and brick wall U-values:
The standard modern brick wall has a U-value of 0.8
The regulations for bifold doors are 1.8 W/m2K.
If you are considering an extension with multiple bifold doors in a single room, you will need to think carefully when considering the U-value – as that is a lot of lost thermal energy. You can minimise this by purchasing bifold doors with excellent u-values, thermal breaks or triple glazing.
Glass / glazing
The type of glazing on a set of kitchen bifolds will affect the U-value and therefore the thermal efficiency of the door. There are three types of glazing:
Single glazed
The most basic type of glazing, with just one pane of glass. You mostly find them on listed buildings where double or triple glazing cannot be installed.
Double glazed
Double glazing is the most common type of glazing. It is created by taking two glass panes and separating them with a spacer bar. The gap between the pane traps heat which slows the loss.
Triple glazed
Triple glazing is similar to double and uses the same technology. However, it includes an extra pane for added thermal insulation.
Single vs double vs triple glazing
Type of glazing
Pros
Cons

Single

The cheapest form of glazing

Against building regulations for modern homes
Has a high U-value of around 5.0 W/(m2K) meaning it is a poor insulator

Double

Excellent thermal insulation
Reduces the cost of heating bills
Keeps you cool in the summer

May not be allowed in listed properties

Triple

The best thermally insulated glazing
Will save the most money on heating bills

The most expensive choice of glazing
Sightlines
Sightlines are the non-glass sections of bifold doors — where two panels of the bifold doors meet (also known as the door stiles). Aluminium ensures the thinnest sightlines, allowing you to get the most from a view. This is because aluminium is stronger and therefore can support more glass with less surrounding material.
How many door leafs should a bifold have for the best view?
Sightlines sit between each glass door leaf on a bifold door. The more doors leafs you have, the more sightlines. Because sightlines can impede the view, the general rule of thumb is: the fewer leafs, the better.
However, a balance needs to be considered. While larger doors can offer fewer sightlines, extremely large doors can be harder to operate.
Expert quote: "While large doors have their place, for me, the ideal door width is a metre." - Rick Collins, Director, Vufold
Ventilation
Kitchen ventilation is important to ensure condensation is kept at a minimum. Water vapour (steam) created by boiling liquids will turn into moisture droplets (condensation) as it makes contact with something cool, like a window pane.
It's likely that your kitchen bifold will be the coldest object in the room. If your kitchen has poor ventilation, you may find condensation appearing on your bifold doors
Fortunately, due to building regulations, it is unlikely that new kitchens will suffer from this problem.
However, if you do find condensation on your bifold, you will need to improve ventilation in your kitchen. This includes:
Purchasing an extractor fan above the cooker
Ensuring there is at least one window in your kitchen that you can open
If the bifold door is the only 'window' in the room, ensuring that it has trickle vents (a small opening that allows a small amount of ventilation)
Security
Like other external bifold doors, kitchen bifolds will need to be as secure as possible. You should invest in a good-quality locking system to ensure your home stays secure.
Two of the most common bifold door locks are:
Multipoint lock* — multiple locking mechanisms for added security
Mortice lock – a single point locking system that is embedded into the door for a flush finish
Multipoint vs mortice locks
Type of lock
Pros
Cons

Multi-point

More locking points make it harder to force a door
Offers three times the level of security compared to single deadbolts or mortice locks
Insurance companies favour multi-point locks due to their security.
Vectis multipoint locks* are approved due to their high security specification.

If you don't know how to operate the locking system you may not lock the door properly — although this is unlikely

Mortice

Can be keyed alike (multiple doors can use the same key)
Can be upgraded to higher standard or security

Single point of locking offers less security
Multiple lever systems can be confusing
3-lever systems or less is unlikely to conform to BS3621 meaning it may not be ested against burglar techniques
*Vufold supplies door handles that fit a Vectis type multipoint locking system.
Related content