Vufold vs Howdens: Comparing wooden front doors
If you've lived in your home for a number of years and your front door is showing signs of wear and tear or is no longer performing like it used to, it's probably time to replace it with a new one. While everyone's personal tastes and needs are different, a high-quality door should be strong, secure, stable and resilient, while also keeping out cold and noise.
You might have decided you want a wooden front door but are unsure of where to go and what configurations or options to look for. We understand that seeing pages full of different wooden doors can be confusing, so this guide will provide a thorough comparison of Vufold's Ultimate range and Howdens wooden front doors to help you understand how these products differ. We will also provide some advice for deciding which front door is the best for you.
---
---
Front doors from Vufold and Howdens: Summary
 
Vufold
Howdens
Materials
Cross-laminated hardwood foam (CLPF) core, five-layer cross-grained hardwood sheet, hardwood veneer.
Construction hardwood or oak veneer.
Size range

1981mm x 762mm
1981mm x 838mm
2032mm x 813mm

1981mm x 762mm (H6'6" x W2'6")
1981mm x 838mm (H6'6" x W2'9")
2032mm x 813mm (H6'8" x W2'8")

Available finishes
Fully factory-finished with a wood coating system.
Unfinished.
Door operation
Inwards or outwards when fitted into an existing frame. Ultimate doors and frames are designed to open inwards only.
The doors come with an oak sill which you can have installed to open either outwards or inwards, based on your personal preference.
Installation
Ultimate doors require advanced joinery skills to fit. For this reason, Vufold advises that you hire a skilled professional and expert to install your new door for you.
Trade-only so installed by professionals.
Trimmable?
Specific doors designed to be trimmed by 24mm width and 40mm height for easy door replacement in your existing frames.
Maximum of 5mm from the top, bottom and each side.
Price
From £479.
Contact Howdens for a quote.
Delivery
Delivery provided for most mainland UK postcodes, operating an expert our-man home delivery service within three working days from when the order has been accepted.
Delivery arranged by Howdens depots and dispatched from Monday to Saturday. Dates and times will vary depending on delivery location.
Guarantee
10 years against any manufacturing faults.
A selection of pre-finished doors come with a five-year guarantee.
Bespoke service?
Yes.
No.
---
The main differences between Vufold and Howdens front doors
Howdens are a trade-only service, and although they can delivery directly to domestic properties, you will have to work with a trade professional to get a Howdens door for your home. You can connect with a trade professional at a Howdens depot, but this means that you won't get the direct customer service you do with Vufold.
---
Outer or core materials
Vufold doors are constructed with a CLPF core, five-layer cross-grained hardwood sheet, laminated veneer lumber and hardwood veneer. This makes the Ultimate door incredibly tough and durable with great thermal efficiency. Front doors from Howdens are constructed with dowel and glue and made from hardwood or oak veneer with an MRMDF core.
---
Finished or unfinished
Howdens wooden front doors are unfinished so you can paint, stain or varnish them as you like. This offers an element of personalisation, but also requires more time and money to achieve the final door you want. Vufold's Ultimate range, on the other hand, are fully-factory finished in natural oak or anthracite grey using a microporous finishing system that will still look fresh after years.
---
Guarantees
While Vufold offers a 10-year manufacturers' guarantee, Howdens doesn't. Instead, they offer a five-year guarantee on some products and will replace your doors free of charge if there's a defect in the raw materials or with the manufacturing.
---
What to consider when choosing between Vufold and Howdens front doors
Accessories and extras
In addition to the door itself, you should consider whether the door you want is a complete set you can install all at once or if you can choose the accessories yourself as optional extras.
Many doors in the Ultimate range are a complete set and include a sidelight, frame, sill, weather seals, fitting kit and assembly instructions. Ironmongery such as an insurance-compliant five-lever deadlock and satin nickel night latch are available separately.
Front door furniture such as letterboxes, knockers, handles, locks and bolts are also optional extras from Howdens.
---
Quality of materials
In order to function as an external entry and exit point, your front door should be manufactured from moisture-resistant, warp-proof material that won't deteriorate because of the weather or consistent use. Vufold front doors are made with responsibly-sourced materials and innovative technology that offers excellent efficiency. While Vufold front doors are compliant with Part L of the Building Regulations for energy performance, Howdens are not. Howdens doors are Part M-compliant for access to and use of buildings, but do not feature the same material quality as Vufold doors.
---
Delivery
Because Howdens is a trade-only business, the delivery of their doors depends on where the orders are going to and the trade professionals involved. The availability of their products in their depots, as well as the dates and times for delivery, could also affect delivery directly to your home.
Vufold uses a two-man home delivery service to most UK postcodes and your front door will be with you within three working days of your order being accepted. This means that there is no waiting around or ordering weeks in advance—but if you need to delay your delivery, you can do so at the delivery method section of the checkout on the website.
---
Choosing between Vufold and Howdens front doors
There are so many factors to bear in mind when choosing a new front door, including how the door looks (such as size, material and finish) as well as customer service (delivery and guarantees). Howdens being a trade-only services means you will be connected with a trade professional from start to finish. However, their doors lack the material quality, finish and bespoke service of the Vufold Ultimate range. Our wooden front doors can lower your heating bills due to their excellent thermal performance, and offer unrivalled security, strength and stability.
You can find out more about our Ultimate front door range here, or contact a member of our expert team with any questions or enquiries.
---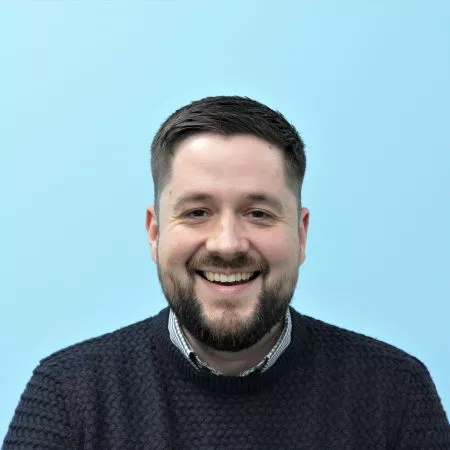 Author:
David Ross - Sales Manager
About David Ross
David has over 20 years' experience in the glazing industry across a variety of roles. He joined Vufold in 2012 and his mission is – 'to make buying windows and doors as easy and stress free as possible'. He is committed to constant improvement and was instrumental in creating our innovative direct-to-consumer e-commerce platform to help grow and expand the business.
Read more about David Ross
---