Understanding standard front door sizes
INSTALLING A NEW FRONT DOOR
---
HOW MUCH DOES IT COST TO INSTALL A FRONT DOOR?
When it comes to installing your new front door, you should also consider the cost of installation alongside the cost of the door by itself.
Think about the following questions:
Does the old door need to be removed professionally?
Are you replacing the door frame too?
Is any customisation required (such as the frame needing to be re-sized)?
Do letterboxes, an additional lock, door knockers or handles need to be installed?
When installing your front door, you should also consider the additional aspects that will likely add to the costs. These include:
Extra finishes – Door finishes include factors such as whether you want a wooden door to be oiled or waxed to give it a more premium finish.
Door furniture – Your front door has many purposes. As well as being the main physical entrance to your house, you will need to think about what features you would like to be added to it to make it more useful.
Custom-made doors – a custom made door is totally unique to you and your specification. As it is made to your own unique requirement, it can be slightly more expensive.
Old door disposal –some companies offer free disposal of your old door in exchange for fitting your new one. Do your research and find out if this is available. If not, you will need to find a business near you that will take old front doors off your hands and how you can get the door to them.
Shop our selection of bespoke front doors here.
---
What front door materials are available for a new front door?
---
Solid wood, uPVC and composite are the three most common materials used for front doors. Solid timber doors are traditional in design, naturally thermally efficient and strong, but they are susceptible to rot and degradation due to weather exposure unless vary carefully maintained.
Here at Vufold, our Ultimate external front doors have a cross-laminated hardwood foam (CLPF) core which offers excellent insulation and strength. This is covered with a five-layer cross-grained hardwood sheet for ultimate durability, and a hardwood veneer that is factory-finished with a microporous coating to provide excellent weather protection.
uPVC doors are affordable and low maintenance, but they are not as durable as other materials and they don't always have the most sophisticated look, particularly for very traditional properties.
A composite door is made up of layers of different types of material that offers the ultimate in strength, durability and thermal efficiency. You can view our range of composite front doors here.
Here's a quick glance at the main differences between wooden and composite front doors:
 

Wooden door

Composite door

Pros

 

Durable
Can be repainted
Natural aesthetic
High quality
Thermal/sound insulation

 

 

Extremely durable
Highly secure
Wide range of colour and style options
Wide range of glazing options
Can be made to look like a wooden door with the benefits of composite doors
Very low maintenance
Excellent thermal/sound insulation

 

Cons

Vulnerable to the elements

More expensive than other types of door

Life expectancy

30 years

Over 35 years

Maintenance

Requires occasional maintenance to stay in good condition

Extremely low maintenance with none required

Cost

Less expensive than composite doors

Most expensive door material

Thermal efficiency

Very good

Excellent

Sound insulation

Very good

Excellent
Learn more about choosing between wooden or composite front doors.
If you'd like to know more about the sizes we have on offer at Vufold or bespoke front doors, please contact our team of experts today.
---
---
Frequently asked questions
CAN YOU REPLACE THE GLASS IN FRONT DOORS?
It is possible to replace a glass panel in a front door. However, in order to maintain the thermal efficiency, strength and security of the original door, you should aim to replace the glazing like-for-like with that of the original.
CAN A FRONT DOOR OPEN OUTWARDS?
Most front doors open inwards. There are several reasons for this. Firstly, it means that the hinge mechanism is located on the inside of the property to make the door more secure. Secondly, it prevents the door from being caught in the wind when opened and potentially causing damage. Thirdly, it is simply easier to answer the door to visitors without the risk of bumping into them with the door.
It is possible to fit an outward opening entrance door if you prefer. If you are purchasing an Ultimate front door to fit into an existing frame, it can be fitted to open inward or outward. However, when you buy an Ultimate front door with our frame kit, the door can only be fitted to open inwards.
HOW WIDE SHOULD MY FRONT DOOR BE?
There is no standardised external door size in the UK. However, the most common door size is 762mm wide and 1981mm high. When measuring for a new front door, keep in mind that the actual size of the aperture will be a little larger than the size of the door itself to account for the door frame.
Related Ranges & Products
---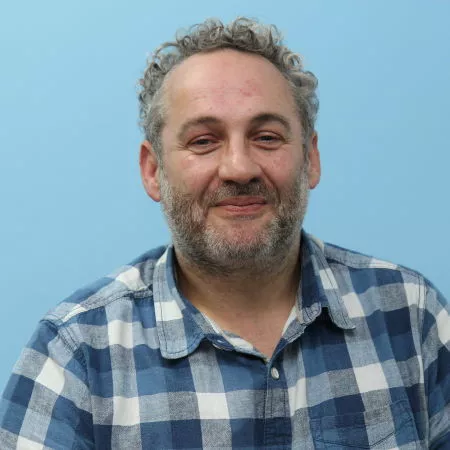 About Richard Collins
Rick is an expert in lean practices and principles, and how they're applied to manufacturing, warehouse, administration and management of the business. As an operations director he oversees all areas of the business ensuring they run as efficiently as possible and has worked his way up through virtually every department since he joined us 13 years ago.
Read more about Richard Collins