Increasing your property value has never been more important, so how can composite front doors help to add value?
Largely due to the rising cost-of-living in recent years, many Brits are now considering how they can boost the value of their home. Many homeowners are improving aspects such as the look of their garden, building home extensions, and even doing minor things such as renovating their loft space. However, another clever way to improve your property value is through upgrading the front door and opting for a durable, secure front door material. As discussed in an article by The Telegraph, refurbishing your front door can also be one of the most cost-effective ways to increase the value of your property.
A front door can say a lot about a home and its owner, and it is also often the first thing people notice when entering your home. Interior designer, Karen Howes, states, "The front door can say so much about the owner: it can be relaxed and welcoming or more formal".
Why is it important to increase the value of your home?
Due to the unpredictable housing market in the UK, it is wise to consider future-proofing your home. Regardless of whether you are actively looking to sell your home, it is still important to consider the impact of your home improvements on the value of your home to avoid losing potentially significant amounts. The overall condition your home is in can play a huge role in how people perceive your property at first glance, and its overall value. Future buyers may be turned away if your home appears unkept or in poor condition. According to Vufold's recent survey, a third of Brits now notice the condition of a home, along with the style of the home, before other factors such as the garden space:
"What do you notice first about the exterior appearance of a property?"

Choosing a durable front door is one way to improve the overall look and condition of a home, helping you to make a great first impression while increasing the value of your property.
Interestingly, our most recent survey revealed that 75% of people are currently likely to spend more money on a high-quality front door material:
"Are you likely to spend more money on a high-quality front door material?"

Why can investing in composite front doors help to improve the overall value of your property?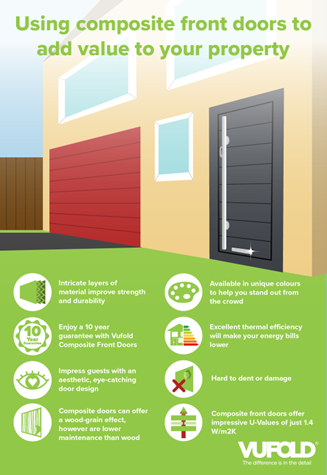 Energy efficiency is a hot topic when it comes to home improvement
Composite front doors offer a host of advantages. However, a popular topic in recent years in increasing energy efficiency in the home, with the government taking steps to increase energy efficiency in properties in the UK. At Vufold, our composite front doors are made from a uPVC galvanised steel outer frame and a timber sub-frame filled with high-density polyurethane foam. This composite material is then overlaid with glass-reinforced fibre to create a strong, grained surface. These materials create a door that is sturdy, durable, and aesthetically pleasing.
Our composite doors offer incredible thermal efficiency, maintaining a stable indoor temperature regardless of external weather conditions. This enhanced insulation leads to lower energy bills, as air conditioning or heating units will not have to be used as frequently to maintain a comfortable temperature. Energy-efficient homes also ultimately have a higher value on the property market, guaranteeing a return on investment. Analysis from Nationwide even found that an energy efficient property rated A or B attracts a premium of 1.7pc compared to a similar property rated D, the most common rating.
Find out more about our composite front door range here.
Outstanding security enhancement
The security enhancement that comes with composite front doors is one of the most significant boosts to property value. Most burglars gain access to a house through the front door, making it imperative that homeowners invest in a strong and dependable entrance. Composite can decrease the chances of a break-in, thanks to their reinforced locking systems, sturdy combination of materials, and options of double and triple glazing.
Are you choosing a composite front door? Read our guide to the different composite front door colours here.
Excellent durability for years to come
When formed together, the materials in composite front doors form an even stronger overall material than their individual components. The doors are designed this way to correct the flaws of singular-material doors to create a more durable, effective composite door.
The external part of a composite door is made from Glass Reinforced Plastic (fibreglass) which can be created in a number of colours and wood effects. At Vufold, our composite front doors also feature a unique LVLF core, giving unrivalled security and durability. Additionally, composite front doors require minimal maintenance and are easy to clean, saving homeowners time and money on repairs and upkeep.
According to our recent survey, over 40% of homeowners now consider durability to be a key priority when looking for a brand-new front door:
"What is your main priority when looking for a new front door?"

Are you looking for a traditional composite front door?
Our pick:
Shop Vufold's traditional composite front door range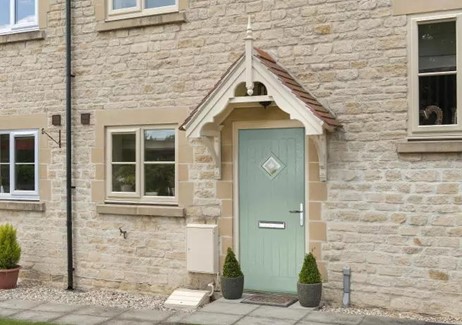 Thermally Efficient - U Value of 1.4 W/m2K (Energy Rating B)
Safe and Secure - PAS 24 in line with Document Q tested
Easy Install - full fitting kit included
Guarantee - 10 Years.
View our traditional composite front door range here.
Ultimately, composite front doors offer a vast range of benefits, including added security, energy efficiency, and durability, which ensures a healthy return on investment.
Available in a huge range of design options and colours
The style and appearance of your front door can impact the overall look and feel of your property, so finding a material which offers a range of different design options is invaluable. The popularity of composite bifold doors is largely due to their versatility and the options available to find the perfect front door to suit your property. At Vufold, our composite front doors are available in both traditional and modern styles, allowing you to pick the right aesthetic for your home. We also offer a range of different colour options, including green and blue, and classic neutrals such as black and white.
Read more about the different composite front door colours here.
So, what should you look for in a high-quality front door supplier?
Choosing a bespoke supplier can allow you to customise your door and choose a design, style and colour that works for you. This is a vital factor to consider when finding a new door. Find out more about the style and colour options of our composite front doors here.
To find the right front door and increase your property value, it is also important to find a supplier that offers doors with excellent thermal efficiency, and reliable security features. You should also consider aspects such as guarantee, and whether the materials used are high-quality and durable.
At Vufold, our quality composite front doors offer exceptional energy-saving performance for thermal efficiency, enhanced security and 10 year guarantee for added peace of mind.
Do you want to find out more about our composite door range? Contact our friendly team today.

RELATED CONTENT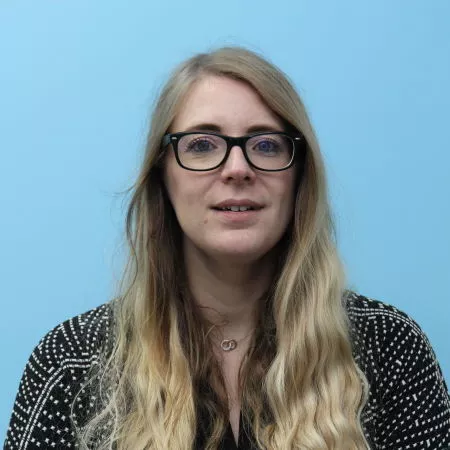 About Amanda Hewer
Having been at Vufold for around 12 years now, Amanda became operations manager after spending time in Customer Service, Sales, Order Processing and our Warehouse. Amanda likes that no two days are ever the same and believes her successful career stems from her keen interest in people, helping them achieve their goals and striving for constant improvement across all departments.
Read more about Amanda Hewer
---