Wooden internal bifold doors: benefits, designs and specifications
Wooden internal bifolds (also known as concertina doors or internal folding doors) are a popular way to give various rooms in your home more light and space. Internal bifolds come in a range of styles and sizes. In this guide, we'll help you decide the best wooden internal bifolds for you.
In this guide:
Benefits of wooden internal bifolds
1. Stylish
Wooden bifold doors utilise modern technological advancements for a contemporary stylish look and feel. They are considered one of the better-looking materials compared to synthetics such as uPVC.
2. Durable, long-lasting and high-quality
Vufold creates high-quality wooden internal bifolds that are designed to last. The company offers a 15-year guarantee on all its bifold doors.
3. Good for the environment
Because wood is a natural material, it requires less manufacturing compared to synthetic materials like uPVC. Less manufacturing means less carbon dioxide, which lowers your carbon footprint. Wooden doors are biodegradable and can be responsibly sourced. All of Vufold's timber door are FSC approved meaning they only use responsibly sourced materials. Vufold are fully CE marked meaning they are compliant with environmental, health and safety protection requirements.
4. Increased light
Classic bifold doors are fitted with glass. When used as a room divider, you are giving sunlight a wider entryway into both rooms.
5. Specifically designed for internal use
Often, internal aluminium and UPVC bifold doors are repurposed external doors fitted inside. This means they are often over-specified, oversized and overpriced. Vufold's timber internal bifolds are specifically designed to be fitted in your home.
6. Increased space
Turn two rooms into one with a sliding bifold partition. For example, you could turn your kitchen and dining room into one large area for parties or social events.
7. Open plan or closed plan
Large open plan spaces can be great for parties but difficult to live with for day-to-day activities. Using internal bifolds as a room divider means that you can have the best of both choose between open-plan or closed plan.
There are several benefits of using internal bifolds to give yourself open and closed plan options. You can find out more by visiting our case studies.
8. Sound absorption
Wood absorbs sounds which can help significantly reduce noise levels for additional comfort.
9. Can be installed without a threshold
Vufold's internal timber bifold doors are either side or top hung, they feature low thresholds that can be easily made to the same level as your flooring. Alternatively, some sizes can even be fitted with no threshold at all giving you seamless flooring throughout.
Wooden internal bifolds—door designs
In this section, we'll look at Vufold's range of internal folding doors. The doors can vary in size, and design, so it's worth taking the time to consider what type of bifold door you require for your home.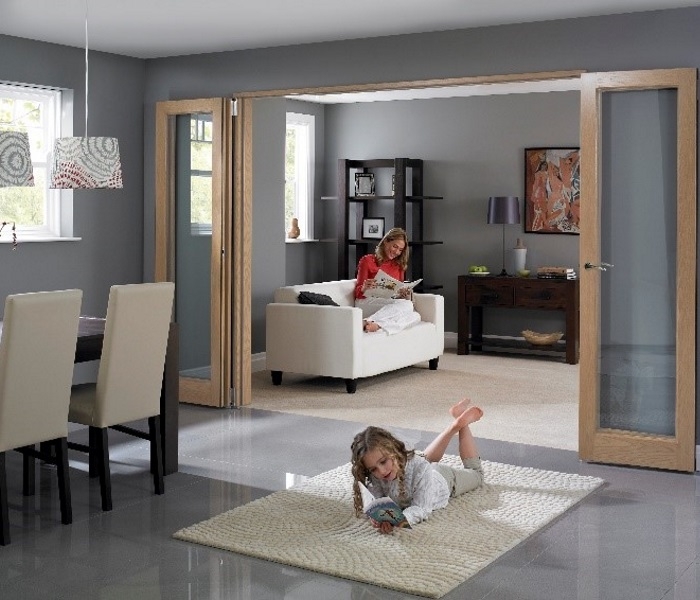 Inspire
Inspire is a brand-new concept in internal bifold doors. Its unique design allows the doors to fold 180 degrees against the wall. This maximises the size of the opening itself as the doors aren't stacked within it, they also don't stick out into the room causing an obstruction.
A Single door can be opened for easy access or by using the simple to operate slide bolts all the doors opened and folded out of the way (see video for example).
Inspire comes in two styles:
Find out more about finishes below.
Quick info: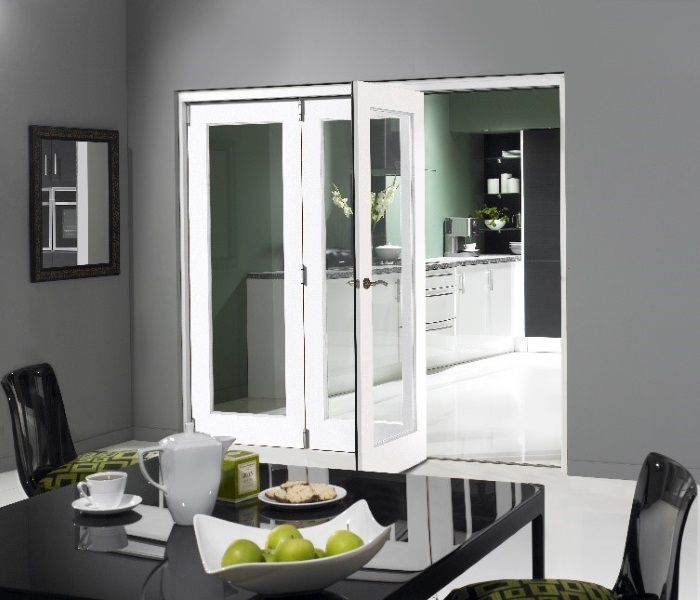 Finesse
Finesse is a stunning range of bifolds that give your living space an elegance that never goes out of style. These large single-pane glass doors can brighten up even the darkest of rooms. They use a top-hung roller system which makes opening and closing the doors completely effortless.
Upon installation, you can choose whether the doors open to the left or right, depending on the layout of your room. There is also a daily access door (see image) that allows easy access between rooms, without having to open the whole set.
Finesse comes in three styles:
Unfinished oak with clear glass
Unfinished oak with frosted glass
White with clear glass
Find out more about finishes below.
Quick info: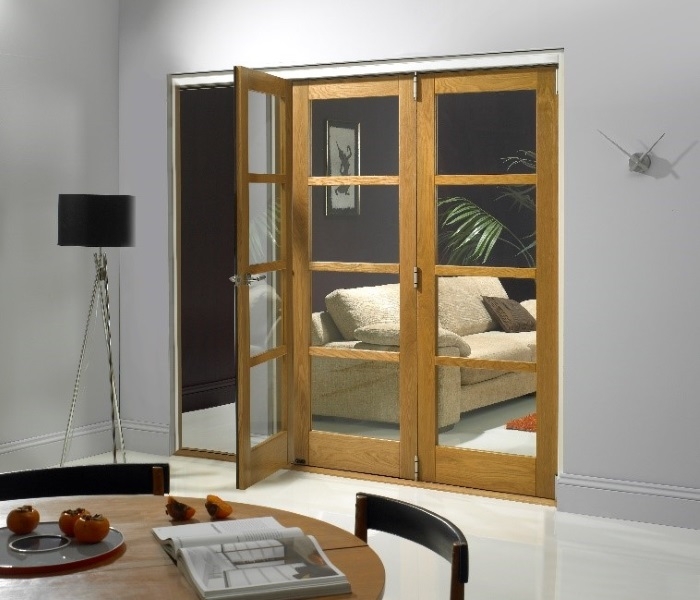 Edge
The Edge bifold range offers a beautiful contemporary look. Use them to combine two rooms into one or divide a large room. The glass panels are made from 4mm-thick clear toughened glass for added safety.
Similar to the Finesse range, Edge uses a top-hung roller system for smooth opening and closing. Some sizes also come with a bottom track offering a natural break between different floorings.
Edge comes in one style:
Find out more about finishes below.
Quick info:
Check out all the different type of wooden internal bifold designs here
Wooden internal bifolds—sizes and specifications
There are several styles of wooden bifolds, so it comes down to a balance between your personal taste and some practical decisions. Your personal taste may dictate the finish and colours while the interior space you have available will decide the doors' width and number of panels.
Width
The width of your bifolds is determined by the wall size and the space available. Vufold makes bifolds with widths ranging from 1.2m (double door) to 3.6m (5 door).
How to measure for bifold doors
You can easily measure your aperture for bifolds in three easy steps:
Measure the width at three separate levels (bottom, middle, top)
Measure the height from top to bottom at three separate places (left, centre, right)
Subtract 10mm from the smallest measurements (to ensure there's enough space to fit the bifold and the frame)
To check whether the aperture is a perfect square, measure the diagonals from corner to corner.
Number of doors
The number of door panels your bifolds require depends on the width of the door opening. The wider the space, the more doors you need. Standard wooden internal bifolds have 2–5 doors. 6+ doors are available for bespoke purchases.
Glass
All Vufold's wooden internal bifolds use single glazed 4mm toughened safety glass. Every pane of glass is compliant with European standards BSEN12150 and BSEN12600.
Made to measure
Vufold sells made-to-measure internal and external bifold doors. If you're looking for something outside of the standard range, you can fill in our custom form and we'll get right back to you. You can also talk to us via the live website chat (bottom right of this page). All you need to do is answer some simple questions and we can give you a quote for a bespoke door in a matter of minutes.
Finishes
Vufold's internal bifold wooden doors come in two finishes:
White— fully factory finished to a very high standard, neutral colour that will suit almost any room
Unfinished oak—allows you to finish the doors however you like. You can stain, varnish or paint them to match furniture, carpets or walls.
Widths and prices
Below is a list of Vufold's standard widths and their approximate prices.
| Width (approx. feet) | Price |
| --- | --- |
| 1.2m (4ft) | From £789 |
| 1.5m (5ft) | From £849 |
| 1.8m (6ft) | From £1,029 |
| 2.1m (7ft) | From £1,109 |
| 2.4m (8ft) | From £1,099 |
| 2.7m (9ft) | From £1,309 |
| 3m (10ft) | From £1,489 |
| 3.6m (12ft) | From £1,849 |
Hardware
Vufold only use the very best hardware manufactured in architectural grade stainless steel. All bearings are custom machined and the wheels are individually precision ground to ensure silky smooth operation. Our hardware has been cycle tested to the equivalent of 40 years opening and closing.
When you purchase from Vufold, all fixings are included
Top and bottom pivots – attached between the pivot door and frames allowing the doors to rotate and pivot outwards as the doors fold up. They are fully adjustable for fine tuning after installation to keep your doors operating perfectly over their life cycle.
Half offset hinges - are used between the pivot and middle door of a bifold. Offset hinges allow the doors to fold together easily.
Intermediate carrier – the roller assembly that glides smoothly along the top track allowing the doors to slide and fold together.
Straight hinge – attaches the access door to the middle door.
Slide bolts – specially made easy to operate slide bolts used to fasten the doors in the closed position.
Tubular mortice latch and keep - is a simple closing device commonly used on internal doors where no lock is needed. The mortice latch is located in the door and the keep Is in the frame.
Installation Bags – contain all the fixings and drill bits that are needed to install Vufold internal bifold doors into your pre-prepared opening.
Seals
Vufold are unique in using seals/gaskets on all our internal bifold doors, we use a combination of rubber O gaskets between the doors and also Q-lon or brush seals around the frames. They help reduce noise transfer between rooms and also prevent annoying light gaps between the doors.
Aluminium vs timber vs uPVC
Most internal (and often external) bifold doors are made from three materials: timber, aluminium or uPVC. Each one has its own pros and cons. In this section, we'll take a quick look at the differences:
Materials

Pros

Cons

Aluminium

Low-maintenance
Durable
Choice of finishes

Costly
Over specified
Oversized
Unlikely to be specifically designed as an internal bifold door
Professional Installation required

Timber

Designed to be an internal bifold door
Versatile appearance with range of finishes and styles
Can be easily installed flush (same level as floor)
Available at a range of price points
DIY Installation

Unfinished doors need to be finished before installation

uPVC

Cheap price
Low-maintenance

Looks cheap
Unlikely to be specifically designed as an internal bifold door
Professional installation required
This is just a brief look at the key differences. If you would like to know more, visit our guide: Internal bifolds—timber vs uPVC vs aluminium bifold doors