What makes a brand trustworthy? | Exploring what modern day consumers look for in a brand
When it comes to buying a product that can be treated as a long-term investment, consumers have more to think about than simply the functionality of the product. In the social networking era, customers' voices have become increasingly authoritative. The impact of the pandemic, the cost-of-living crisis, and an increased focus on sustainability has led to a shift in what homeowners look for in a trustworthy brand. So, what is meant by brand trust, and has this become more important in recent years?
Exploring the meaning of brand trust and why it is important
A recent survey by Vufold asked homeowners to select what they felt was meant by brand trust. The majority of respondents (75%) felt that brand trust meant "The confidence that the brand a buyer purchases from will solve their problems and provide excellent value". Only 25% of respondents felt that brand trust meant "Buying from a brand that is well-established and well-known".
As opposed to simply manufacturing and delivering a product – homeowners now value brands that match their values and key priorities. For example, a customer is now likely to expect a brand to not only provide a functional, quality door – but one that also delivers on reliability and will last throughout the years, putting their focus on product guarantees and quality.
Read our guide to choosing high-security aluminium bifold doors here.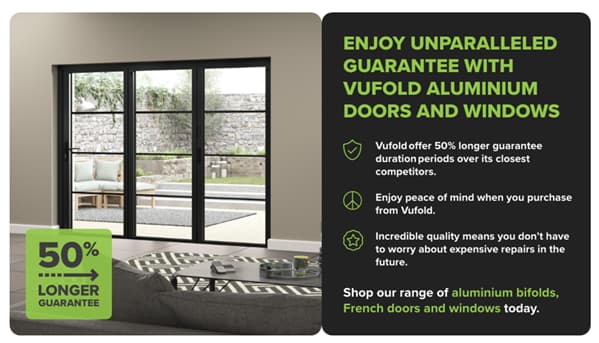 Why is it important to buy from a brand you trust?
If you are future-proofing your home, such as through investing in patio doors to increase property value, it is extremely important to buy from a high-quality brand that you trust. This has many benefits – for example, you will ensure your external bifolds actually improve your energy efficiency rating. Buying from a reputable brand that you trust will also ensure you are provided with durable, quality materials, allowing you to experience the benefits for decades. You are also less likely to experience product faults and require expensive repairs if you do some research into the best brands to purchase from beforehand.
Are you looking to utilise natural light in your home whilst homeworking? Read how to increase natural light through bifold doors here.
Has brand trust become more important since the pandemic?
The COVID-19 pandemic saw an increased number of consumers becoming mindful about the materials used in the manufacturing of certain products, as well as brand ethics and morals. According to one study, 16% of consumers now try to minimise their impact on the environment by buying brands that reflect their beliefs. Vufold's recent survey found that 96% of UK homeowners feel that brand trust has become more important since the COVID-19 pandemic:
"Has your trust in a brand become more critical since the pandemic and cost-of-living crisis?"

One obvious way of finding out whether a brand has a positive reputation is through checking online reviews prior to purchase. Online reviews are extremely helpful in helping consumers to make purchase decisions. So, how many homeowners look at reviews before purchasing a product? Vufold's latest survey found that over 90% of respondents read reviews of the manufacturer before purchasing a product:
"Do you read online reviews before purchasing a product?"

Why are online reviews so important?
A lack of online reviews can make buyers feel an increased level of risk when putting their loyalty into a brand, which makes them less likely to buy. Recent research found that the vast majority of consumers (93%) say online reviews impact their purchasing decisions.
LOOKING FOR A SECURE, MODERN ALUMINIUM BIFOLD DOOR?
SHOP OUR STATUS ALUMINIUM BIFOLD DOOR RANGE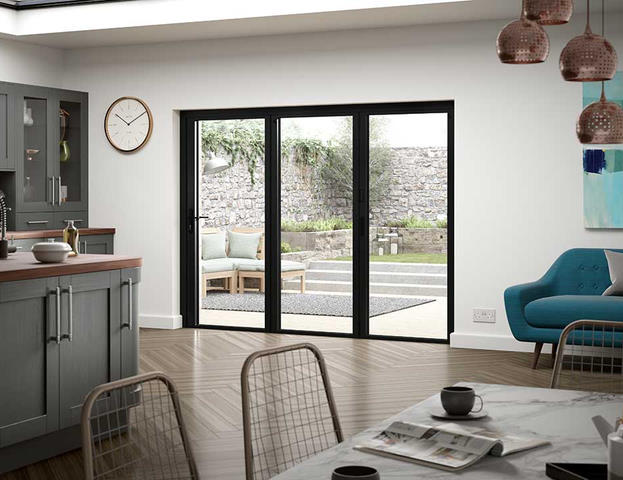 The status range offers excellent performance at affordable prices. The aluminium material and narrow sightlines offer a stylish look for any summer house.
The Status range utilises a sealed outer frame that helps stop debris from falling into the main track. This stops any blockages and ensures smooth operation.
MAIN BENEFITS
Secure multi-point locking system
Energy efficiency and weather tested
Bottom rolling
15-year guarantee.
Click here to view the full Status aluminium bifold door range.
EXPERT QUOTE:
"Aluminium as a material will comfortably outlast uPVC, which has a lifespan of only 20 to 30 years."
Rick Collins, Director, Vufold
What aspects do consumers look for in a trustworthy brand?
Guarantees take the lead
Vufold's recent survey found that 70% of consumers feel that long product guarantees are most likely to increase their trust in a brand or manufacturer. This option was closely followed by positive reviews, and cost transparency.
"More consumers now desire a trusted relationship from companies. Which factor would be most likely to increase your trust in a brand/company?"

What is meant by product guarantees, and why are they so important to consider?
Choosing a patio door brand that offers long guarantees can ensure you are provided with peace of mind that you can use the door as a long-term investment. Bifold doors can be a great asset to your home for years to come, and it is worth investing in a high-quality bifold door supplier to ensure you are provided with an excellent customer service experience. Additionally, you can rest assured knowing the company has a lot of confidence in the quality of their own product.
Vufold's aluminium door and window guarantee offering
Aluminium doesn't corrode and offers excellent durability, allowing Vufold to offer a 15-year guarantee for all aluminium doors and windows. This guarantee is higher than the guarantee offered by many other popular bifold door brands. You can visit our product guarantee page to find out more about the guarantee we offer for our doors.
Below is a comparison of different aluminium bifold door brand guarantees:
| | | | | | | | |
| --- | --- | --- | --- | --- | --- | --- | --- |
|   | Vufold | ATT | Aspire | Vibrantdoors | Climadoor | Just Doors UK | Everest |
| External aluminium bifold door guarantee | 15 years | 10 years | 10 years, subject to correct installation | 10 years | 10 years | 10-year profile guarantee | 10 years |
Visit our product guarantee page to find out more.
What makes aluminium a reliable material for a bifold door?
Known for offering a sleek, modern aesthetic – aluminium has many benefits when it comes to strength and durability. Aluminium is a much more durable option when compared to materials such as uPVC. Bifold doors made from aluminium can provide great strength and security, making them resistant to warping and flexing, ensuring they are secure options to protect houses from burglaries or from suffering damage through bad weather conditions.
Read our guide to choosing high-security bifold doors here.
What else should you look for when finding a brand you can trust?
In addition to excellent product guarantee, you should also consider the following aspects when finding a trustworthy patio door brand:
Look for transparent pricing
If a brand offers transparent pricing on its website, this likely means that they offer competitive pricing. It also allows you to compare the brand with other options to find the best value, providing you with confidence in your purchase. Price transparency can also demonstrate the brand's commitment to open communication.
Positive product reviews
Looking at reviews ahead of purchasing a product provides you with a heads-up and helps you to consider any risk involved in making a purchase. Honest, positive reviews will increase your confidence in a brand, particularly if this is your first time buying from the brand or manufacturer.
Research the materials used
A brand's quality is reflected in the materials they use. Look for high-quality, durable materials, such as aluminium, to ensure you are working with a reliable brand.
Read how you can utilise natural light with bifold doors.
Frequently asked questions
Are aluminium doors better than wooden doors?
Aluminium bifold doors are generally more durable than timber bifold doors and can require less maintenance. However, there are also many benefits to wooden doors. For example, wooden bifold doors are more environmentally friendly than bifold doors and are often less expensive.
Why choose aluminium folding doors?
Bifold doors with an aluminium frame are extremely durable and secure, making them an ideal option if strength is your key priority.
RELATED CONTENT