Replacing regular doors with internal bifolds
If you'd like to maximise the amount of light in your home, want to create more open plan space or have small space you're looking to make the most of, internal bifold doors are the perfect option.
However, if you're looking to replace the regular doors or an old door within your home with an internal bifold door, there are a few important factors to consider.
In this guide:
This section discusses what we mean when we refer to a regular door.
Learn more about replacing your regular internal doors with a bifold and the benefits of doing so.
Find out more about Vufold's Ready-to-Assemble doors.
Read our step-by-step guide on how to replace your regular doors with internal bifolds.
What is meant by a regular door?
A regular door refers to any kind of internal door. Homes in the UK vary considerably in both age and style and, of course, in dimensions. However, the most common internal door size in England and Wales is 1981mm x 762mm x 35mm (also referred to as 2'6").
Even if your current internal doors are not standard sizes, internal bifold doors are available in a range of sizes and can be made-to-measure which makes replacing your internal doors with bifolds simple.
Why replace your regular internal door with a bifold?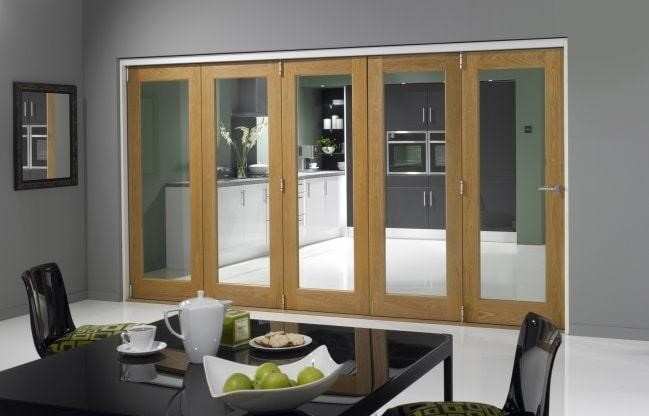 There are a number of reasons to consider replacing your regular door with a folding door:
Connect two rooms
You may want to connect two rooms together but keep the option of screening the space if necessary. As well as practical purposes, there's no denying the spacious feel you get from being able to fold doors back and having beautiful internal bifolds that echo the look of a patio door creates a sense of continuity and flow for your home.
A bifold door can also be used as a closet door to help make the most of the space in your home but provide privacy when needed.
Add more light to a room
You may have a gloomy office or a closet space that would benefit from additional light. Internal bifold doors can help to maximise the amount of light in your home and make the rooms they connect feel brighter, even when the doors are closed. Our Finesse range is perfect for brightening up a space and features clear glass within the door frame in the same way as external bifolds to help maximise the light within your home. On the other hand, our Finesse Frosted range, which features frosted glass, is great for anywhere that requires extra privacy when the doors are closed, such as a closet.
Flexibility
Internal bifolding doors give you real flexibility in how you use your space. You may have a kitchen diner and love open plan living but you may want to close the space off from time to time. Bifold doors let you adapt and alter your space quickly and easily.
Style
Internal bifold doors will add a modern feature to your home and, with a range of colours and styles available, you'll find something to match your home décor. Vufold's range of internal bifold doors is available with an oak, white or custom door frame so there's something to match every style and taste.
Will replacing regular doors with bifolds require masonry work?
When installing bifold doors and replacing a small internal door, some masonry work will be necessary, especially if you're connecting two rooms or hoping to maximise light by reducing the number of internal walls.
Bifold doors are also available in smaller sizes, with some as small as 1.2m wide, so you may be able to minimise the amount of masonry work involved in your project.
Masonry work can be inconvenient and messy. However, one of the key benefits of Vufold's internal bifold doors is that this inconvenience is short lived. All Vufold bifold doors are supplied ready to be built in situ and complete with all the necessary fixtures and fitting, plus step-by-step instructions to make the job straightforward for any competent DIYer.
What are Ready-to-Assemble doors and their benefits?
Ready-to-Assemble door sets come with everything you need for bifold door installation, including hinges, tracks, ironmongery, bifold door hardware, glazing seals and fixings. Well written, easy to follow instructions are also included so, if you're a confident DIYer, you will be able to install the doors without a specialist installation.
What are the benefits of Ready-to-Assemble internal bifolds?
Ready-to-Assemble door kits are fully machined and fully tested which means you can be sure your doors will operate properly once installed. It will also make the installation process much quicker and easier as everything is completely ready for you to install once your doors have been delivered.
The nature of any bifold door is that it will need adjustment over time. Vufold's superior hardware means that this is a simple process, we even supply tools and instructions to make it even easier.
What is included in a Ready-to-Assemble door set?
Vufold includes everything you need to install your new bifold doors, even down the drill bits. Here's what you'll find in your installation kit:
M5 x 70mm screws
Hardened steel direct frame fixings
HDS long drill bit 6.5mm x 148mm
SDS drill bit 6.5mm x 210mm
¼ Hex T30 insert bit
Cover caps (10 brown, 10 white)
HSS drill bit 7mm
M4 x 40mm Screws
Plugs
Spanner
Slotted screwdriver
¼ Hex pozi No.2 insert bit
What tools are required for installation?
Our kits are so comprehensive, you only need basic DIY tools to fit your new doors:
Phillips screwdriver
Tape measure
Spirit level
Drill
Compare this to the chisels, routers, hacksaws, drill bits, screwdrivers, Allen keys and more that you'd need to install doors from many other manufacturers and it's easy to see why a Vufold ready-to-assemble bifold door saves you money and time, as well as minimising frustration.
All you need to do is fit your bifold door hardware and install your doors.
How to replace a regular door with a bifold door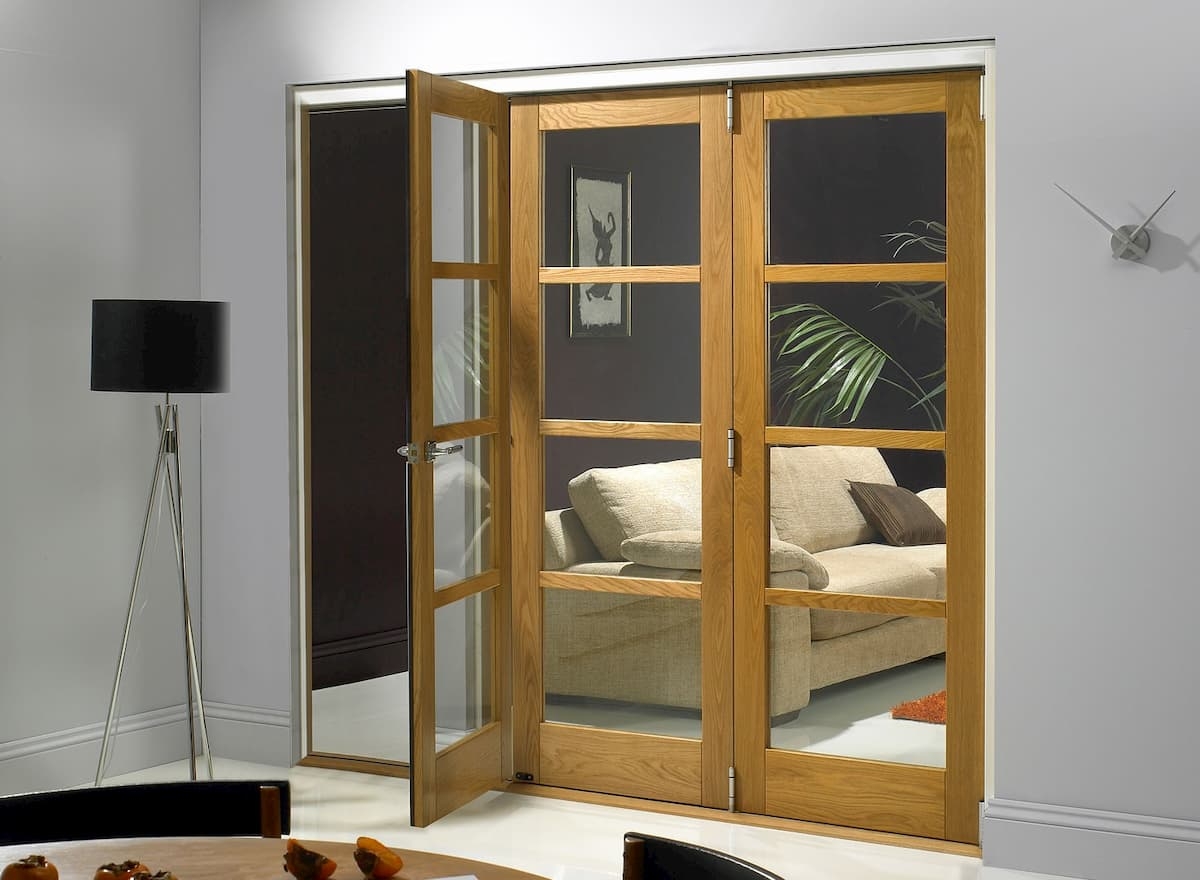 All bifolding doors and standard doors vary a little, so the installation may be slightly different. At Vufold, we've taken particular care to be ensure that our doors are easy to install, so you should find the steps below are universal for all of our door ranges, with the odd minor tweak here or there.
Here's our step-by-step guide:
Step one: Remove the regular door
Remove the pins from the hinges and remove the trim – you'll need a pry bar to do this. You should them remove the centre screws from each hinge using a reciprocating saw. Jiggle the door frame forwards and backwards to loosen it, then remove.
Step two: Measuring the space
This is a crucial step and, even if you have old doors to use as a guide, it's essential to measure the space accurately to make sure your bifold doors fit.
Measure the width at three points – top, middle and bottom
Measure the height at three points – right, left and centre
Subtract 5-10mm from the lowest measurements. This will allow room for both the bifold and frame
Measure diagonals from corner to corner to verify that the opening is square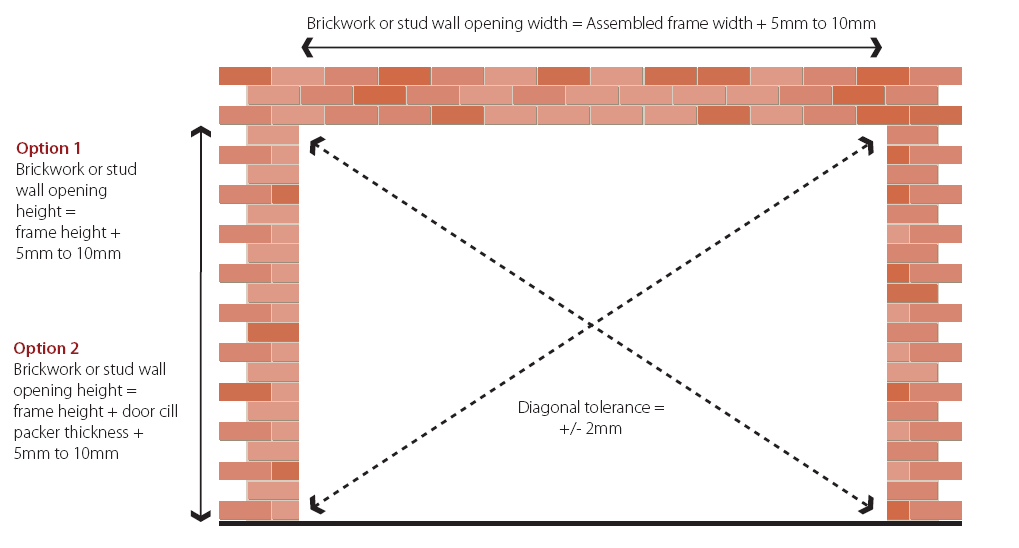 Step three: Masonry work
If you need to remove walls to maximise space and light, then some masonry work will be necessary. This can often impact on the structural integrity of the building, and we recommend that masonry work is carried out by a professional.
Step four: Assemble the bifold frame
All Vufold bifold doors come with detailed instructions for assembly, as well as the necessary sealants, head covers and fixings.
Step five: Fix frame into opening
This is done using the direct frame fixings supplied in your installation kit, and by following the detailed instructions.
Step six: Fix doors and hardware
Top and bottom keeps, magnetic catches and all the other elements of hardware are included in your kit. We've created detailed diagrams as well as step-by-step instructions to follow.
Step seven: Make adjustments
Door sets can be easily adjusted by altering the top and bottom pivots, so you can be sure of smooth operation and that the lock will secure easily. If you're looking for a bifolding door for your home, our team of experts is always on-hand to discuss your needs and let you know more about the options available. Please contact us to find out more.
Vufold reviews
Related content