External French door glazing options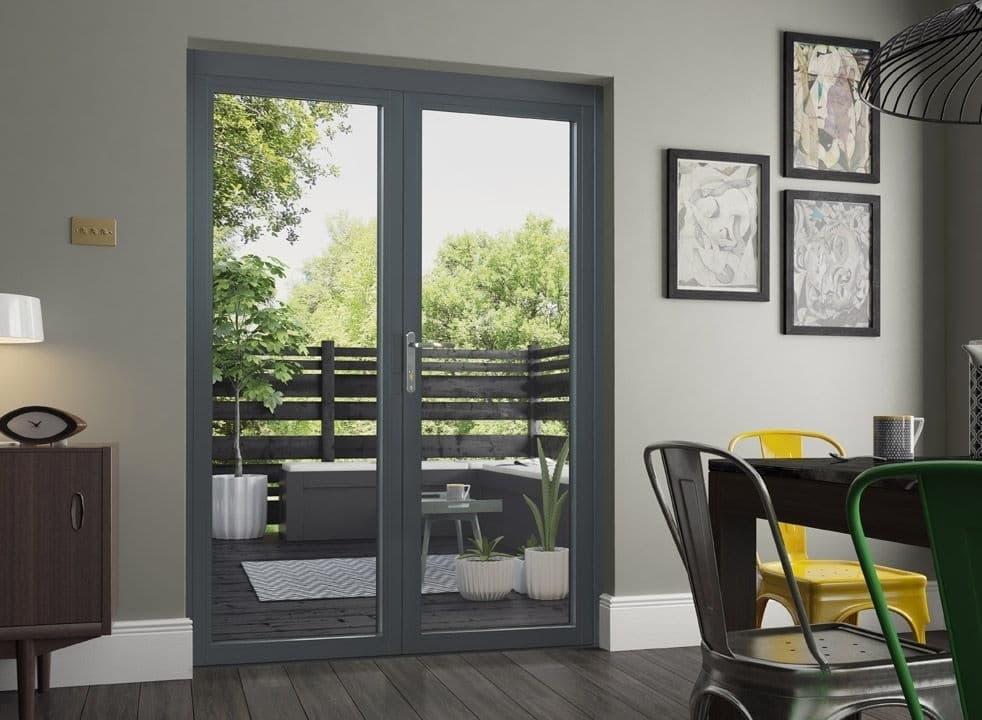 If your existing patio doors are looking tired and outdated, or are maybe letting in draughts, it could be time to consider upgrading to a new French door set. There are lots of things to consider when choosing French doors, so make sure you do your homework beforehand.
As well as thinking about materials, styles, sizes, colours and door furniture, you'll need to weigh up the different glazing options. Since most of the door will consist of a glass window, the glazing option you pick will be one of the most important considerations.
This article will discuss the glazing options for French patio doors to help you understand which type you should opt for.
Why glazing is important for external doors
Glazing refers to the glass installed within the frame of a door or window. The type of glazing you choose for any door is important, but especially so for external doors separating the inside of your home from the outside.
In particular, glazing is essential for external French doors to provide good insulation. By keeping the cold outside and preventing draughts from entering a property, the right glazing choice can offer excellent thermal efficiency. By using double or triple glazing, your doors will reduce heat loss and air leakage. This ensures your home stays warm in the winter and keeps your energy costs down.
The gaps between the glass panes can have an impact on the energy efficiency of glazed French doors. This can be improved when the gaps are filled with an inert gas like argon, as all French doors from Vufold are. When sealed correctly, good glazing can also reduce the levels of condensation that may build up on windows.
As well as reducing air leakage, glazing helps to keep unwanted external medium or high-frequency noise from coming inside. So if you live in a busy or noisy area, paying attention to the type of glazing you choose is especially important.
The type of glazing you choose for your French patio door set will also influence safety and security. Single glazed units are far less secure than double and triple glazing, so are almost never used for external use. Double and triple glazed units using toughened safety glass will provide the robust security you need for your exterior doors.
Depending on where your property is located, and the type of property it is, the glazing you choose may need to adhere to certain standards and regulations. If you live in a conservation area or listed building, for example, you should check with your local planning department before replacing your external doors.
Types of glass used for external doors
As mentioned above, there are different types of glass that you can use for your external door set. Understanding the options available enables you to make the right decision for your exterior French doors.
Toughened safety glass is an especially good and reliable choice if you're looking for glass that is highly durable, robust and secure. This is the type of glass you will find used for Vufold French doors. Toughened glass is heated and cooled to form a very tough outer layer, making it roughly five times stronger than standard glass.
A glazed door from one of Vufold's French door ranges will feature low-E, toughened tempered safety glass. Low-E means one of the internal glass surfaces will have a thin coating of metal oxide to reflect heat back into your home, without blocking natural light.
Some people like the option of frosted glass. This is where the transparent glass becomes opaque through either acid etching or sandblasting. It's a good choice if privacy is a high priority, such as if your property is located on a slope and it could be easy for passers-by to peer in through transparent glass.
Laminated glass is slightly different in that it consists of at least two layers of glass with a plastic interlayer sandwiched between, holding the glass panes together. While laminated glass offers excellent security, it is much thicker and heavier than tempered glass.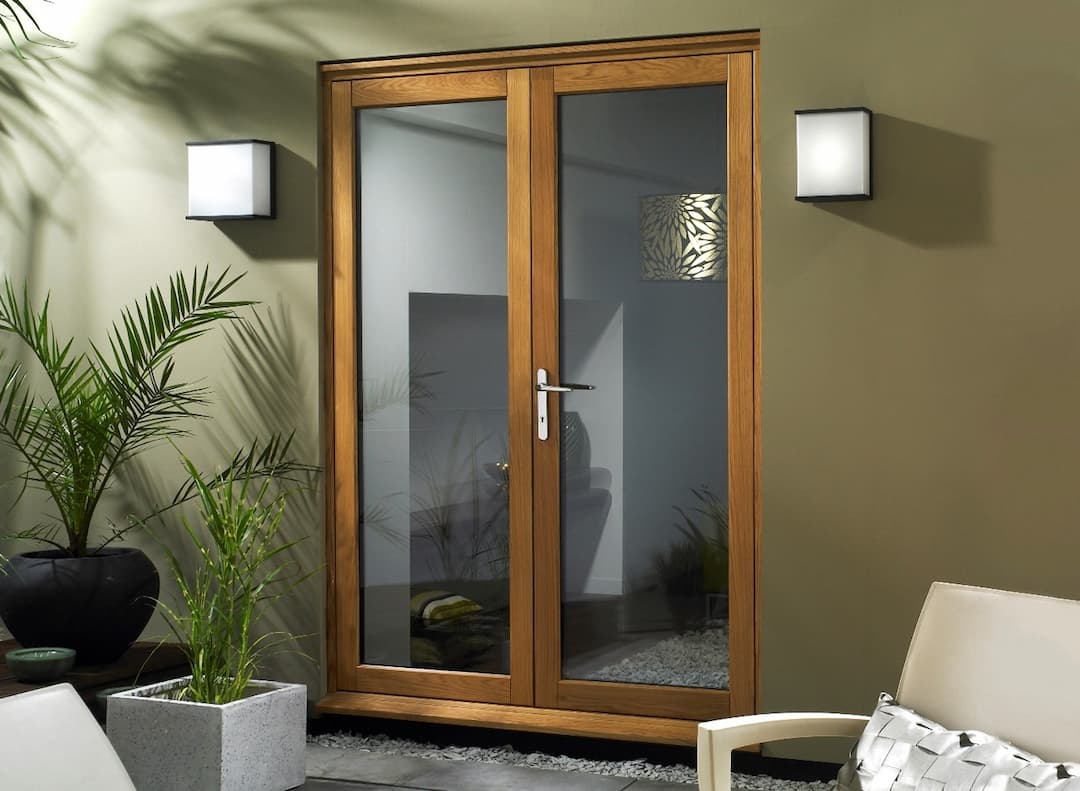 Double glazing is one of the most popular options for external French doors—and for good reason. It's reliable, durable, affordable, aesthetically pleasing and energy-efficient.
Double glazing consists of two panes of glass, separated by a gap. We fill this gap with argon, which is a better insulator than air. Our Master and Elite French door ranges are offered with full-thickness, 24mm low-E double glazing as standard, and our Status and Supreme doors have 28mm units. They have double weather seals to prevent condensation and are compliant with European safety glass standards.
Vufold French doors also incorporate unique manufacturing techniques that allow the glazed units to be factory installed. If you are sourcing your double glazing through an alternative method, you should make sure your units are from a reputable supplier. The seal between the two panes of glass can break down over time and cause condensation, but this is rarely an issue with quality retailers.
Triple glazing
Triple glazing consists of three panes of glass instead of two. Unlike double glazing which has one gap filled with argon gas, triple panes have two gas-filled gaps.
By having an extra pane of glass and gap, triple glazing has higher thermal efficiency and better noise control than double glazing. It's also better at repelling condensation. This makes it a good option if you live in a noisy, damp or cold area.
The main downside of having triple glazing is that it's more expensive than double glazing initially. But, because this kind of glazing boasts superior U-values, it is a worthwhile investment if you are looking for a long-term, energy-efficient solution.
Vufold is pleased to be able to offer triple glazing in our premium Status and Supreme aluminium French door ranges.
If you'd like to find out more about Vufold external French doors and the glazing options available, get in touch today.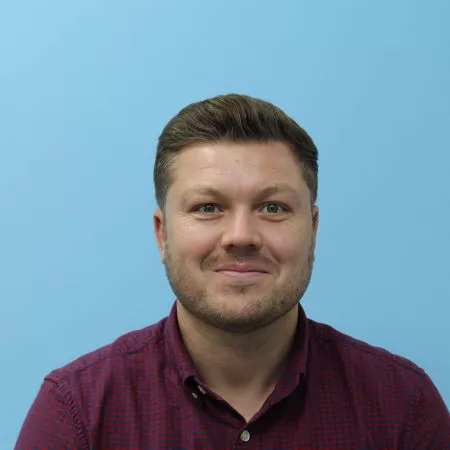 About Martin Burgess
For customers, Martin is one of the key people at Vufold and looks to offer technical advice, resolve any issues or problems that they may have. Martin is passionate about protecting the reputation of Vufold and likes to see a positive impact on the business due to his day-to-day efforts. Martin's proud of the team he's built around him and is dedicated to constantly improving the way the company meets its service commitments and delivers on its promises.
Read more about Martin Burgess