A guide to installing aluminium external bifold doors, and the benefits of choosing aluminium
Aluminium is a durable and reliable material for a bifold door. Available in a range of colours, styles and configurations - our selection of aluminium bifold doors provides an ideal option for every household.
Here, we discuss the key benefits of aluminium bifold doors, how to measure for an opening size and install aluminium bifold doors.
Click on a link to jump to that section:
Find out more about the benefits of choosing aluminium bifold doors.
Read our guide to measuring an opening size for an aluminium bifold door.
Read our tips on installing aluminium bifold doors.
Find out more about the different aluminium folding doors offered by Vufold.
The benefits of aluminium bifold doors
Environmentally friendly
In terms of upfront cost, UPVC is by far the cheapest material on the market, but for many, UPVC has become an unwanted environmental issue. For example – it is highly toxic and is more difficult to recycle than options such as aluminium.
Once recycled, incredibly, the aluminium results in an equally quality aluminium product, and the entire process utilises only about 5% of the energy used to create the initial metal. Even though there are other metals that can be recycled, not many can retain their structural integrity the way aluminium does. Incredibly, 75% of all aluminium ever produced is still in circulation today.
Impressively, recycling prevents up to 90 million tons of CO2 from being released into the atmosphere every year.
Find out more about the benefits of choosing aluminium here.
Durability
Aluminium requires minimal maintenance and upkeep. Given aluminium's innate strength and durability, it makes it resilient against flexing, warping and corroding in differing weather conditions. Aluminium doesn't corrode, and therefore Vufold is able to offer longer product guarantees than we can on our oak /hardwood doors - as long as the doors are not situated close to the sea (see product specification sheets for details), you can enjoy 15 years peace of mind.
Large range of colour options and a powder-coated finish
One of the most enjoyed features of an aluminium bifold door is its beautiful colour and finish, achieved through a powder coating process. Some of the benefits of opting for powder-coated doors include:
Powder-coated surfaces are deemed more resistant to damage that can occur both naturally via the elements or from accidental damage that may show scuffs and scratches on other finish types.
Powder coating colours stay vibrant for longer and generally will avoid the weathered look for longer.
Powder coatings contain no solvents and thus are generally better for the environment than liquid finishes applied to UPVC doors.
Incredible strength
Aluminium is light and strong – and although much heavier than, for example, oak in its raw form, its inherent alloy strength means that it can be supplied in a lightweight frame. This means easy handling at installation and, most importantly, more glass and light for you to enjoy.
How does aluminium compare to steel?
Aluminium weighs 67% less than steel yet carries a lot of its strength properties. This means that it can create lighter and easier-to-operate doors and windows. Aluminium allows for slim sightlines to be achieved for maximised views and can be made in a range of configurations without compromising on performance or security.
Are you looking for an aluminium bifold door? Shop our range of aluminium bifold doors here.
How do you measure your opening size for aluminium external bifold doors?
Before you select your ideal bifold door from Vufold's extensive aluminium bifold doors collection, you will need to measure the opening. If you're unsure on how to do this – don't worry. With a few easy steps, you can successfully determine the door sizes needed for your home:
Step 1: Firstly, use a spirit level to measure the corners of the opening, or aperture.
Step 2: Next, measure the width and height of the opening in millimetres. You will need to take these measurements from each side and from the middle of the opening. The measurements you take will need to be exact, as a few incorrect millimetres can affect the way your doors fit.
Step 3: Once you have the key measurements, subtract 10mm from the smallest measurement you have. This will be the size of your new bifold doors.
Step 4: Check that you will have enough space to fold the doors back once they are installed.
Step 5: Take a look at Vufold's large selection of standard-sized bifold doors. It is important to note that bifold doors have a 10-15mm fitting tolerance, so if your measurements swing outside of the standard sizes by this amount, you may still be able to install a standard-size bifold door.
Step 6: If your measurements still do not match up to any of the standard size doors listed, then you can order a bespoke size specially made for your opening.
If you're ready to choose your new bifolding door or you'd like extra advice on how to measure for your door, please get in touch with one of our expert advisors today.
Installing aluminium bifold doors
After measuring the opening size for your aluminium bifold door, you next need to check the following factors:
Check whether you need planning permission.
Check whether you have the correct measurements.
We recommend double-checking your opening size to ensure you choose the correct door size. If you do not take the correct measurements when ordering your bifold doors or the opening is not quite right, it can be difficult to send them back, especially if they are made-to-measure.
Check the position and size of the lintels in your home.
To fit your bifold doors, follow the below steps:
Prepare the space
Assemble the frame
Choose the opening option
Install the assembled frames
Seal the door frame
Fix the drop bolts and pivot door
Fit the middle doors
Adjust the doors
Fit the locks (if applicable) and handles.
If you are still unsure on how to install bifold doors - all of our bifold doors are supplied with easy-to-follow instructions. They are also supplied ready-to-assemble which means they can be fitted by anyone with competent DIY knowledge. The kits include everything you need for a successful installation, saving you the time and money it takes to find several tools.
If you'd like more details on how to fit your bifold doors, you can read our detailed bifold door installation guide here: How to fit external bifold doors.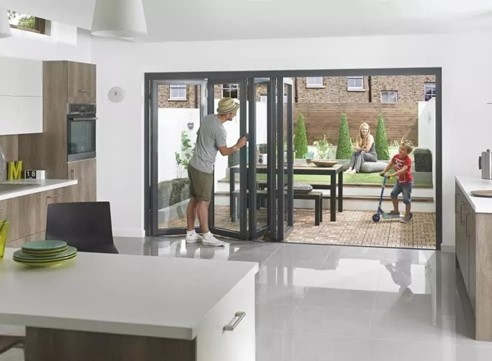 ---
What locks are used on aluminium bifold doors?
All Vufold aluminium bifold doors have multi-point central locking systems that meet PAS24:2012 requirements. Vufold bifold doors also meet Document Q for new builds and change of usage (requires special order).
Additionally, Vufold doors also meet the forthcoming EN14351-1 2006 security standard.
Shop Vufold's aluminium bifold doors
ALUMINIUM - STATUS RANGE
Our Status bifold door range is designed with narrow sightlines, while maintaining durability with maximum security.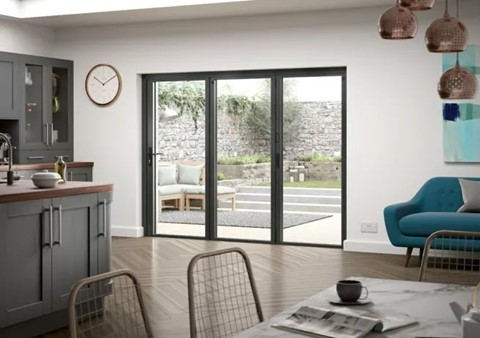 Colours - grey, white, black or grey/white.
Thermally broken aluminium - superior energy efficiency.
Easy install - doors come ready glazed, with drill bits and fixings.
Glazing - double or triple.
Cill options - standard or projecting.
Shop our aluminium bifold doors range today.
ALUMINIUM – URBAN STATUS RANGE
The Urban Status range is our 'Crittall Style' aluminium bifold door. Based on our ever-popular and beautifully engineered Status aluminium bifold door, with its slim sightlines and a low threshold, you really can get that 'Industrial look' project off to a flying start.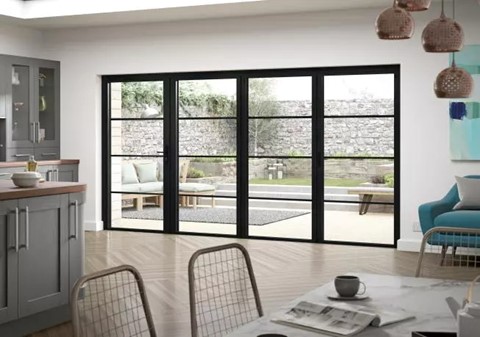 Offers some of the narrowest sightlines on the market.
Has a polyamide thermal break between the aluminium sections to give an impressive thermal efficiency of 1.4 W/m2K.
Colours - anthracite Grey and jet black.
Low weatherproof threshold.
High-tech roller design.
Shop our Urban crittall style bifold doors today.
ALUMINIUM - SUPREME RANGE
The Supreme range is our stunning top-of-the-range aluminium external bi-fold doors. They feature a unique bottom roller system that is self-cleaning, fully adjustable and effortless to operate.
15-year guarantee.
Self-cleaning track - impossible to block the track.
Easy install - doors come ready glazed, with drill bits and fixings.
Self-adjustment - no need for a specialist fitter.
Interlocking doors and frame - complete weather protection.
Thermally broken - superior energy efficiency.
Related content
Are bifold doors easy to install?
How to adjust your external bifold door
Benefits of aluminium bifold doors
---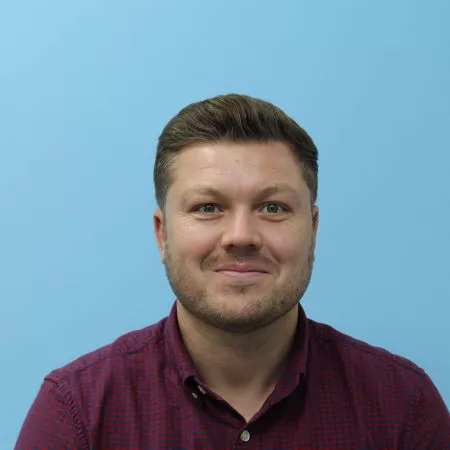 About Martin Burgess
For customers, Martin is one of the key people at Vufold and looks to offer technical advice, resolve any issues or problems that they may have. Martin is passionate about protecting the reputation of Vufold and likes to see a positive impact on the business due to his day-to-day efforts. Martin's proud of the team he's built around him and is dedicated to constantly improving the way the company meets its service commitments and delivers on its promises.
Read more about Martin Burgess