Vufold vs Climadoor: Internal bifolds
---
When buying internal doors for your home, it can be difficult to know where to start to ensure you choose the best option for your needs. Internal bifold doors can be an excellent way to utilise space, increase natural brightness, reduce heating costs and increase the value of your property as well as providing a modern solution for replacing old doors within your home.
Whether you're buying interior doors or an exterior door for your home, there are several suppliers to choose from, and plenty of configurations, designs and finishes to ensure that the door system you receive is right for your space.
Vufold and Climadoor are two popular choices when it comes to internal folding doors so it's important to understand the pros and cons of each. In this guide, we will look at some of the similarities and, crucially, the differences, between Vufold and Climadoors products.
---
In this guide:
An at-a-glance table that showcases the main features to look for in a bifold door and how Vufold and Climadoor compare.
A list of the main similarities between Vufold and Climadoor internal bfiolds.
An explanation of the crucial differences between both brands that can help dictate your decision.
Find out more about the installation of internal bifold doors and how this can affect your decision to buy from either Vufold or Climadoor.
A conclusion on whether you should choose to buy internal bifold doors from Vufold or Climadoor.
---
Internal bifold doors by Vufold and Climadoor: A summary
Feature
Vufold
Climadoor
Material
Oak veneers, hardwood and flaxboard
Oak veneer, MDF, chipboard and softwood
Size Range
1.2m - 3.8m
1.2m - 3.8m
Blinds
Perfect fit blinds offered as optional extra
N/A
Available finishes
Unfinished oak/solid white
Unfinished oak/solid white/primed
Door operation
Top hung
Top hung
Cutting required?

Yes
Frame head may need to be cut to size

Installation bag included?

Yes
Contains all necessary fittings and drill bits required for installation

No
Price range
£789 - £1849
£499 - £1399
Delivery

3 - 5 days
kerbside delivery

Guarantee
15-year guarantee
10-year guarantee
Bespoke service offered?

Yes
Bifold doors can be created to your specifications

No
---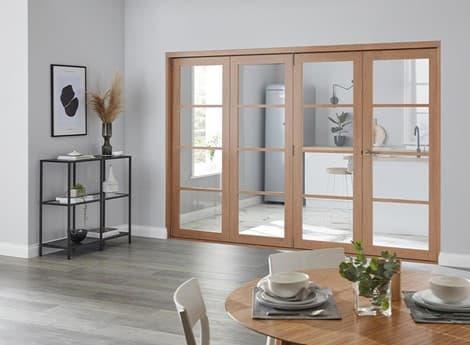 ---
The main similarities between Vufold and Climadoor internal bifold doors
The internal bifolding doors offered by Vufold and Climadoor share some similarities. Both companies offer a wide range of modern and high quality doors suitable for a variety of different interior spaces and home decors.
Some of the key similarities include:
Materials – both Vufold and Climadoor offer timber folding doors. Vufold use oak veneer, hardwood and flaxboard which are all less likely to warp while also being sustainable. Climadoor use oak veneer, chipboard and softwood which can damage more easily and is less stable than other materials. Read more about wood internal bifold doors by clicking here.
Colours – Vufold's wooden internal bifold doors are available in either wood or white so there is something to suit your interior décor and match the other doors or windows within your home. Climadoor's internal wooden bifolds are also available in an oak or white finish.
Glass – both brands offer frosted glass or clear glass depending on your tastes. Frosted glass is perfect for use as a closet door where extra privacy may be required but clear glass will provide more natural light for living areas or when it's used as a room divider.
Sizes – Vufold and Climadoor offer standard UK sizes from 1.2 to 3.8m. However, sizes outside of this range can be offered by Vufold via the bespoke service page. If you're replacing an old door in your home, you will need to know what opening size you want it to fit into before ordering your doors. You can learn more about measuring for your internal bifold doors by reading our guide.
Top hung systems – for easy opening, less maintenance and a sturdy door. Top hung systems offer the choice of having no base track at all so does not disrupt the existing flooring in the room they're being installed into.
Delivery time – both offer a relatively fast delivery time, with Vufold assuring 3-day delivery while Clima offers 3 – 5 days.
---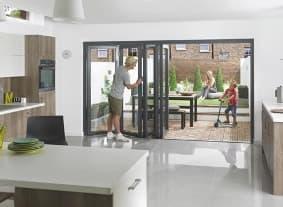 ---
What to consider when choosing between Vufold and Climadoor bifold doors
While both Vufold and Climadoor wooden bifold doors- share some similarities, there are some crucial differences in both features and services offered that distinguish these two companies. These differences can make a real difference to your bifold door experience and should be carefully considered.
---
Blinds
Vufold set themselves apart from Climadoor (who do not offer blinds) by offering perfect fit blinds as an optional extra with their doors and external patio doors. These blinds are specifically designed to fit with Vufold door ranges and allow an extra level of control over lighting and privacy, especially if you decide to opt for a clear glass door. Rolling the blinds up can provide additional natural light when needed but they can be closed for added privacy.
You can find our full range of perfect fit internal bifold blinds by clicking here.
---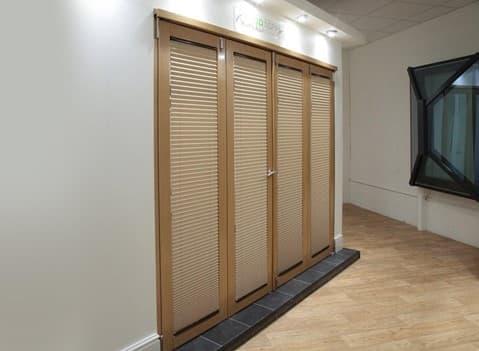 ---
Delivery
Vufold offers a three-day delivery while Climadoor aims for 3 – 5 days. The main difference is that Vufold offers a delivery to the room where you will be fitting the door for easier installation. Climadoor only offers kerbside delivery, meaning they will simply leave the door on the kerb.
---
Guarantees
Climadoor offers a blanket ten-year guarantee against the occurrence of manufacturing faults across all of their doors, both interior and exterior.
Vufold offers up to 15 years guarantee for both internal and external bifold doors. This length of guarantee is hard to find anywhere else.
---
Bespoke service
Only Vufold offer a fully bespoke service to complement their ready-to-buy products. Vufold's bespoke service allows customers to select exactly the size door they need, along with many other custom design choices. Bespoke bifolds can be commissioned as part of a renovation or a new house build. You can find out more about Vufold's bespoke bifold service by clicking here to visit the information page.
---
How are internal bifold doors installed?
There are three main reasons Vufold beats Climadoors when it comes to installation, these include:
Installation bag included
Ready-to-assemble design
Installation tools can be easily sourced
Vufold internal bifold doors come with a handy installation bag as standard. The installation bag contains all of the fixings drill bits required, as well as the Allen keys necessary to adjust their doors. All that is needed to complete the installation are some basic household tools, such as a screwdriver, drill, and spirit level.
Climadoor does not, at present, include a similar package with their doors. While the bifold doors offered by Clima can be installed without cutting the door frame head, unlike Vufold, this is not guaranteed. It is more likely that a bifold supplied by Climadoor will require professional installation and take longer to fit.
---
Ready-to-assemble doors
Vufold doors are all sold in a "ready to assemble" state, meaning they are supplied as a complete package. This ensures dozens of benefits for installation, including:
Everything you need is pre-machined and ready to assemble (inc. door hardware, hinges, tracks and more)
High-quality products that have been rigorously tested
All drill bits and fittings and included in the installation bag (see above)
No specialist tools required
No hidden costs
No delays on sourcing equipment or door hardware
Combined with the installation bag and easy-to-understand instructions mean a capable DIY-er can easily install a Vufold door without the help of professional installation services.
Find out more about ready-to-fit doors by visiting our guide – ready-to-assemble doors: the DIY bifolds for self-installation.
---
Installation tools required
Vufold
Standard bifold

Phillips screwdriver
Tape measure
Spirit level
Drill

Allen keys
Screwdrivers
Drills Spirit
levels
Hacksaw
Chisel
Router
Rubber mallet
Pencil
---
Should you choose Vufold or Climadoor
Both Climadoor and Vufold offer high quality and modern internal bifold doors. Installing a product from either of these companies would be an excellent way to increase the functionality and looks of any interior space or room. The supplier you choose will depend on your needs and what you're looking for from a bifolding door.
However, when comparing the two companies side-by-side, Vufold would appear to hold the greater appeal. More optional extras, an easier installation process that can be accomplished without professional input, a longer guarantee, and the option of a bespoke service, set Vufold apart from other suppliers in the market. So, if you're looking for modern internal bifold doors for your home, Vufold can provide the perfect solution and help to update any room or space.
---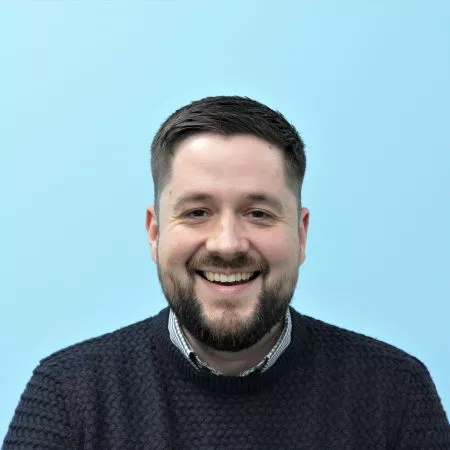 Author:
David Ross - Sales Manager
About David Ross
David has over 20 years' experience in the glazing industry across a variety of roles. He joined Vufold in 2012 and his mission is – 'to make buying windows and doors as easy and stress free as possible'. He is committed to constant improvement and was instrumental in creating our innovative direct-to-consumer e-commerce platform to help grow and expand the business.
Read more about David Ross
---