In short what you should look out for

• Product descriptions misleading - if you read any contradictory information question before buying and fully check your purchased products.
• Softwood or hardwood - for best results choose hardwood materials, we only use engineered hardwood because it's more robust with no chance of warping, bowing or splitting.
• Installation - some companies make installation more difficult by not labelling parts clearly and having too many sections you have to put together before installing. That is why we make sure our installation instructions are simple to follow, with everything labelled and we provide everything you need down to drill bits.
• Finish - check the quality finish of your external timber bifold doors. We use three coats of high build microporous factory applied finish for greater weather element and UV protection.
• Responsibly sourced materials - look for FSC approved products, which all our wooden products have.
• CE marking - check that the products have the correct CE marking, if they don't a building inspector would ask for them to be removed.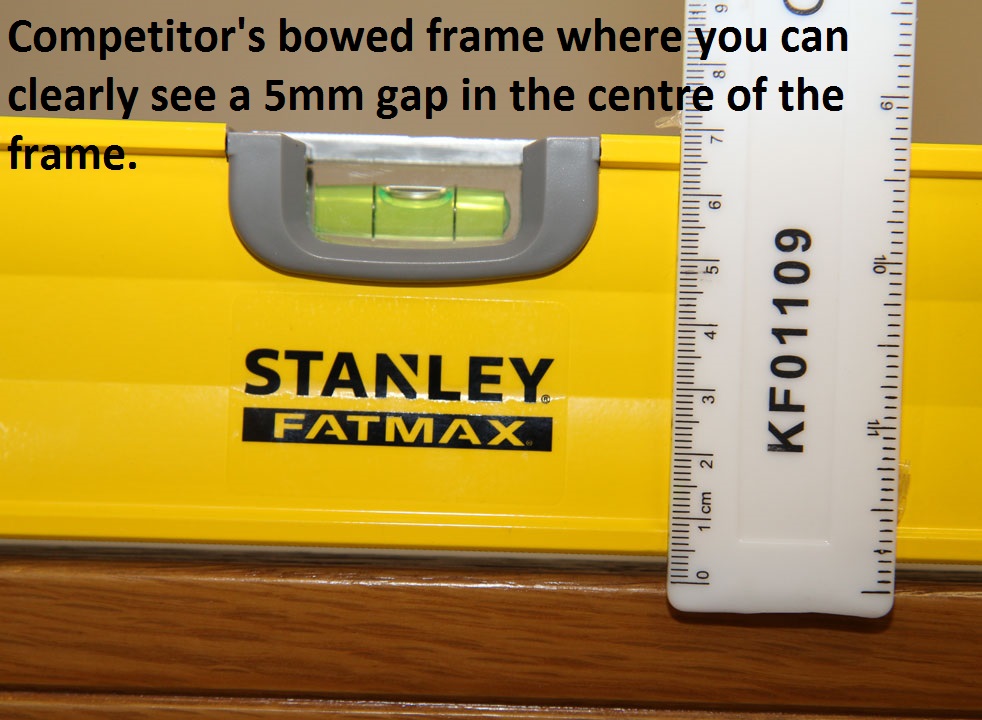 Have you been misled?
We have had customers come to us after being let down by other suppliers for various reasons. The most alarming of these, is that products bought are not what the customer was expecting. This is because certain companies and websites portray their products to be one thing but are in fact another. For example, the advertising and selling of 'solid oak bifold door sets' indicates the whole product is made of solid oak. However when you receive the product, the frame is of an inferior wood and therefore the door set is not strictly solid oak, even though the individual doors are.
We decided to order a solid oak bifold door set plus another set of oak veneer bifold doors. What we found was both of the frames were made of a similar softwood pine, with one using the heart of the wood which is the weakest part. The result was that three of the four frame panels were bowed.
Material
The problem with softwood is that it takes on more moisture than hardwood, resulting in more expansion and shrinkage with different seasonal weather conditions and is far less stable and prone to warping. Also if the product was to have an oak veneer (oak is a hardwood) on a softwood, such as the frames we encountered, there is a high probability of the oak veneer finish splitting. For these reasons we only use an engineered hardwood which prevents the wood from warping, bowing and the possibility of the oak veneer splitting.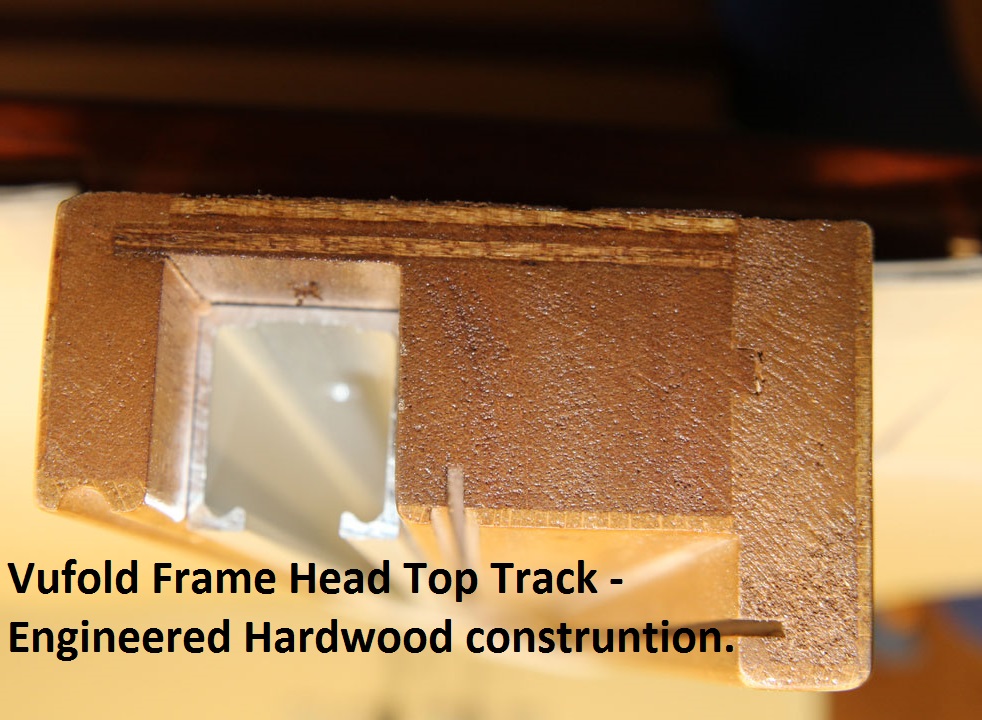 Installation
When we unpacked our competitor's doors, we noted that there were no pre-machined or pilot holes for the hinges and other hardware and most parts were not labelled in the packaging. This will make the installation very difficult because you have to make sure you place everything in the correct place. We know from feedback that installation can be a concern, which is why we have made our installation an easy process for you. All our hardware is clearly marked once you open the packaging and the correct sections of our products are pre-machined with the addition of pilot holes where needed so everything is clear and straight forward to install.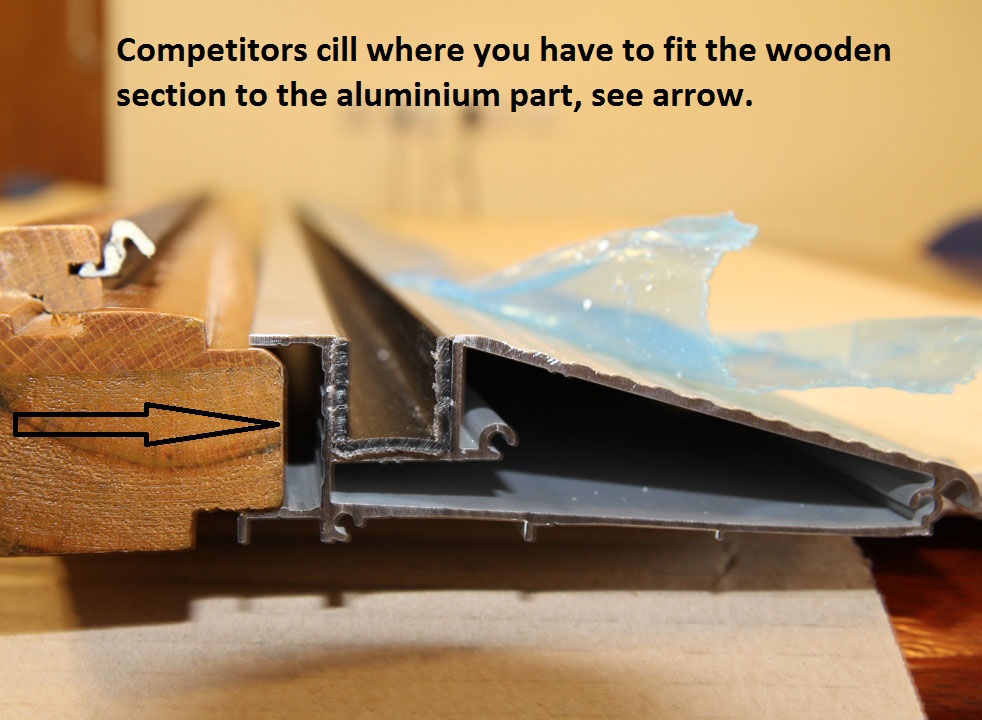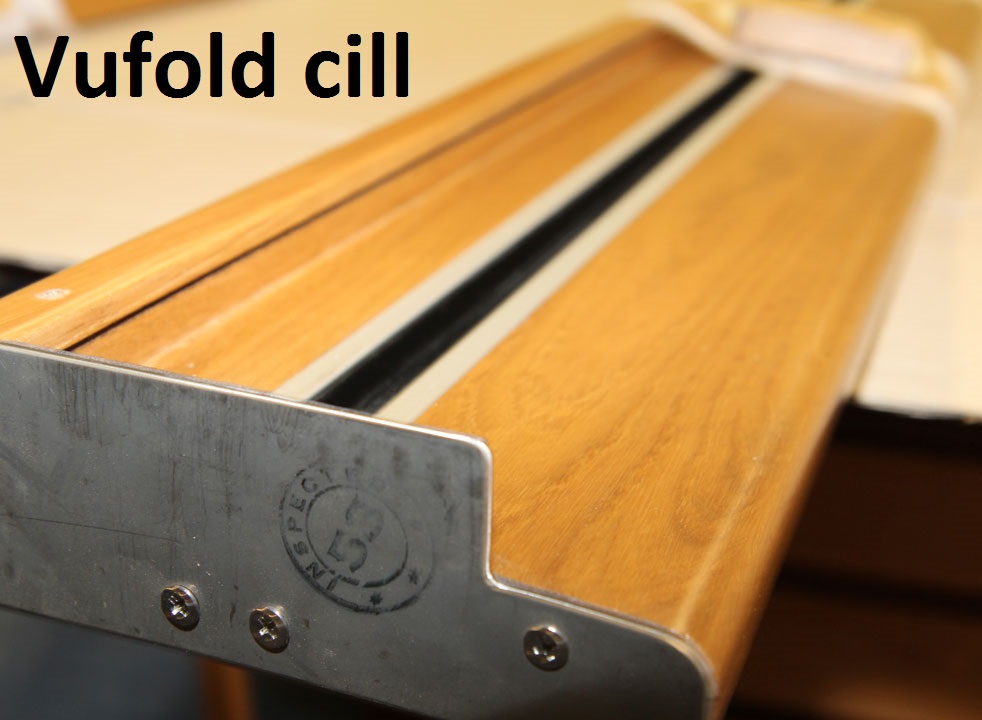 We also noticed that the competitor's doors have the aluminium section of the door cill separate from the wooden section, therefore you have to fit the two sections together. As you would expect, we have put many bifold door sets together, yet we found this very difficult to do due to the gap in the wood section of the cill being too tight for the aluminium section to fit easily. The aluminium top track also needs to be inserted into the head of the frame.
We have made sure this is not the case with our doors. We have manufactured our doors so the cill and the frame head is one complete section, therefore making the installation much easier for you.
Another very important aspect of your door sets is to have sufficient drainage in the cill - we have designed our cills to have drainage holes all along the cill. This was not the case with our competitor's doors cill. You are expected to drill your own holes and only two at either end, which is unlikely to be enough, causing water build-up in the cill and therefore staining your beautiful oak doors.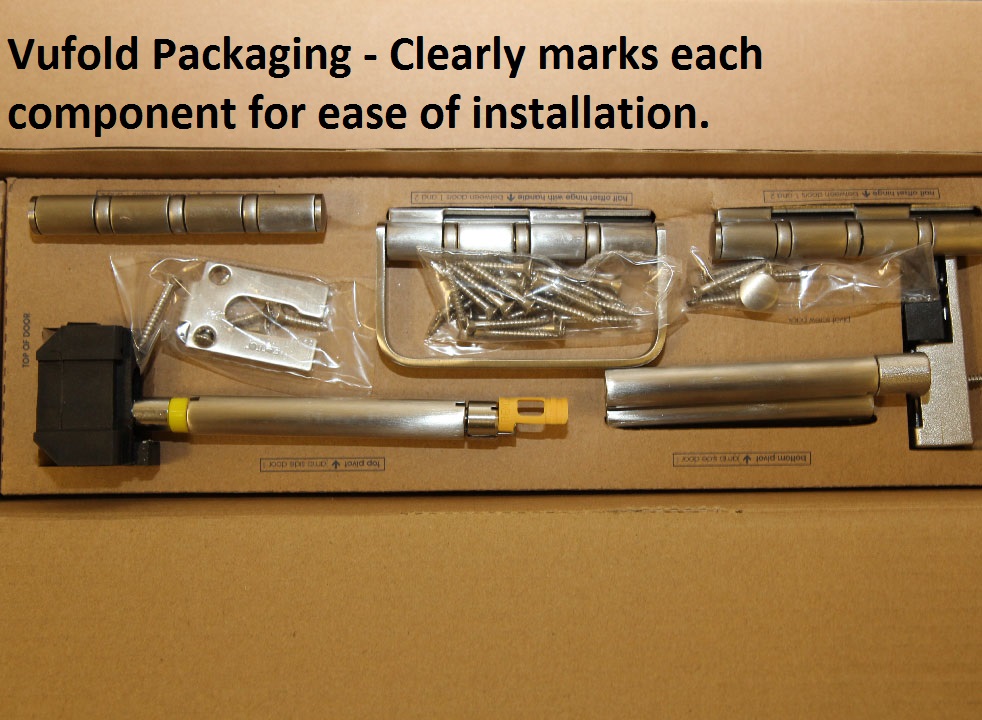 Finish
Our competitor's doors have a lacquer finish, we originally used this type of finish when we first developed our doors. However, we quickly found that this finish is not hard wearing enough for external doors as the finish is prone to peeling and flaking off. This is why we use a high standard factory applied microporous finish, which we apply three coats individually to every piece of the door set.
FSC Certification
The timber we use is FSC (Forest Stewardship Council) certified and therefore responsibly sourced from well-managed forests. This is not the case with many timber door sets on the market today, including the competitor doors we tested. The FSC label guarantees that the trees used in our products are harvested and replaced or allowed to regenerate naturally.
CE Marking
Looking at the two competitor doors in more detail we also noticed that the CE marking on the glass only had one standard number. This doesn't mean that it doesn't comply, however, you should ask for a declaration of performance certificate to be sure it does comply. If not you could be asked by a building inspector to remove these products.
We as a company pride ourselves in only manufacturing products that we would and have gladly installed in our own homes and we make sure we are transparent in everything we do as a company. That is why we use a third party for independent reviews and we ask our customers for photos and case studies of installed doors.