Internal bifold door handles: types, positions and best handles
Handles are often one of the last aspects of bifold doors that people consider, and yet they play an important role in how the doors operate.
In this guide, you will find information about the types of handles available, where to position them, and the best handles to use for internal bifold doors (also known as internal bifold sliding doors).
In this guide:
Types of internal bifold door handles
Handles for internal bifold doors come in many designs, but generally fall into four main categories: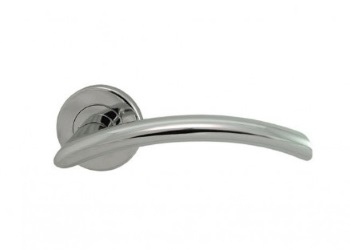 Lever handles
A common type of door handle, they are popular for both standard internal doors and bifold doors.
You simply grab the handle and pull it down—the latch retracts and the door can be opened.
Lever handles are often used on the lead door.
Flush handles
Also known as a flat handle.
The name encompasses several designs of handle.
They are recessed flat or flush into the door.
Flush handles are generally used in bifold doors fitted to wardrobes or pantries as opposed to Interior bifold doors fitted between rooms.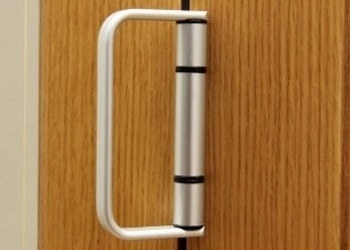 Pull Handles
There are numerous designs the most common being a D shape.
The handle is used to pull the bifold doors towards you in order to close them.
The Pull handle folds flat against the face of the doors enabling them to concertina closely together taking up less space in the opening.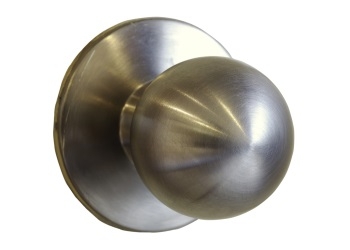 Door knobs
Door knobs are another common type of handle and come in two types:

A door knob used with a tubular mortice latch is very similar to a lever handle except you twist it to retract the latch as opposed to pulling down.
Door knobs used with roller latches (Ball catches) do not twist you just pull or push them to open and close the doors.

Roller/ball latches are again usually fitted to smaller bifold doors used on cupboards and pantries.
Positions for bifold door handles
When searching online, you may find contradictory instructions on the best position for your bifold door handle. This is because there are two types of "bifold doors"—the ones we are referring to are the larger doors used to divide rooms. Other guides may discuss the smaller bifolds used for a cupboard or closet.
Where do you place a door handle on an internal bifold door?
Your main handle should be in the middle of your lead door close to the edge. The handle will likely be a standard lever handle or door knob. You can use the leading door as an access door (also known as an entry door)—that is, open and close it without having to fold back the other doors.
All of Vufold's doors are pre-machined and drilled for the supplied tubular mortice latch and optional handles. This saves you the effort of drilling yourself and reduces the risk of damage when fitting your mortice latch and handles.
How do you keep bifold doors closed?
When fitted correctly, all of Vufold's bifold sliding doors open and close perfectly. Over time certain things such as settlement, movement within a building or frequent use over a long period of time can all result in less than perfect operation. Vufold Interior bifold doors use easy-to-adjust hardware. This makes installation much simpler and allows you to keep the doors operating perfectly without the need for a professional.
Handles and locks
Locks are not as vital to internal bifold doors as they are to exterior doors. However, if added security is important to you, Vufold recommends using an interior mortice lock on its wooden bifold doors.
The benefits of interior mortice locks are:
Added security – because the locks are fitted inside the door itself, making it difficult to pry open by thieves.
Easy to operate – mortice locks use a simple locking system for the user
Widely available – you can find interior mortice locks at any good hardware retailer
Reasonably priced – mortice locks can easily be found at a good price
A professional should always be used to fit any locks in your home.
Best handles for internal bifold doors
All Vufold doors can be purchased with a pair of handles. Every one of our internal bifold door handles is available in two finishes to complement the hardware.
Internal bifold door handles
Available finishes for internal doors:
Satin stainless door handles
Satin stainless curved lever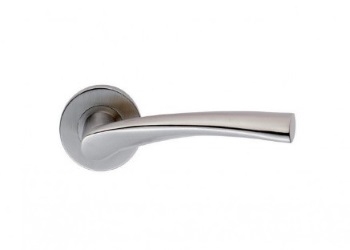 | | |
| --- | --- |
| Rose diameter (mm) | 52 |
| Rose thickness (mm) | 8 |
| Projection (mm) | 65 |
| Lever length (mm) | 127 |
| Price | £19.99 |
Satin stainless straight lever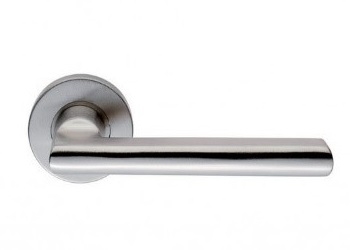 | | |
| --- | --- |
| Rose diameter (mm) | 52 |
| Rose thickness (mm) | 8 |
| Projection (mm) | 61 |
| Lever length (mm) | 128 |
| Price | £19.99 |
Polished chrome door handles
Polished chrome curved lever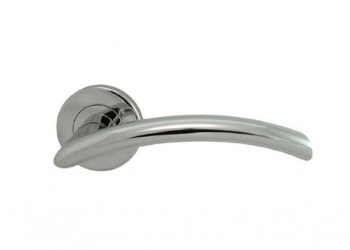 | | |
| --- | --- |
| Rose diameter (mm) | 51 |
| Rose thickness (mm) | 8 |
| Projection (mm) | 67 |
| Lever length (mm) | 114 |
| Price | £19.99 |
Polished chrome straight lever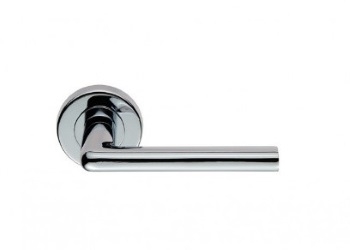 | | |
| --- | --- |
| Rose diameter (mm) | 51 |
| Rose thickness (mm) | 8 |
| Projection (mm) | 67 |
| Lever length (mm) | 109 |
| Price | £19.99 |