A complete guide to French door materials
---
If you're considering a new external French door set as part of a home improvement project, one of the most important factors you need to consider in your research is the material used to construct the doors. Modern French doors are manufactured from a wide range of different materials, all of which have specific features and properties that impact their performance.
For external installation, you want your French patio doors to be designed for security, durability and longevity. Some materials, like wood and aluminium, tick these boxes while also delivering on style and aesthetics.
In this guide, we will explore some of the most popular materials used to construct French doors and discuss their benefits, properties and technical considerations.
---
---
Aluminium French doors
Aluminium is one of the most widely-used and respected construction materials used to manufacture modern French doors. Homeowners are increasingly replacing their old timber or uPVC external patio doors with new aluminium sets for a number of reasons.
One of the main advantages of aluminium as a door construction material is its strength. It is incredibly robust yet very lightweight, meaning door frames can be designed with slimmer sightlines that support larger panes of glass without compromising on performance. Aluminium French doors also offer a much more sleek and contemporary appearance than uPVC alternatives, which often all look the same.
Our Status and Supreme aluminium French doors are finished with a premium powder coating which prevents their colour from fading or peeling as a uPVC door might. These doors are designed to complement our external sliding doors of the same name and are thermally broken to maintain a comfortable temperature inside your home.
To find out more about the benefits of aluminium French doors and the design and configuration options available, read our guide to aluminium French doors.
---
Wooden French doors
Wooden doors are ideal for new-build and period properties alike. Unlike aluminium which is a relatively new French door construction material, wood has been used for many years and has always been popular. Modern construction innovations mean hardwood French doors like our Master and Elite sets are much stronger than timber French doors from the past.
Compared to softwood French doors which are more suitable for internal use, engineered hardwood doors are manufactured with security and weather resistance in mind. Vufold wooden French doors are finished in a microporous, factory-applied coating and come with full-thickness 24mm low-E double glazing units. They are also weather tested and have U-values of 1.4 W/m2K for excellent thermal performance.
For more information about wooden French doors, including how to maintain them, read our expert guide.
---
Wood and aluminium vs alternative French door materials
As well as wood and aluminium, other materials commonly used to manufacture exterior French doors are steel, uPVC and composite. Each of these has its own distinct properties and benefits when used in patio door systems.
Steel patio doors are often coated in polymer or vinyl to impersonate a wood-grain effect, but this never really achieves the superior natural aesthetics of a genuine timber door. Steel is also much noisier than wood and is much more difficult to repair.
uPVC is widely used for standard doors that you see in many residential properties. For external French doors, this material is relatively cheap compared to aluminium or composite but this is reflected in its style and appearance. uPVC doors will not require staining or painting but the colour can peel or fade over time, an issue you don't get with aluminium French doors.
Composite French doors are the most similar to aluminium doors but this material is often the most expensive on the market and has a more artificial aesthetic compared to wood. This is an increasingly popular patio door material owing to its strength, durability, low maintenance and excellent insulation properties.
Our comparative guide to French door materials explores the similarities and differences between these materials in more detail.
---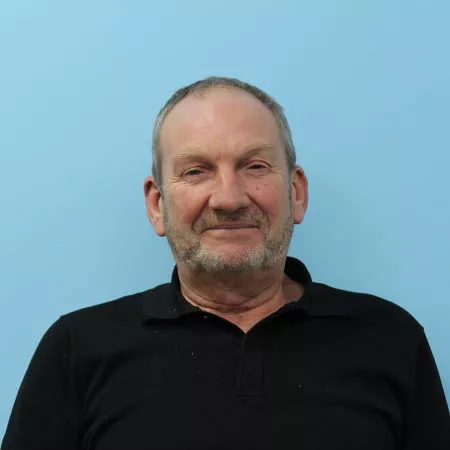 About John Collins
John has built Vufold into a unique online door and window company and has spent 20 years bringing innovative products and designs to fruition, recognising niches in the market and placing them in the likes of Wickes and Travis Perkins, he started Vufold in order to sell them directly. John founded Vufold and has amassed a wealth of experience in product design and development, and in particular timber-based products
Read more about John Collins