A GUIDE TO ALUMINIUM FRENCH DOORS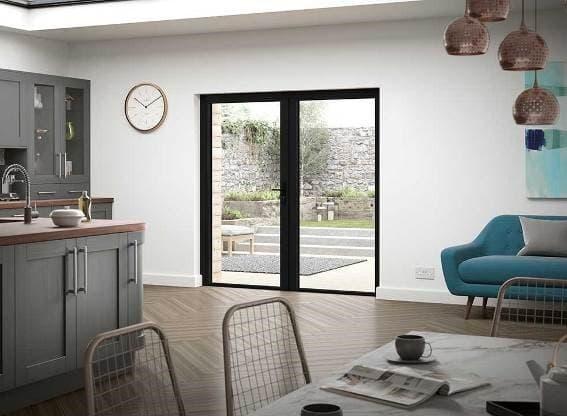 French doors are a fantastic way to connect your indoor and outdoor spaces and allow more natural light to flood into your home. They offer a more classic and traditional look compared to bifold door sets, and they allow you to completely open up the aperture when the weather permits it.
When planning your dream door set, it's important to consider the different materials used to construct French doors as this will impact the cost, function, longevity and overall style of the doors.
In this article, we'll take a look at the benefits of aluminium French doors and explain how they compare to other materials commonly used for French external doors.
---
---
Aluminium French doors: Overview
Aluminium French doors are becoming increasingly popular with modern homeowners. In the past, French doors were often constructed from uPVC or timber. uPVC offers low maintenance, durability and strength, but it is not the most stylish option available. Solid timber doors offer timeless natural aesthetics, but they require regular maintenance and are less secure than aluminium. Aluminium is also much stronger than timber, and significantly lighter than steel.
Aluminium provides the best of both worlds. It's a strong, durable, secure and low maintenance material that offers sleek and sophisticated contemporary style for double doors in residential properties.
---
What are the advantages of aluminium French doors?
Aluminium is an incredibly strong and durable material. It offers excellent levels of security because of its high structural integrity, and combined with a quality locking system will ensure would-be intruders can't force your French doors open. Because of the material is so lightweight, external aluminium residential doors are much easier and smoother to open and close, without compromising on strength or robustness.
The high strength and low weight of aluminium also mean that French doors can be manufactured with significantly slimmer frames than uPVC, timber or steel. Aluminium is robust enough to support even very large panes of glass with relatively narrow sightlines so that you get the best possible view of your outdoor space. Aluminium is also a versatile enough material that it can be manufactured to be compatible with a wide range of door accessories. For example, our Status and Supreme doors are available with blinds fitted into the frame for a chic and stylish finish.
Aluminium French doors are incredibly resilient to the elements. Unlike timber, aluminium door sets will not swell, shrink, warp or rot. This means that you won't come across problems like the doors sticking, or gaps appearing between the doors and the frame. When finished with a high-quality powder coating, aluminium doors will not fade over time like uPVC, or peel or flake like painted timber doors.
Modern thermally broken aluminium doors can provide excellent levels of energy efficiency. High-quality aluminium frames in combination with triple or double glazing units ensure minimal heat transfer so that your home stays warm in winter and cool in summer.
---
Design and configuration options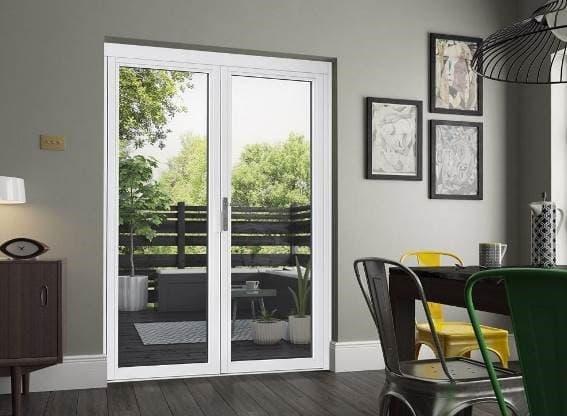 ---
We have two ranges of aluminium French doors available, Status and Supreme, to complement our external sliding doors and windows of the same name. Both ranges feature a thermally broken aluminium construction to minimise heat loss and help to maintain a comfortable indoor temperature. You can choose from triple or double glazing, with the former offering superior levels of heat retention and noise reduction
Our Status and Supreme French doors are delivered pre-glazed so there is no need to hire a doors specialist to install them. They both feature a multi-point locking system which includes upper and lower twin deadbolts in addition to an extra twin point security bolt operated from the inside. This means the doors offer exceptional levels of security that meet rigorous PAS 24 and EN14351-1 2006 security standards.
Our aluminium French doors are powder coated for a sleek, modern and stylish finish. This colour coating is guaranteed for 15 years which is a testament to its durability. Choose from black, grey or white finishes in the Supreme range, or black, grey, white, or a grey/white combination in the Status range. You can also choose to make either the left or right side your daily access door, and configure the doors to open either in or out.
Supreme is our premium collection of aluminium doors and windows engineered to exceptionally high standards, and these French doors have an ultra-sleek, polished and luxurious finish.
Our Status aluminium French doors have some of the slimmest sightlines on the market, and have a weather-rated low threshold. This is a sleek and contemporary range that balances quality and affordability. They are incredibly thermally efficient, with U-values of 1.4 W/m2K for the double glazed units and 1.1 W/m2K for the triple glazed units.
---
Maintaining aluminium French doors
A major benefit of aluminium doors is that they require very little maintenance. When powder coated like Vufold aluminium French door sets, there's no need to repaint or reseal the doors to keep them protected against the elements. Instead, they simply need to be cleaned now and again to keep them in good condition.
You should clean aluminium doors and frames with warm water and a mild detergent. Simply dilute the detergent in the water and use a clean cloth or rag to remove dirt or grime.
---
Frequently asked questions
Is a French door the same as a patio door?
Many people use the terms 'French doors' and 'patio doors' interchangeably, but they are technically different. French doors are hinged and open either inwards or outwards. Patio doors are fitted on a track and slide open. With French doors, both panels can be opened. With patio doors, one panel slides while the other is fixed.
How long will aluminium French doors last?
Aluminium is an incredibly durable and long-wearing material. We offer a 15-year guarantee for our French doors and you can expect your doors to last many years beyond that.
How much will a new aluminium French door set cost?
New aluminium French doors vary widely in price depending on the quality of the materials used and the size of the doors. Aluminium French doors from Vufold start from £1809, with additional costs when you upgrade to triple glazing or add blinds.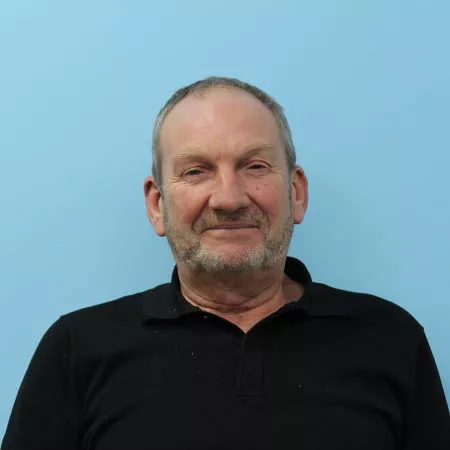 About John Collins
John has built Vufold into a unique online door and window company and has spent 20 years bringing innovative products and designs to fruition, recognising niches in the market and placing them in the likes of Wickes and Travis Perkins, he started Vufold in order to sell them directly. John founded Vufold and has amassed a wealth of experience in product design and development, and in particular timber-based products
Read more about John Collins