A guide to wooden French doors
---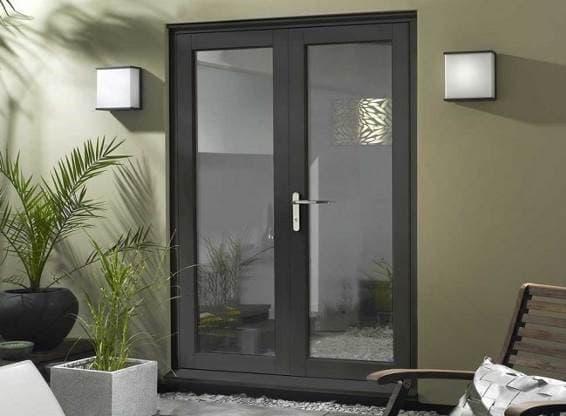 ---
When it comes to exterior doors, you've got lots of options to choose from. So if you're thinking of getting new external French doors, it's important to do some research before you make that all-important decision.
As well as the different styles and sizes of doors, the material you choose for your external door set also needs careful consideration. You'll need to look into glass panels, sightlines and thresholds, and whether a frame made from uPVC, aluminium, wood or steel meets all of your requirements.
Either way, French patio doors continue to be a popular choice for many homes thanks to their ability to let in lots of natural light, stylish aesthetics, durability and excellent thermal performance.
In this article, we'll discuss the benefits and considerations of one of the most popular materials for external French doors: wood. We'll also cover some design and configuration options to help you find the right wooden French doors for you.
---
---
Wooden French doors: Overview
Wooden French doors are eternally popular, so you're making a great decision if you're thinking of going down this route. What makes a wooden French door set get the seal of approval from so many homeowners is that wood offers incredibly stylish appeal. It's the perfect choice if you want to maintain a traditional style to your property, yet also works well if you want a modern look.
Timber has stood the test of time and remains highly admired by homeowners as it is never likely to go out of fashion. If you live in the countryside or in a conservation area, timber is the ideal choice for a new external door set as it will complement the natural beauty of your surroundings.
With timber French doors, you should be aware of the different construction options available as the type of wood used will differ across manufacturers and ranges. Many manufacturers use hardwood options that not only look great but are designed to be secure and have been expertly engineered to prevent warping or rotting. Softwood doors are usually cheaper but are not as appropriate for external installation as hardwood because they are less resistant to decay.
Compared to alternative materials such as uPVC or aluminium, an external French door made from timber can be painted or varnished to suit your preferences and to fit the style of the rest of the property.
---
What are the advantages of wooden French doors?
Wooden French patio doors offer ample benefits—here are just a few of them.
Stylish
A wooden door pair exudes a traditional style, yet also offers a modern twist on this look. No matter what kind of building you live in, whether a new-build home or a period property, wood is versatile and eternally appealing.
Secure
Developments in construction methods mean that modern wooden doors are much more robust and durable than their predecessors. A wooden French door set from a reputable manufacturer will prioritise security—doors in our Master and Elite ranges, for example, come with a five-point lock on the main door and two additional security bolts on the slave door.
Thermal efficiency and responsible construction
Our engineered hardwood external French doors are certified by the Forest Stewardship Council for responsible construction. Master and Elite doors are also weather tested, compliant with Part L of the Building Regulations concerning energy performance, and have U-values of 1.4 W/m2K. These features guarantee superior performance and longevity.
---
Design and configuration options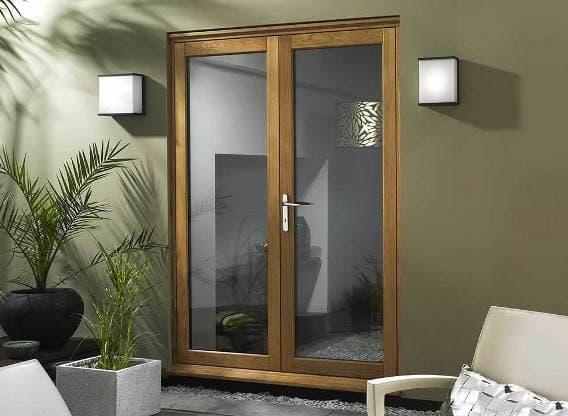 ---
We have two ranges of external wooden French doors at Vufold: the Master and the Elite. They are designed to complement our external bifold doors of the same name and manufactured for durability, longevity and affordability.
French doors in the Master range are constructed from an engineered hardwood core and finished in a microporous, factory-applied coating in white or grey. With full thickness 24mm low-E double glazing units using toughened safety glass as well as double weather seals, Master French doors are incredibly thermally efficient. They are fully machined for easy installation and are supplied with hardware and handles in chrome as standard or white to match doors with white frames.
Elite doors also feature an engineered hardwood core but have a 3mm real oak veneer prefinished with three layers of factory-applied coating. They have 54mm-thick frames and are offered with the same glazing and hardware options as our Master door sets. They are designed to open outwards, so are an ideal solution for rooms with limited internal space.
All of our external French doors are available in 1.2m, 1.5m or 1.8m configurations and will be delivered in three working days. You can upgrade your doors to feature a brushed graphite handle instead of the standard chrome. Optional extras also include a tin of top coat for maintaining the finish of your Master doors, and an oak care and finish kit for Elite doors.
---
Maintaining wooden French doors
When you choose wooden French doors, bear in mind that this material requires more maintenance than alternatives like aluminium. As well as regular cleaning and checking for repairs, you will occasionally need to repaint or retreat your doors to maintain their appearance and keep them in good working order. We provide the tools to do this as optional extras when you order a Master or Elite French door from Vufold, and also offer repair wax and heater kits to touch up small chips and dents on the internal side of our white doors.
Your door frame and threshold should be frequently cleaned with a damp cloth and cleared of any dirt and debris that could hinder its operation. For any tougher stains, use a specially formulated mineral spirit solution, always wiping with the grain of the wood. As well as wiping the wood down, don't forget to clean the glass and all of the door fixtures including the handles and locks, making sure they are not sticking or jamming.
---
Frequently asked questions
How long will wooden French doors last?
Modern wooden French doors are designed with much more robust construction than earlier doors and as such will last much longer. Our Master and Elite doors are offered with a 10-year guarantee for peace of mind.
How much will a new wooden French door set cost?
Our wooden French doors start from £1,209 for the 1.2m Master set with no extras. Additional costs include upgrading the handle to a brushed graphite option and an optional tin of top coat for future maintenance.
---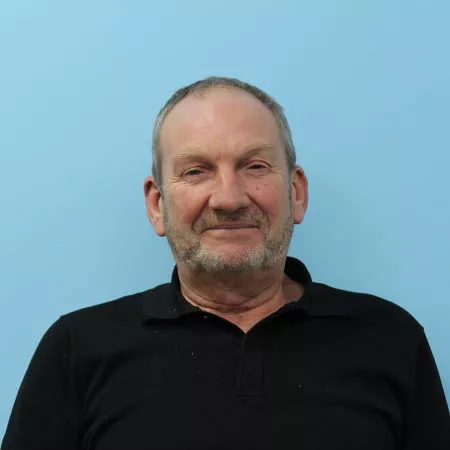 About John Collins
John has built Vufold into a unique online door and window company and has spent 20 years bringing innovative products and designs to fruition, recognising niches in the market and placing them in the likes of Wickes and Travis Perkins, he started Vufold in order to sell them directly. John founded Vufold and has amassed a wealth of experience in product design and development, and in particular timber-based products
Read more about John Collins