A COMPARATIVE GUIDE TO FRENCH DOOR MATERIALS
---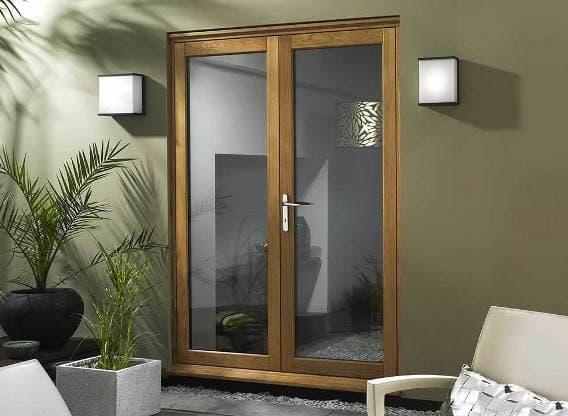 ---
If you're looking to invest in a new set of patio doors for your home, there are a number of things you need to think about. You'll need to carefully consider everything from security, pricing and performance, to maintenance, materials and how the doors will open.
Patio doors tend to come in three main varieties: bifold, sliding and French. While each has its benefits, French doors are particularly popular for homes across the UK, and with good reason. Not only are they stylish and beautiful to look at, but an exterior French door set can also brighten your home by letting in more natural light to cut down your lighting bills during the day.
A door's construction materials is one of the most important factors to think about when purchasing a new external door set, and modern French doors are available in a range of different materials. In this article, we will take a look at the various materials that are commonly employed in the construction of external French doors for residential properties to help you understand which material would be the most appropriate for your home.
---
---
French door materials: Overview
There are several materials that can be used when creating a set of French doors for a property. The most popular include aluminium, wood, steel, uPVC and composite. Each has its own distinct benefits, as we can see here:
|   | Aluminium | Wood | Steel | uPVC | Composite |
| --- | --- | --- | --- | --- | --- |
| Construction | Produced by extruding the appropriate aluminium alloy through a die whilst still hot. Straight lengths can then be cut before joining these into a frame. | A veneer over an engineered wooden core. The core is sections of wood that have been laminated together under extreme pressure. | Rigid foam core wrapped in galvanised steel, coated with polymer or vinyl usually to achieve a wood-grain effect. | Unplasticized polyvinyl chloride is plastic injected into a mould to form straight lengths can then be cut before joining these into a frame. | A timber or foam core wrapped in aluminium or GRP. |
| Price range | £1800-£3100 | £1000-£1700 | £850-£2000 | £500-£1000 | £1200-£2000 |
| Performance | Very strong and stable, incredibly secure, and excellent thermal and acoustic insulation. | An excellent insulator, helping you keep the heat in your home effectively. | Strong, robust and durable, meaning door frames can be thin without compromising on function. | Good insulation, but not as sturdy or durable as other door materials. | Great thermal insulation and, thanks to their solid wooden core, are extremely sturdy. |
| Maintenance | Very low maintenance besides routine annual cleaning. | Requires regular repainting and retreating to maintain its efficacy. | Will need repainting regularly to prevent rusting and is difficult to repair in the event of dents or scratches. | Very low maintenance, as uPVC is weather-resistant and waterproof. Does not require staining or painting but the colour can peel or fade over time. | Very low maintenance, thanks to the waterproof and weather-resistant outer veneer. Requires no painting or staining. |
| Style | Sleek and contemporary. | Classic and traditional. | Blend of classic wood-grain effect and modern style. | Relatively standard, plastic appearance. | More customisable and modern. |
| Main features | Strength, security and insulation. An additional benefit is that aluminium can be 100% recycled. | Responsibility sourced by top manufacturers; strong; robust; customisable with your choice of finish. | Good energy efficiency and slim sightlines. Often used for period/heritage homes. | A cheaper alternative to timber and aluminium, low thermal conductivity and low maintenance. | Strong, durable, low maintenance, secure and excellent insulation. |
---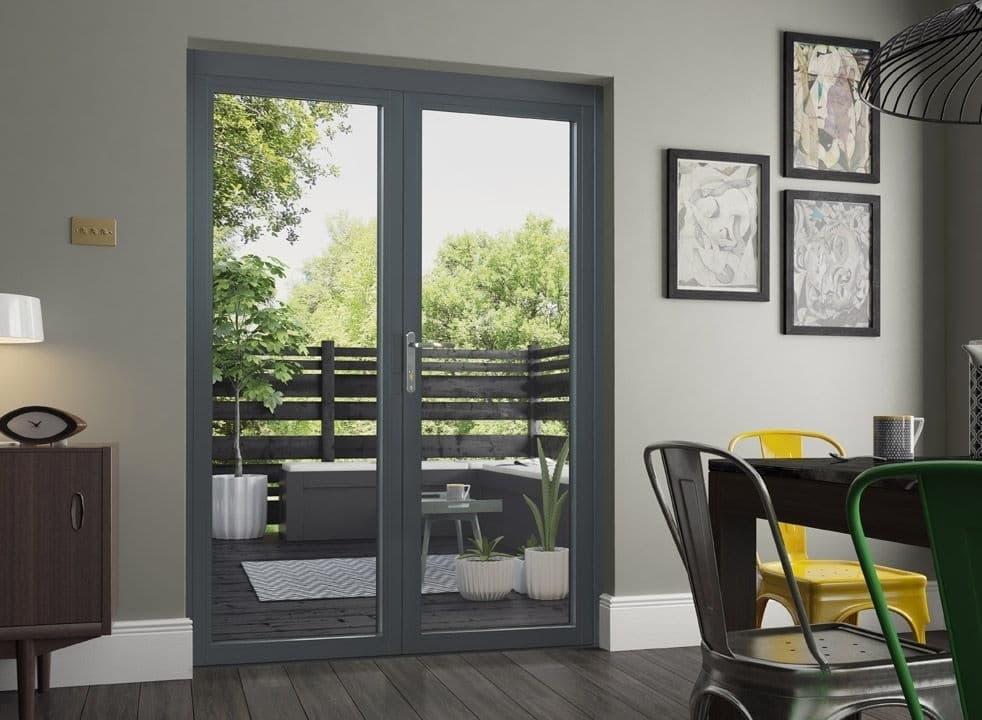 ---
Comparing materials
Aluminium and wood vs steel
Like aluminium, steel French doors are strong and relatively low maintenance. However, the material needs to be coated properly and repainted regularly to prevent rust. This coating is often a wood-grain effect, but it is not always a convincing impersonation of traditional timber. Whereas hardwood French doors like our Master and Elite ranges are quiet and dent-resistant, steel doors are the noisiest and can dent easily.
Aluminium and wood vs uPVC
Wood and aluminium French doors compare favourably with uPVC doors. All three materials offer great thermal insulation, though aluminium delivers greater sound insulation than its uPVC and wooden counterparts. Wooden doors are heavier than uPVC models, making them more reliable in the event of a break-in. uPVC is relatively low maintenance compared to wood which requires a durable finish to prevent weather damage and decay, but the colour of uPVC doors can peel and fade over time. These are not issues faced with aluminium French doors like our Status and Supreme ranges, which simply require routine annual cleaning.
Aluminium and wood vs composite
On the surface, a composite door seems to boast many of the same properties of both aluminium and wood French doors. All three materials are strong and sturdy, offering tremendous durability and security, as well as a wide range of styles. Composite French doors will never expand or shrink and they are very energy efficient. However, they can be on the more expensive end of the market and have a more artificial appearance than wooden French doors. Aluminium French doors can also be taller and wider than composite alternatives, which often require a sidelight or top glaze panel to make up the space.
---
Frequently asked questions
What's the difference between external and internal French doors?
The main difference between an external and internal French door is one of security. French doors lock into one another, rather than the door frame, which creates a potential weak spot at the point of contact. Exterior French doors are specially engineered with security in mind, incorporating a highly-dependable, integrated locking system to protect your home and loved ones.
What is the standard size for French doors?
Our external French doors range from 1.2m (approx. 4ft) to 1.8m (approx. 6ft). They require an opening height of 2.1m.
How secure are modern French doors?
French patio doors are very secure. They benefit from being set in a frame, which offers great structural support, and incorporate a central locking point, which is sturdier than the side-locking mechanism common to sliding doors. All of our French doors are supplied with a five-point locking system that meets the requirements of PAS24.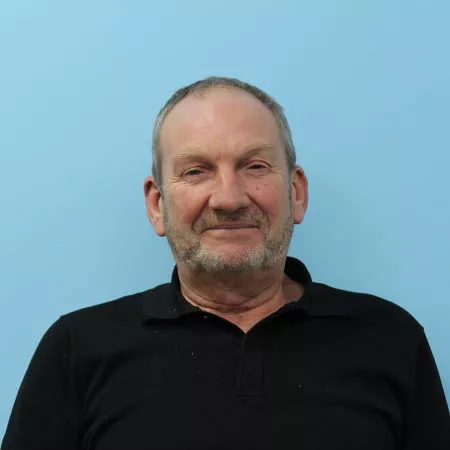 About John Collins
John has built Vufold into a unique online door and window company and has spent 20 years bringing innovative products and designs to fruition, recognising niches in the market and placing them in the likes of Wickes and Travis Perkins, he started Vufold in order to sell them directly. John founded Vufold and has amassed a wealth of experience in product design and development, and in particular timber-based products
Read more about John Collins