French door colour options: white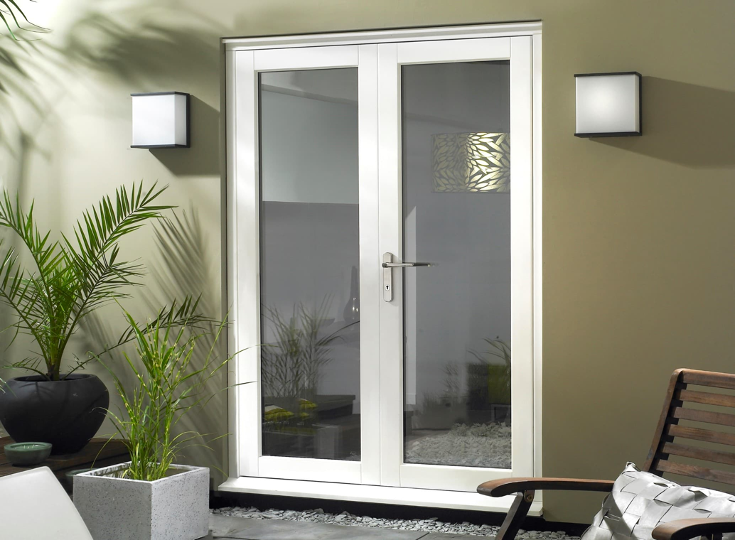 ---
If you're considering replacing your existing patio doors with a new French door set, this could prove a really worthwhile investment. Glazed external French doors not only look fantastic, but they make it easy to blend the inside with the outdoors thanks to the large panes of glass used and the large aperture created when the doors are fully opened.
There are lots of things to think about if you're considering getting new French doors, including what kind of material you want, such as aluminium or timber, as well as the various options for the glass. Another important factor that shouldn't be overlooked is colour choice.
Arguably one of the most popular colour options for French patio doors is white. In this article, we discuss the reasons why you might want to choose white for the colour of your external French doors, and some of the considerations you will need to make when picking this colour.
Benefits of white external French doors
It's easy to understand why white is such a popular RAL colour for French doors. This neutral tone blends well with any style of property, and has continued to stay on-trend even when other colours and tones have come and gone as passing fads. Simply put: choose white, and you really can't put a foot wrong for style and longevity.
What also makes white such a sought-after colour choice for external French doors is that this light tone can help to brighten up a space. If you have an outside area that's often covered by shade, white door frames will stand out in the shadows and counteract the lack of light. Likewise, white on the inner face of your door frames can help your room feel airier.
There's also no denying that smooth white works pretty much well with any other colour and material. Whatever type of outdoor garden furniture and patio features you have, white doors will complement them better than more garish tones. White is also a winning choice for the inside of the doors, marrying well with any kind of window dressing you might put up over the doors, such as blinds or curtains, and any flooring type.
Considerations for white external French doors
While white is a brilliant choice of colour for external French doors, there are still a few things that you might want to think about before you go ahead with this option.
One of the first considerations should be the style of your property. Although white works with any kind of building, it is often more suited to contemporary homes than traditional or period properties. If you live in a traditional home, you may find that timber doors with a real oak veneer, such as our Elite range, are more suitable.
Another thing to bear in mind is that you don't necessarily have to choose white for both the inside and the outside of your doors. Many people opt for dual colours, so that the inner face of the doors is a different colour than the outer face—this could give you the best of both worlds if you can't decide on a single colour!
The advantage of choosing white for your French doors is that it looks clean and bright, but one thing to note is that white will possibly need more maintenance than darker colours if you want to ensure it looks its best at all times. A simple wipe down with a cloth on a regular basis can help to maintain the beautiful crisp white appearance of your doors.
White external French doors from Vufold
---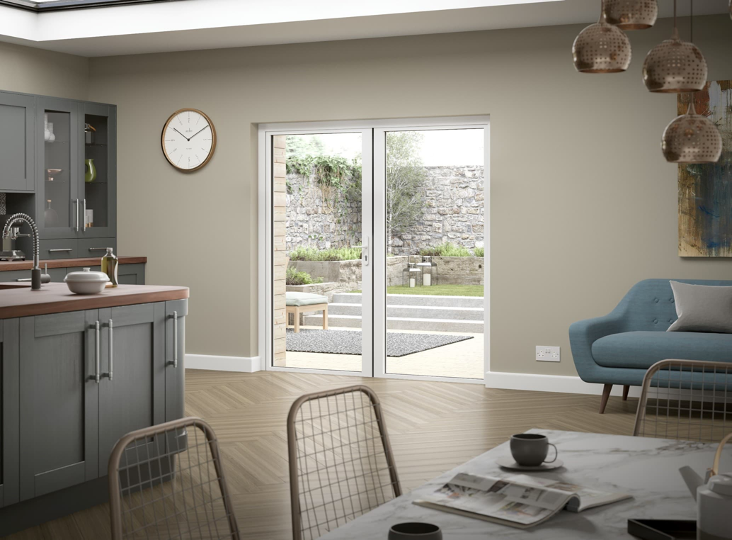 ---
The Master door range has a strong engineered hardwood construction finished in a crisp white factory-applied coating. With these doors, you have the option of white or chrome handles as standard, or you can upgrade to brushed graphite. These doors have been designed for stability and durability, which extends to the inclusion of super-secure five-point locking systems on the main doors. As well as white, Master doors are also available in anthracite grey.
Our Status range of French doors boasts a smart, sleek and contemporary finish. Made from high-quality aluminium, you can enjoy excellent longevity and thermal efficiency with one of these door sets. As well as white, these doors are available in anthracite grey, jet black or a combination of grey and white where the former is on the outside and the latter is on the inside.
If you're looking for your dream door, you're sure to find it with the premium Supreme range. Powder-coated in white and boasting a 15-year guarantee, these ultra-modern, high-security aluminium French doors offer excellent thermal properties and will bring plenty of style to any kind of property.
All of our exterior French doors are designed to complement our windows and bifold doors of the same name.
---
RELATED CONTENT
---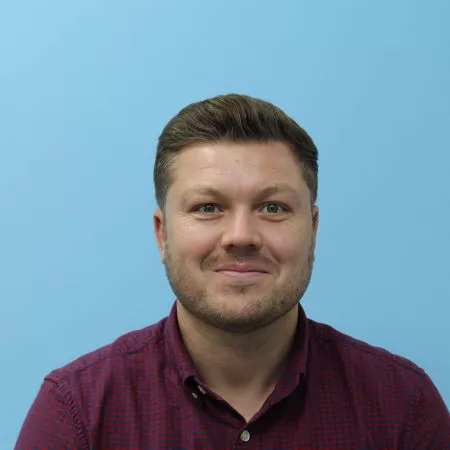 About Martin Burgess
For customers, Martin is one of the key people at Vufold and looks to offer technical advice, resolve any issues or problems that they may have. Martin is passionate about protecting the reputation of Vufold and likes to see a positive impact on the business due to his day-to-day efforts. Martin's proud of the team he's built around him and is dedicated to constantly improving the way the company meets its service commitments and delivers on its promises.
Read more about Martin Burgess