Vufold Bifolds: reviews and case studies
Whether you're buying internal bifold doors or external bifold doors to improve your home, it's a big investment that requires a huge amount of thought. Once you've found the supplier you want to purchase from, you might want to know more about their products and service and, what better way to do this than by reading reviews from existing customers?
We've compiled this guide to help you find out more about what our customers think of our bifold doors and our service.
---
In this guide:
Learn more about why it's important to read reviews before purchasing your bifold doors.
Our top reviews for our external ranges of bifold doors.
Our top reviews for our internal ranges of bifold doors.
Find out more about our latest and favourite case studies and see how our bifold doors look in their homes.
---
Why are reviews important?
A good quality bifold door is an excellent investment. Nonetheless, it's important to be sure you're making the right decision. Our team at Vufold is always available to answer any questions but sometimes there's no substitute for hearing the views of people who have purchased the product.
To help you make a decision on the best folding doors for your home, we've gathered a selection of reviews from some of our existing customers. Reading them will help to give you a non-biased perspective on factors such as our customer service, the quality of our products, as well as practical aspects such as delivery times and how we resolve any issues.
---
Top reviews for Vufold external bifold doors
Reviews for our Elite range of bifold doors
---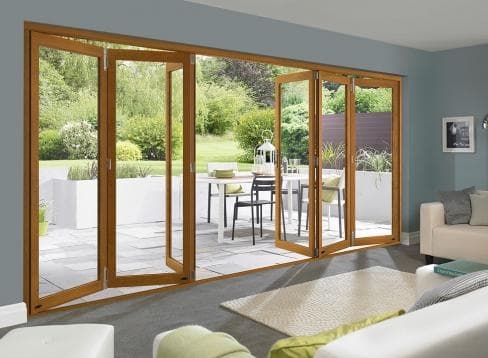 ---
Showcasing the beauty of wooden bifold doors, our oak bifold doors range is one of our most popular. A core of slow grown hardwood is finished with a wood veneer and, at 54mm thick, they have a reputation for being sturdy and durable. Slim sightlines mean maximum light and a sill of aluminium and oak make for excellent drainage.
Designed and manufactured by Vufold, our Elite range is a great option for anyone seeking top-quality and affordability.
"I love, love, love these doors. I have a single glazed sliding door to my kitchen and these doors into my conservatory. Well-made and look great, my joiner said they were easy to install and came with all parts needed to do the job," Gemma Collins.
"The doors were delivered in flat-pack format within days of order placement. The doors were installed by our builder, who commented that they were excellent quality and fit and would be recommending them for use to future customers. A fantastic product at an unbelievable price," Andrew Edwards.
You can find more reviews for our Elite range of bifold doors by clicking here.
---
Reviews for our Master range of bifold doors
---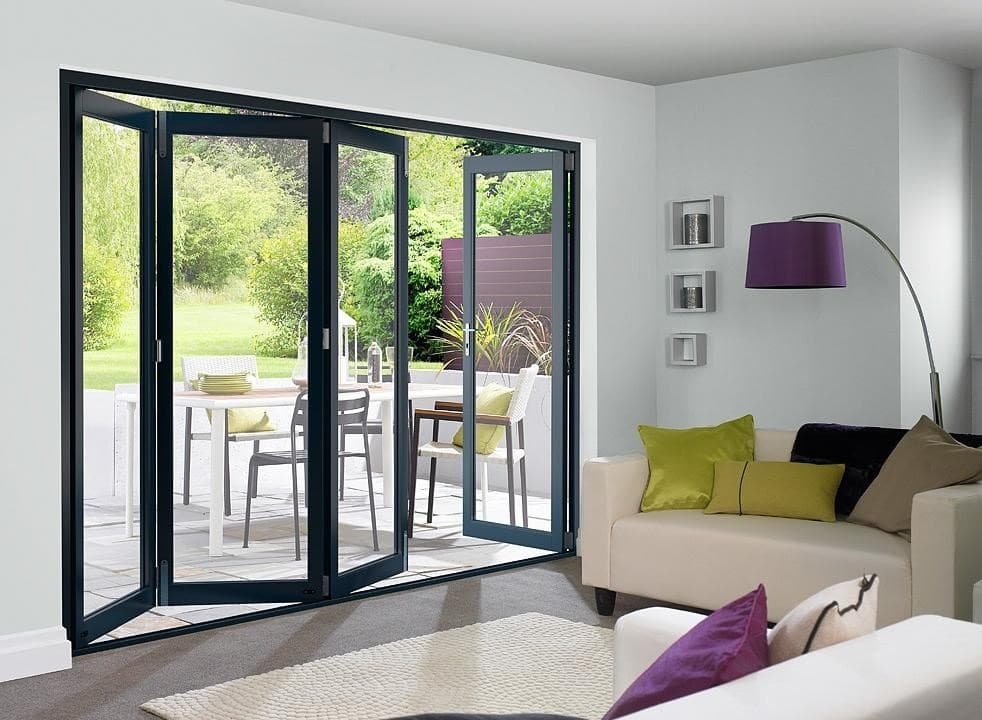 ---
Slim sightlines mean more glass, which means more light and a better view from your home. Our timber bifold doors range has been expertly engineered to deliver this, plus a single access door for optimum usability. Constructed from slow-grown hardwood and boasting a high level of thermal efficiency, the Master range of doors is built to last.
"Delighted with the doors, and the service received. Our builder is also impressed and has taken details for use in other projects. I would highly recommend these doors," Steve Grayton.
"Excellent quality doors at an unbeatable price (trust me, I scoured the internet for weeks!)" Mr David Sparkes.
You can find more reviews for our Master range of bifold doors by clicking here.
---
Reviews for our Status range of bifold doors
---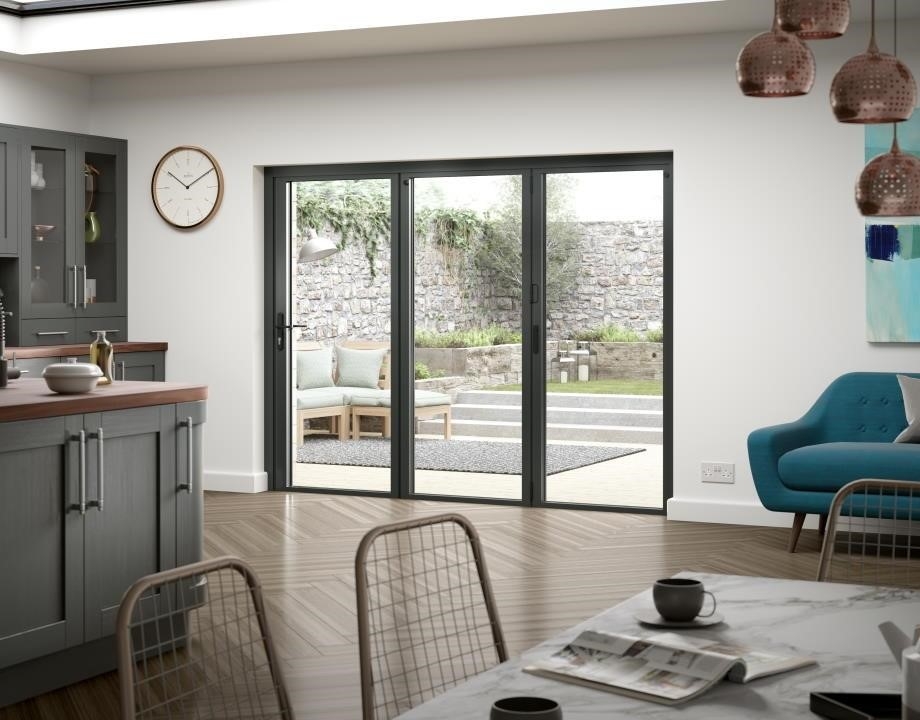 ---
Built from light, durable aluminium with a polyamide thermal break between sections to provide impressive thermal efficiency, our aluminium bifold doors range is ideal for anyone seeking a sleek, modern look for their property.
"The doors were easy to fit, so very pleased with them. They look amazing when open," Sharon Gallagher.
"Amazing doors and windows and great value for money with great customer service," Nicholas Day
See these reviews and more by clicking here.
---
Reviews for our Supreme range of Bifold doors
---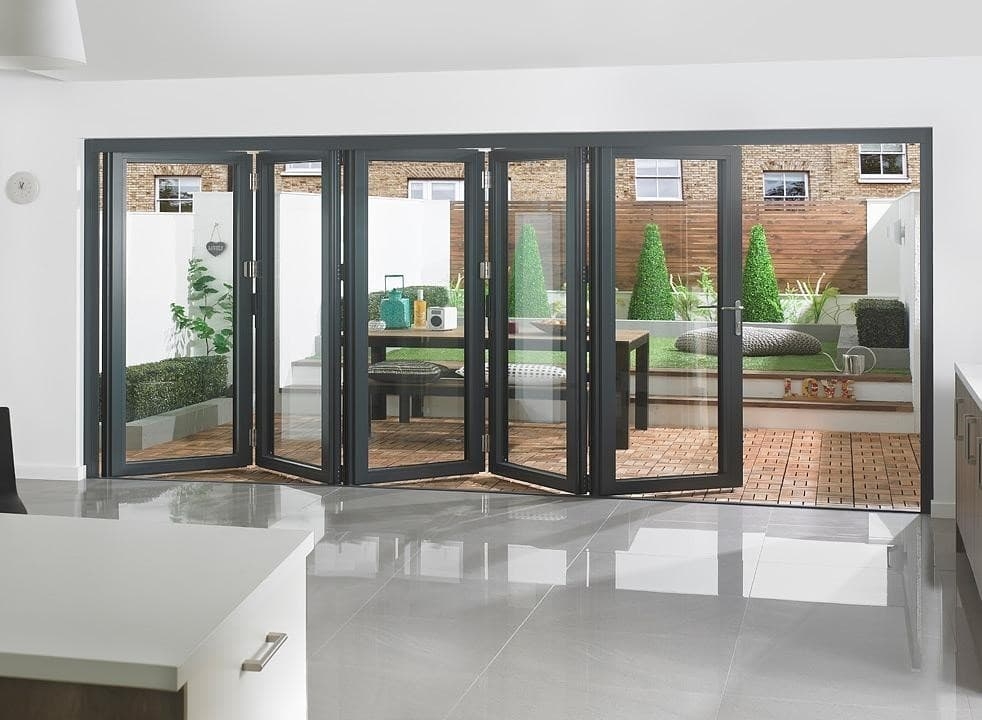 ---
Our Supreme range of bifold doors is completely aluminium and boasts doors that are 70mm thick with exceptional durability. A thermal break means excellent insulation and the overall look is stylish and elegant. Available double or triple glazed, this range is easy to fit by any competent DIYer and come complete with everything you need to install.
"We are delighted with the quality of the doors. I wasn't sure about the colour (grey aluminium) but they're perfect as they don't interfere with the view. The website and ordering are so straightforward. We needed support with a technical fault and Amanda and the team were fantastic at communicating and sorting it out," David Nolan.
Read this review and more by clicking here.
---
Reviews for our Ultra range of Bifold doors
---
---
Perfect for anyone who wants a contemporary look, the combination of external powder coating and a stylish oak interior that comes with our Ultra composite bifold doors, is a great match for any home.
"Excellent product with great fitting instructions and useful fitting kit with drill bits etc for any surface provided," Richard McAnulty.
"Really good quality product and if you follow instructions fitting is simple," Anita Jupp.
Read more reviews about our Ultra range of bifold doors by clicking here.
---
Top reviews for Vufold internal bifold doors
Our internal doors are great for creating a room divider or screening an area where you want a little more privacy but need maximum light, such as a home office. Here are some of our favourite reviews.
---
Reviews for our Inspire range of bifold doors
---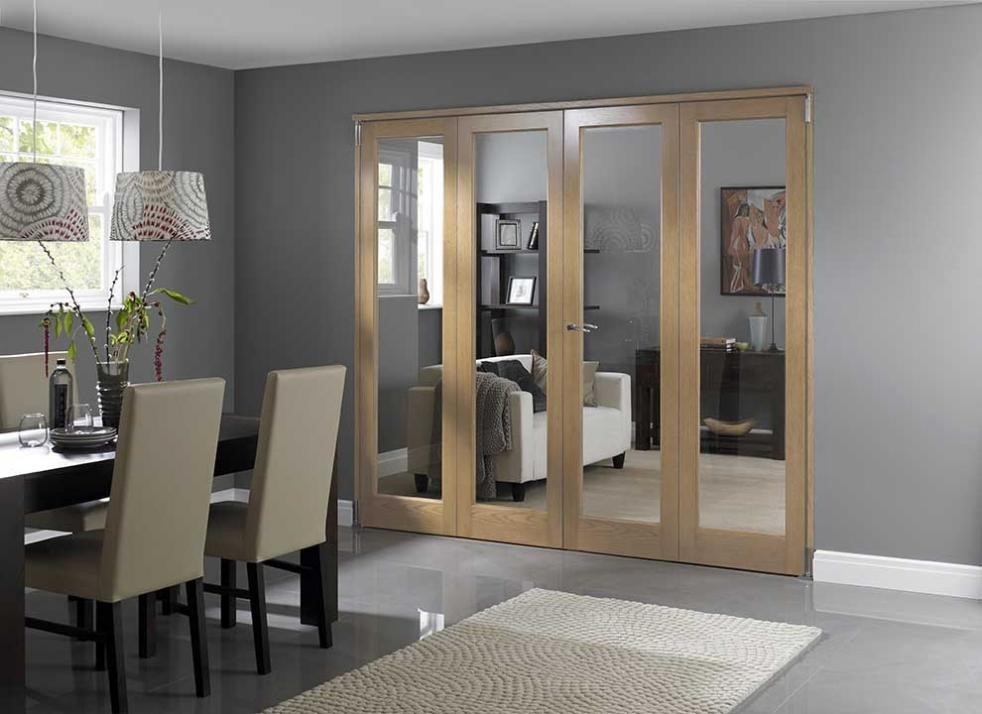 ---
The latest technology means our Inspire fold flat internal bifold doors range is a supremely elegant way to transform your space. No bottom track means you have a seamless transition between rooms, and a central opening door makes for easy day-to-day access. These doors can be folded fully back against the wall, making them an excellent way to open up your space.
"Ordered these doors after reading reviews and can honestly say every word was correct. The service was excellent and the doors were exactly what we were looking for. Well-made and had no trouble fitting them. Now we are going to order matching internal door. Would definitely recommend these doors," Brian Rowley.
"Stunning, stunning, stunning!!! We are so pleased with the effect that Vufold Inspire has had on our home that we would like to send a personal "thank you" to the designers and manufacturers of this beautiful product. The craftsman that fitted our Inspire doors commented, without solicitation, on the superb quality of both the build and the fittings of the doors," Ian Wykes.
You can read more reviews for our Inspire fold flat internal bifold doors range by clicking here.
---
Reviews for our Finesse Clear range of Bifold doors
---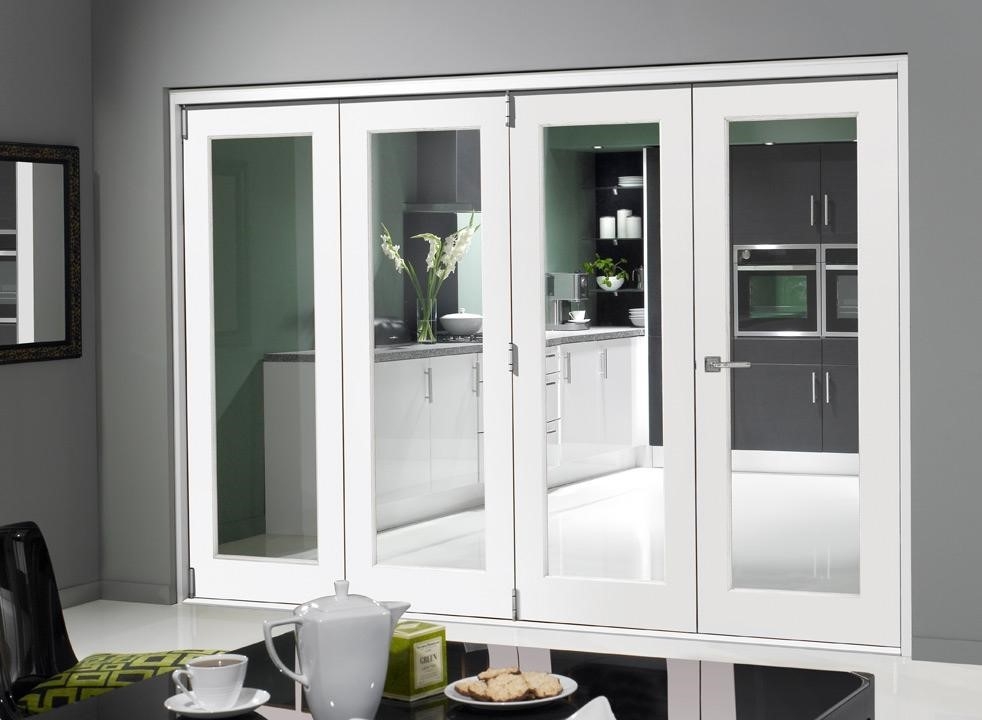 ---
Ideal for anyone who needs a door they can paint or varnish to match their décor, the slim internal bifold doors range is built from 40mm thick unfinished oak and come with top and bottom tracks for increased rigidity.
"Excellent quality door at a really good price. I couldn't be happier with the finished look and feel/operation of the doors. Just take your time with the installation instructions and you'll have a set of doors that look three times the cost," Paul Bainbridge.
"No pressure selling when we visited the factory. We were so impressed with the product we decided to purchase on the day. The doors are often complimented by visitors. We are so pleased with the product if we decide to install external bi-fold doors. we would definitely use Vu-fold again. Thank you for a smooth transaction and a quality product," Mrs Jacqueline Heathcote.
You can find more reviews for our Finesse Clear range of bifold doors by clicking here.
---
Reviews for our Finesse Frosted range
---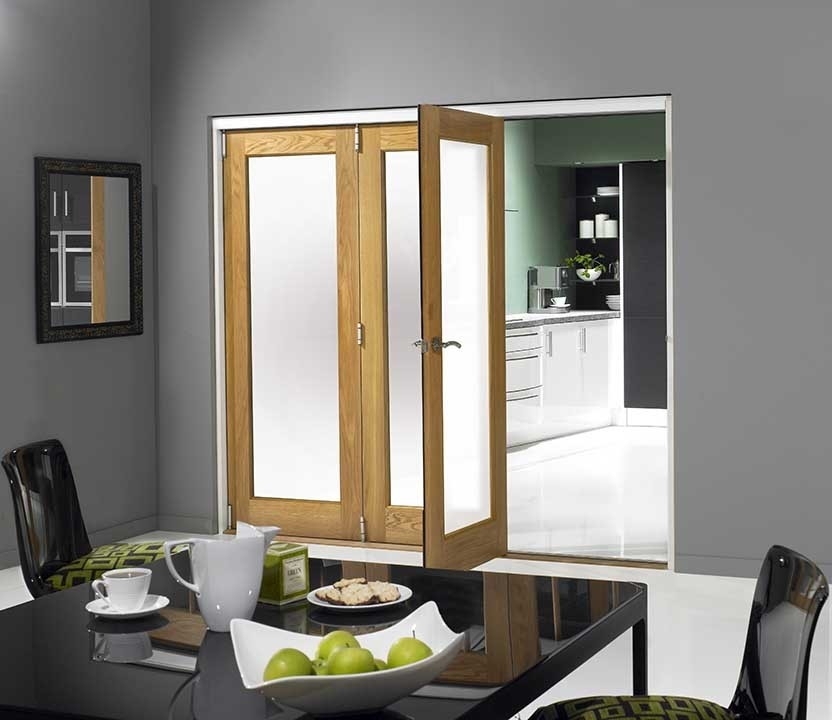 ---
With the same characteristics as the Finesse range and the addition of frosted glass, Finesse Frosted bifold doors are ideal for a space such as a home office or to screen off a closet. You can have all the privacy you need, but without compromising the amount of light in your home.
"My builder was very pleased to fit these doors, remarked on the quality and how easy they were to install. We knocked down a block wall and framed a new stud wall around the doors which sets them off a treat. My plumber who was installing a new CH system was so impressed he is going to get a set himself," Chris Fisher.
"Very pleased with the product. Professional traders in the building trade have commented on their quality and desired your details. The fitting was carried out by a professional but he said it was fine to do. The draught excluding is a great touch. Blinds are being fitted this week and we have ordered some for the Windows to match. The company you used were extremely helpful," Elizabeth Croker.
Read these reviews and more by clicking here.
---
Reviews for our Edge range of doors
---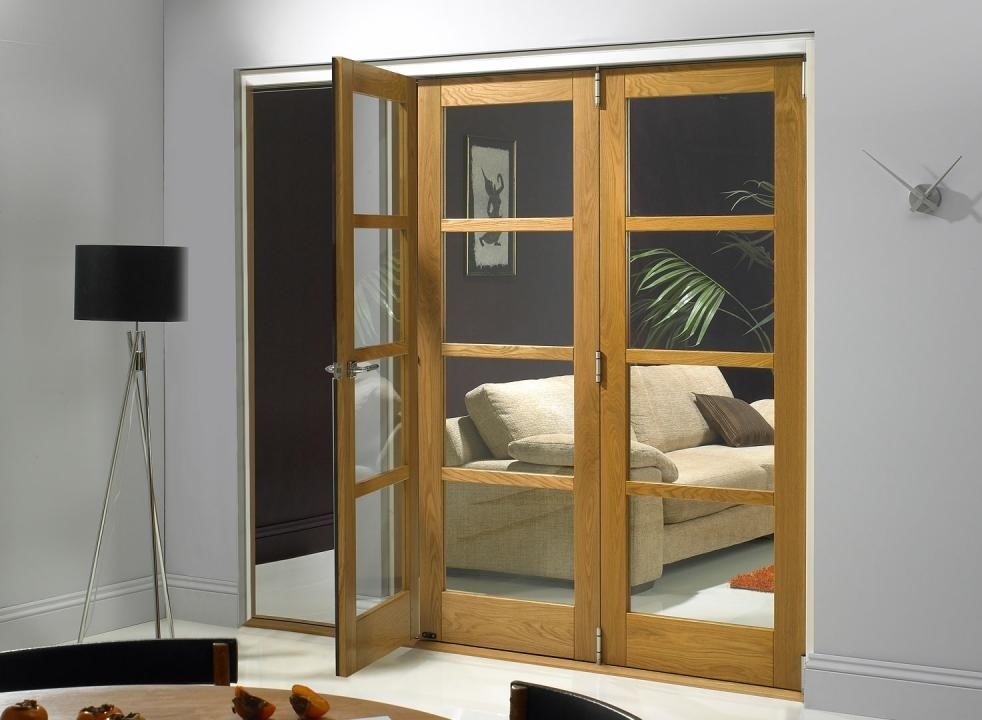 ---
Vufold Edge doors are built from 40mm thick timber, with an unfinished oak veneer, making them perfect for people who want to add their own touch of colour or varnish to showcase the beauty of the wood.
"I was very pleased with Vufold and the product it produced. There were no issues with the doors which fitted my gap in the wall perfectly. The delivery was as per agreed time with both driver and 2nd member being very polite. I would have no issues purchasing further items from Vufold being confident in what they produce," Keran Jones.
"Excellent product and service. Easy to fit," Mr. Peter Blackler.
Read more reviews for our Edge range of bifold doors by clicking here.
---
Our favourite Vufold case studies
Case studies give an in-depth account of the ins and outs of installation and design, so you can get a good feel for how VuFold doors will work in your home and understand what's involved in the fitting. Here are some of our favourites.
---
Status Aluminium bifold doors the perfect choice for two neighbours
This case study showcases our Status range in Andrew's unusual double extension project on a pair of 1930s semis.
---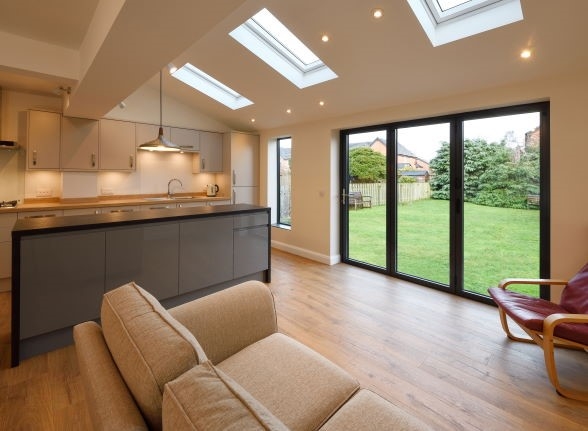 ---
---
Extra Elite 2.1m bifold doors add more light into a new extension
Julie and Doug wanted to keep the country cottage feel of their bungalow (the previous owner had lived in the property until she was 100) so our Elite range in beautiful oak was ideal. They loved their VuFold doors and service so much they bought another set when they extended further and are now looking at getting some windows.
---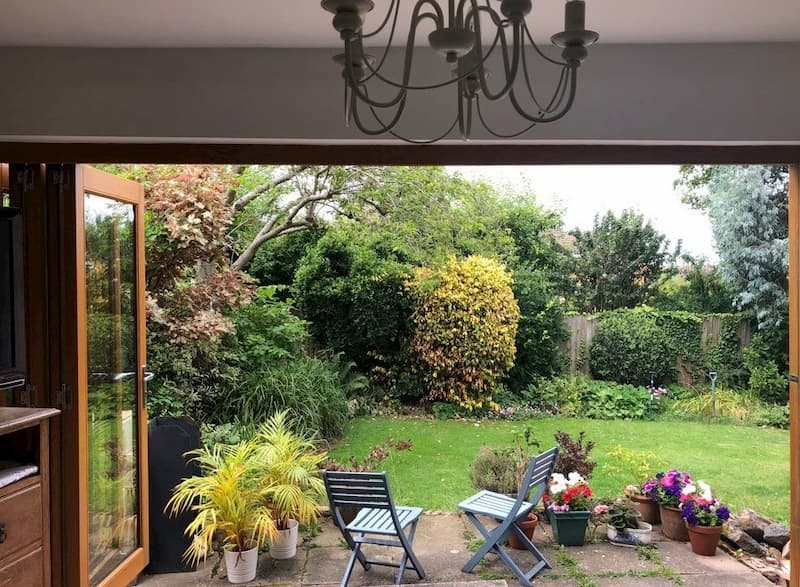 ---
---
Builder impressed by quality of Vufold internal bifold doors
Kirsty and Andy needed to replace a set of old-fashioned patio doors that separated their conservatory and dining room. They chose the Finesse range to ensure a seamless transition between rooms and love the look of the warm oak finish.
---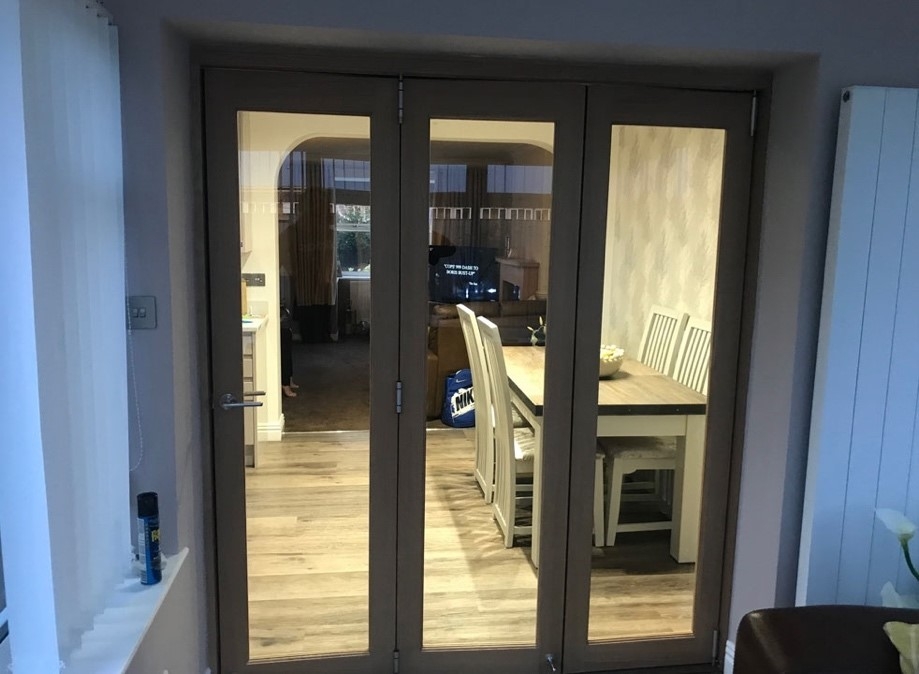 ---
Read the full case study here.
If you'd like to find out more about our internal and external ranges of bifold doors and the options available to you, our expert team is always on-hand to offer advice and guidance. Please contact us today to find out more.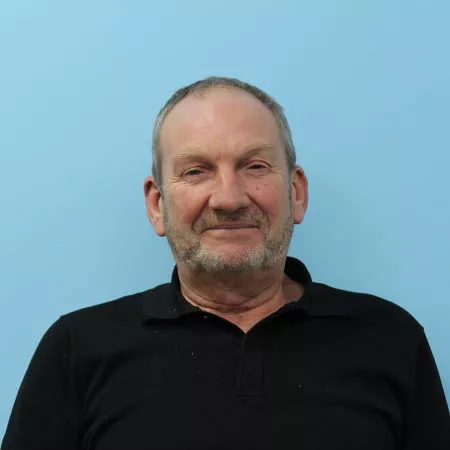 Author:
John Collins - Managing Director
About John Collins
John has built Vufold into a unique online door and window company and has spent 20 years bringing innovative products and designs to fruition, recognising niches in the market and placing them in the likes of Wickes and Travis Perkins, he started Vufold in order to sell them directly. John founded Vufold and has amassed a wealth of experience in product design and development, and in particular timber-based products
Read more about John Collins