French door colour options: real oak
---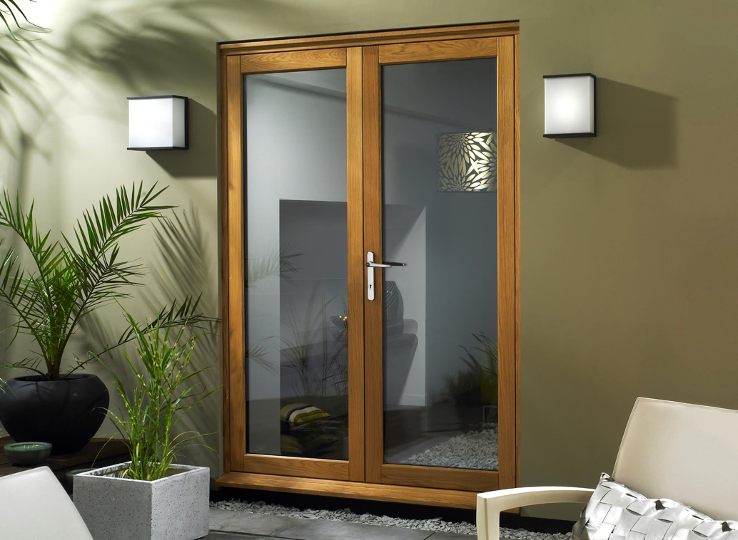 ---
French doors are a stylish, timeless and practical kind of external door system. Unlike sliding patio doors, they allow the full aperture to be opened up and bring in plenty of natural light when configured with large glass panes.
Whatever the reason for installing a new external door set, when considering which French doors to choose, one factor you will need to consider carefully is colour. This is important, because it can often influence the kind of frame materials you should look to.
One example of this is timber, and specifically real oak veneer. In this guide, we will discuss the benefits and considerations of this finish for external French doors to help you understand if this is the right colour option for you.
---
---
Benefits of real oak veneer French doors
---
Timber is a traditional material for external doors and many homeowners appreciate its timeless style. However, solid wood doors are susceptible to warping, rotting and insect infestations, and they require a great deal of maintenance to keep them in good condition. Our timber French doors, including the Elite range, have a strong engineered hardwood core that prevents these problems and offers superior levels of thermal efficiency. The real oak veneer is pre-finished with three layers of factory-applied coating to make the doors even more durable and long-lasting.
Many people love the natural and rustic look of real wood. Plus, the neutral tone of real oak complements a wide range of different colours so there's no need to worry about the doors clashing with surrounding materials or furnishings. If you want to change the cladding of your home, the colour of the interior walls, or anything in your garden or patio area, you can feel confident that real oak veneer French doors will fit right in.
Finally, when you choose real oak veneer for your French doors you can rest assured that they won't go out of fashion. Neutral colours and natural-looking materials are always a great choice when investing in doors you want to remain in your home for decades to come. Whereas bright colours tend to fall in and out of style, real oak veneer will always remain a fashionable choice so that your French doors won't look dated within a few years.
---
Considerations of real oak veneer French doors
---
One of the first things to consider before buying or installing real oak veneer French doors is the style of your property. If you have a period or traditional property, timber French doors will be ideal. Period properties, in particular, can lose their charm if modern materials like uPVC are used for external doors and windows. However, solid wood doors can be incredibly heavy, high maintenance and expensive. Real oak veneer doors with a hardwood core are an excellent solution, as they provide superior performance without losing the style of traditional solid wood.
If you have a very modern property, real oak veneer doors could potentially look out of place. However, sometimes a blend of traditional and contemporary can look incredibly stylish. Installing oak doors could be a great way to soften an ultramodern property.
It's important to think about maintenance before installing oak veneer French door sets. The veneer should be finished with a protective coating or varnish to keep it in good condition, but this may need to be touched up or reapplied periodically.
A solution to the issue of maintenance is dual-colour doors. These have a real oak veneer on the inside face to give that natural look on the interior of your property, and powder-coated aluminium on the outside which is durable, low-maintenance and weather-resistant. You only have to perform periodic refinishing and maintenance on the interior side of the doors, which would not be exposed to the elements and therefore would be less susceptible to weather-related damage.
Finally, keep in mind that you are limited on your choice of material if you want French doors with real oak veneer. Aluminium and uPVC French doors will be powder-coated and finished in RAL colours such as white, jet black or anthracite grey. You're usually looking at engineered hardwood or composite doors if you want a real oak veneer finish.
---
Real oak external French doors from Vufold
---
Our Elite French doors have an engineered hardwood core that offers exceptional strength, and a real oak veneer that is factory-finished with three layers of a clear, protective coating to keep the wood in fantastic condition. These doors have double glazing with full-thickness 24mm low E units and double weather seals to achieve excellent rates of thermal efficiency. There is a five-point lock on the main door and two additional bolts on the slave door for additional security. Elite French doors are designed to complement our range of bifold doors of the same name, and they can be delivered to your home in just three working days.
---
RELATED CONTENT
---
---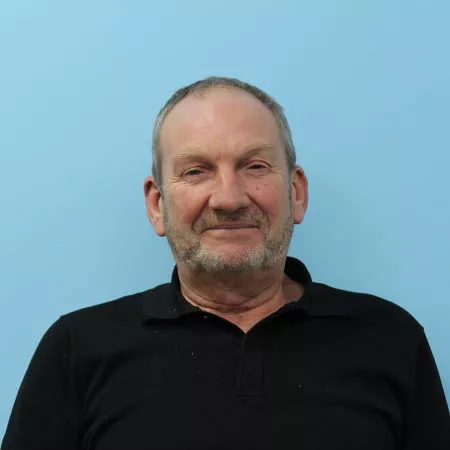 About John Collins
John has built Vufold into a unique online door and window company and has spent 20 years bringing innovative products and designs to fruition, recognising niches in the market and placing them in the likes of Wickes and Travis Perkins, he started Vufold in order to sell them directly. John founded Vufold and has amassed a wealth of experience in product design and development, and in particular timber-based products
Read more about John Collins