Unfinished oak vs white: Best finishes for internal bifold doors
---
If you've decided to replace an old door inside your home with a new interior bifold door set, it's important to be aware of all of the options available to you. This includes the type of finish you want these internal doors to display; you may want a style that matches your existing décor, or maybe you're redecorating and have a new colour scheme in mind.
In this guide, we'll take a look at two popular bifold door finishes: unfinished oak and finished white. We'll discuss the features and benefits of these finishes to help you find the best internal door set for your home.
---
In this guide:
Read this section to find out more about how finished and unfinished oak differ and the benefits of each.
Unfinished oak is the main finish provided for internal bifold doors at Vufold – this section will explain the benefits.
Learn more about why many customers opt for white bifold doors.
This section will provide a summary of both options to help you make an informed decision.
---
What are the differences between finished and unfinished oak bifold doors?
Unfinished doors are delivered to you as bare wood that needs to be treated, or finished, before the doors can be installed. On the other hand, finished oak internal bifold doors are delivered to your home along with the door hardware, ready to be installed straight away.
A fully finished oak folding door offers a more convenient option if you'd prefer not to finish the doors yourself. At Vufold, we supply a range of finished internal bifold doors which are available in white. This door style is extremely popular among our customers.
Read our guide to find out more about the differences between finished and unfinished oak bifold doors.
---
What are the benefits of unfinished oak?
Unfinished oak bifold doors have a wide range of benefits including:
---
VARIETY OF CHOICES
Unfinished oak is the perfect option if you want the ability to match your bifold doors to the décor of your living space. With unfinished bifold doors, you can paint the frames any colour you like, which is ideal for creating a door set that complements the rest of the room.
Alternatively, you might prefer to retain the natural beauty of the wood and unfinished oak means you can do just that.
Vufold's range of unfinished internal bifold doors can be stained or varnished to suit your décor. It is not recommended that you use wax or oil to finish the doors as this can cause issues with the wood and will invalidate the warranty on your doors.
---
COST
As well as giving you maximum choice in terms of the colour of your doors, an unfinished oak bifold provides a lower cost option than a pre-finished door.
---
FLEXIBILITY
Unfinished oak means maximum flexibility. You have the freedom to create a unique look, whether that means matching your existing paint colour, braving a bold contrast or using varnish to bring out the beauty of the wood.
You will need to set aside space and time to complete the finish. The customisable quality of unfinished oak, along with the lower costs, means these doors are one of the most popular options among homeowners at the moment.
---
BEST OAK INTERNAL BIFOLD: VUFOLD EDGE RANGE
If unfinished oak sounds like it might be the folding door you are looking for, we might have the perfect range for you. Here's a quick guide to Vufold's Edge range of internal bifold doors.
Four light 'crittal' design for a contemporary feel
Range of standard sizes
Made to measure available upon request
Made with toughened safety glass
Choice of opening configuration
Some designs can be fitted without a bottom track
40mm thick doors with real oak veneer
15-year guarantee

Price: from £1,109
---
Why is white a popular option for internal bifold doors?
White has always been a popular choice for interiors. Whether you're looking to create something ultra-modern or need a door that blends into the background, a white bifold door will always be a stylish choice. It's great for providing a clean, crisp finish and is brilliant for making the most of the available light.
White bifold doors have a huge range of benefits, which is what makes them a popular choice for many homeowners. These include the following:
---
VERSATILE AND ADAPTABLE
White works with any style and décor. Whether you want a contrast or a sleek sweep of white throughout, white will almost always work. In addition, if you decide to change your interior décor in the future or you like to change styles and colours frequently, or you want to make sure your home will be easy to sell in the future, white is a great option.
---
MAXIMISES NATURAL LIGHT
White is well known for helping light bounce around a room, so if you are putting your folding doors in a darker corner or using them for a gloomy closet, white will help maximise your natural light. Many homeowners choose white to match their existing doors, whether they're using their bifolds as entry doors or a room divider—the colour is unobtrusive and blends in well.
---
READY TO HANG
Vufold's range of white bifold doors is completely finished and is delivered to your home, completely ready to hang so provides a hassle-free way to install bifold doors.
---
Best white internal bifold door: Vufold Finesse range
If you'd prefer to opt for a fully finished, white bifold door, here's a quick guide to Vufold's Finesse range of internal bifold doors.
Engineered for reduced sightlines to maximise light
40mm thick timber frame
Fitted with toughened safety glass
Range of standard sizes available
Bespoke sizes available upon request
15-year guarantee

Price: from £1,029
---
Unfinished oak vs white: which one should you choose?
If you're looking for a completely customisable bifolding door, with maximum flexibility in the finish, and you don't mind doing some of the work yourself, unfinished oak is ideal.
Unfinished oak is also a good choice if you're on a limited budget since this often works out a little cheaper than a fully finished option.
If you have a flexible budget and you're looking for something timeless that will arrive ready to hang, then white internal bifold doors will be the perfect solution for your home.
To find out more about the options available or for further advice, please contact our team of experts today.
---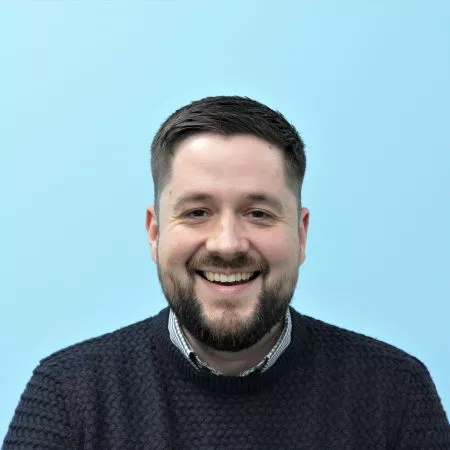 Author:
David Ross - Sales Manager
About David Ross
David has over 20 years' experience in the glazing industry across a variety of roles. He joined Vufold in 2012 and his mission is – 'to make buying windows and doors as easy and stress free as possible'. He is committed to constant improvement and was instrumental in creating our innovative direct-to-consumer e-commerce platform to help grow and expand the business.
Read more about David Ross