External bifold door sizes minimum and maximum
Bifold doors have become a popular addition to many homes due to the many benefits that installing them can offer. As well as flooding a space with natural light, they also create a stunning and contemporary addition to any room that is as aesthetically pleasing as it is practical.
When it comes to choosing bifold door for your home, it's important to know which size you need, and which sizes are available from your chosen supplier. This guide will outline the minimum and maximum opening sizes for bifold doors.
---
In this guide:
Learn more about the minimum opening size required when installing bifold doors.
Find out more about the maximum sizes to consider when installing bifold doors.
Learn more about Vufold's ranges of bifold doors and the minimum and maximum sizes available to order.
---
Minimum size for bifold doors
Manufacturers of bifold doors provide doors in varying sizes but these recommended sizes are usually adhered to. Whether you buy the ready-made sizes from your chosen supplier or choose to have bespoke bifold doors made for your home, the following minimum measurements are recommended.
When it comes to selecting a bifolding door, the minimum recommended size is:
1400mm (1.4m) in width for a bifold with two door panels, or 700mm per door panel.
Height wise, it is not recommended that the measurements are smaller than:
Conventional doors are usually around 2100mm tall so this minimum size is quite a bit smaller. If the doors are any shorter than this, it is likely that the mechanisms will stick and the door will become difficult to manoeuvre and open.
---
Factors to consider when choosing bifold doors
Whether you're choosing your bifold doors from a supplier's collection of standard sizes, or you choose a bespoke option, there are a few factors to consider when choosing the right size for your home.
---
Bifold door configuration
If you have a small space in which to install bifold doors, the narrowest set of bifold doors contains two folding doors but the most common type is a three-door set. Typically, a three-door set will consist of a lead door that enables better access and more convenience. With a two-door set, the option of a lead door is not available.
Smaller bifold doors are a great option if you're looking to replace sliding doors or French doors with a smaller opening and you do not want to widen the aperture.
---
Door material
While these are the recommended average sizes for bifold doors, the material you use can also affect the minimum height and width of your doors. For example, if you choose an aluminium bifold door, the minimum height and width are much smaller than using materials such as wood due to the size of the frames.
Aluminium is much slimmer with less frame and more glass, while timber is larger and heavier, requiring more space and support. It is important to consider the material you will want to use when measuring the space for your doors.
---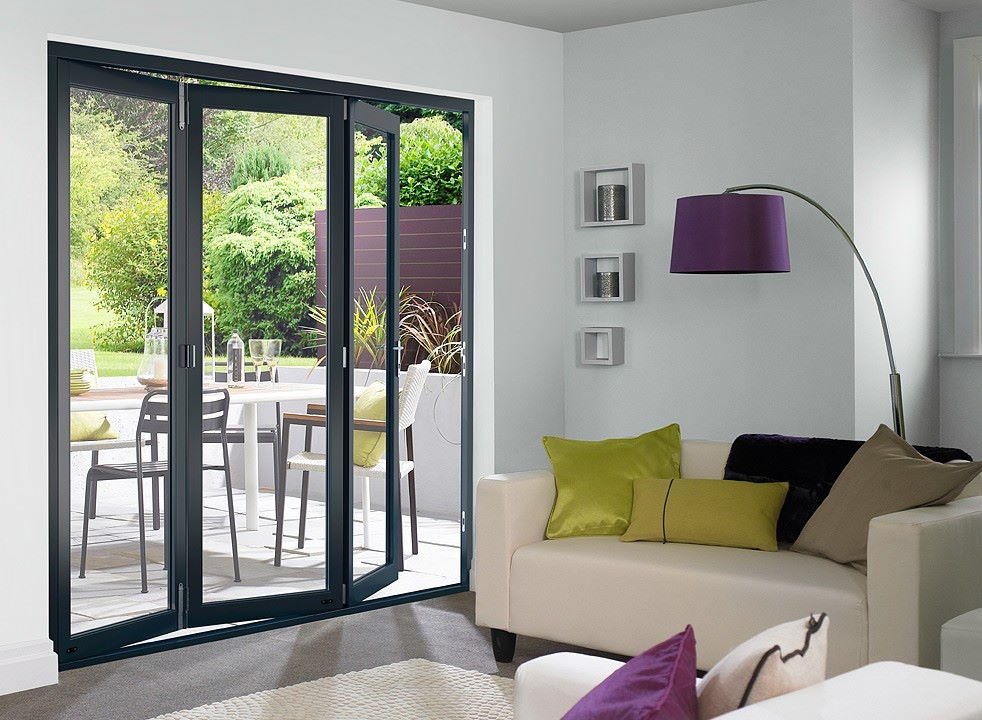 ---
Maximum sizes for bifold doors
If you choose to install a larger span of bifold doors in your home, it's important to consider the maximum recommended widths and height to make sure that you will be able to achieve the look you want.
The maximum width for bifold doors is:
The maximum height is:
However, it is not recommended to fit them to these specifications, as the larger sizing could impact the functionality of the doors.
It is important to consider that the door frames of your bifold doors will take up between 5-10cm in your measurements, so account for this when you are working out the approximate width of the doors prior to fitting. If you have a larger opening (usually considered when the width spans more than six metres), you will need to have joints on the door track, cill and frame.
The materials that the frames of your bifold doors are made out of will also, similarly to the minimum size bifolds, have an impact. Remember, if you opt for a material such as aluminium, you will be able to have bigger doors than if you select uPVC or wood.
---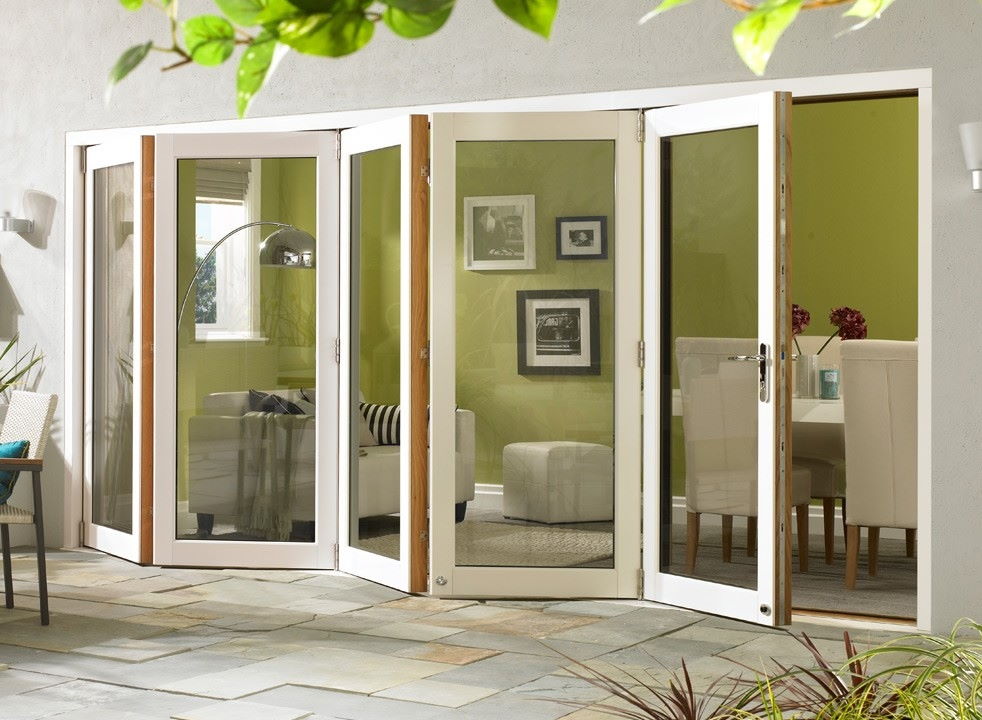 ---
Vufold bifold door minimum and maximum sizes
At Vufold, our bifold door ranges are available in the following minimum or maximum sizes. However, if your opening is outside of these, we can provide bespoke sized doors but these will have different lead times.
| | | | | | | |
| --- | --- | --- | --- | --- | --- | --- |
| Vufold range | Minimum height | Maximum height | Minimum width | Maximum width | Materials | Cost |
| Oak Bifold Doors (Elite) | 2100mm | 2100mm | 1800mm | 4800mm | Oak | £1,399 - £3,999 |
| Timber Bifold Doors (Master) | 2100mm | 2100mm | 1800mm | 4800mm | Wooden | £1,599 - £3,629 |
| Aluminium Bifold Doors (Status) | 2100mm | 2100mm | 1800mm | 6000mm | Aluminium | £1,849 - £5,699 |
| Supreme | 2100mm | 2100mm | 1800mm | 6000mm | Aluminium | £2,399 - £6,489 |
| Composite Bifold Doors (Ultra) | 2100mm | 2100mm | 1800mm | 6000mm | Composite | £2,799 - £6,389 |
Once you know the specifications, sizes and styles of bifold doors available, you should be able to order the perfect doors for your home. If you would like more information on the minimum and maximum sizes for bifold doors or bespoke doors, please speak to our team of experts.
---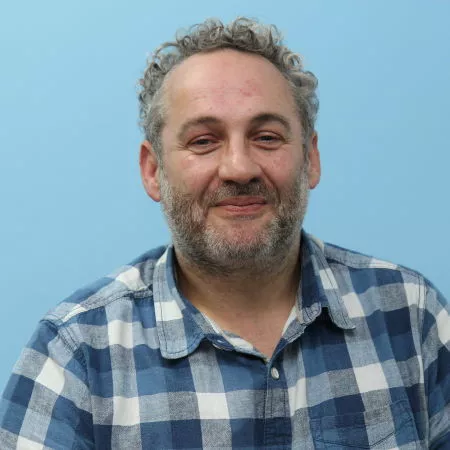 Author:
Richard Collins - Operations Director
About Richard Collins
Rick is an expert in lean practices and principles, and how they're applied to manufacturing, warehouse, administration and management of the business. As an operations director he oversees all areas of the business ensuring they run as efficiently as possible and has worked his way up through virtually every department since he joined us 13 years ago.
Read more about Richard Collins