Bifold door panel options: 2-4 panels
An external bifold door is a great, modern way to update any home, helping to maximise space and fill a room with natural light, giving the illusion of more space.
Made up of large panels of glass and a frame, bifold doors allow you to be flexible in where and how you choose to install them. So, whether you're updating your patio or want to connect your garden to a large living space, bifold doors are a great option. However, with so many options and configurations available, it's important to be aware of the variety of options available to you before purchasing your bifold doors.
---
In this guide:
Learn more about what two panel bifold doors are and the configuration options available.
Find out more about the configuration options available when installing three panel bifold doors.
Learn more about four panel bifold doors in this section.
Find out more about the factors you should consider when choosing your bifold door configuration.
---
Two panel bifolding doors
Bifolding doors are incredibly versatile in their design, which is why they are the perfect option for anyone looking to upgrade patio doors or French doors. If you have a smaller space or you're simply looking to replace an old sliding or patio door with bifolds, the two-panel option is perfect.
A two-panel bifolding door can be folded out of the way to leave the opening completely open, creating a seamless transition between the inside and outside of your home. This is in contrast to a sliding door in which one of the panels remains static. This can help you to maximise both indoor and outdoor space.
Two-panel bifold doors can be configurated to adapt your home and space so you can opt for opening left to right, or open inwards or outwards. One of the downsides to installing a two-panel bifold door is they cannot feature a lead or traffic door for easier access in and out of your property.
---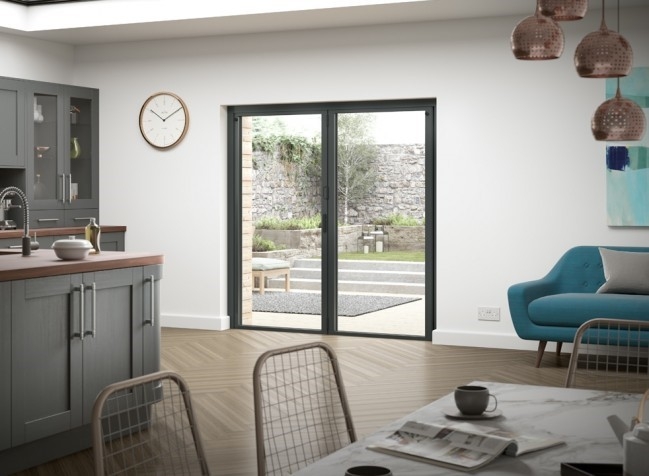 ---
Vufold two panel bifold doors
We have a great range of two-panel bi-fold options available that will instantly add a modern look to your home. Check out our table below for more details:
---
Three panel bifold doors
Three panel bifolding doors are one of the most popular options because they offer a huge amount of flexibility in comparison to two panel bifold doors and older sliding doors and French doors.
Three panelled bifold doors offer multiple options when it comes to configurations including:
All doors slide together to left or right
Fitted with a traffic door to function as a regular door on a day-to-day basis
Traffic doors are most suited to odd numbers of bifold doors and can be installed on either side of the set and will fold back with the rest of the doors if you wish to open them all.
---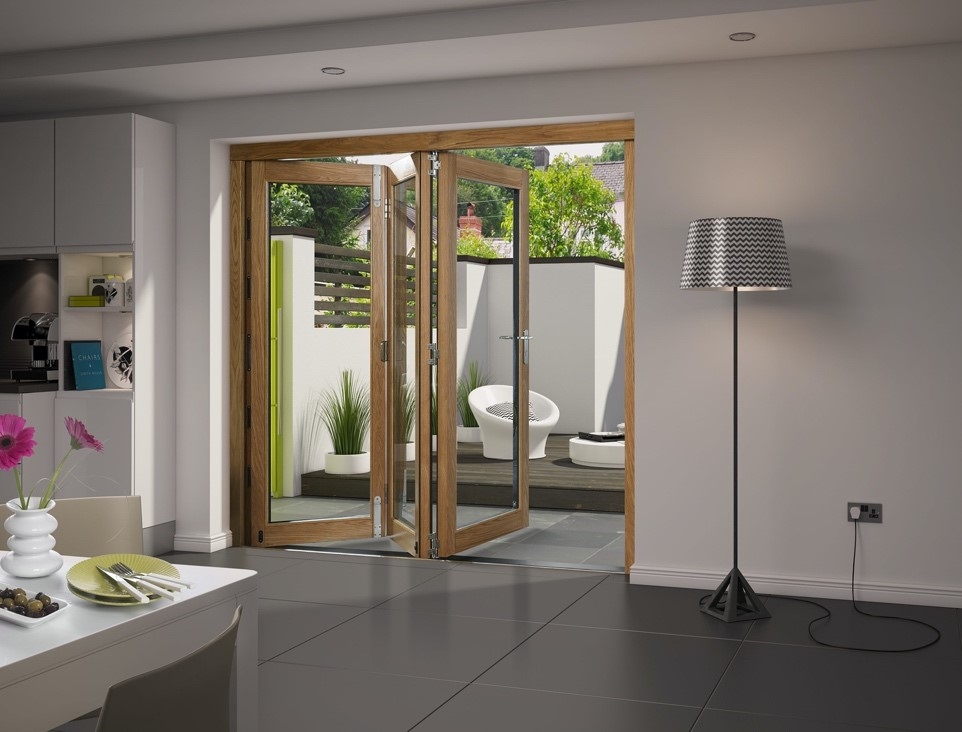 ---
Vufold three panel bifold doors
We have some fantastic three-panel bi-fold options available in different colours and materials, so check out our table below for more details.
Range
Width
Height
Materials/ Colours
Cost
Oak Bifold Doors (Elite)
1800mm (1.8m) – 2700mm (2.7m)
2100mm
Oak
£1,399 - £1,879
Timber Bifold Doors (Master)
1800mm (1.8m) – 2700mm (2.7m)
2100mm
Wooden
£1,599 - £2,109
Aluminium Bifold Doors (Status)
2100mm (2.1m – 3000mm (3m)
2100mm
Aluminium

Grey
White
Black
Grey/White

£2,549 - £2,749
Supreme
2100mm (2.1m) – 3600mm (3.6m)
2100mm
Aluminium
£3,289 - £3,699
Composite Bifold Doors (Ultra)
1800mm (1.8m) – 3000mm (3m)
2100mm
Composite
£2,799 - £3,999
---
Four panel bifolding doors
Four panel bifold doors are the perfect option for homeowners with larger spaces who are looking for a contemporary look. Four panel doors allow you to be even more flexible with the way you use or configure them.
With four panels, you have a number of configuration options available including:
4L or 4R - All panels fold to the left or right with no traffic door
2L + 2R - Two doors folding to the left and two to the right with no traffic door
3L + 1R or 1L + 3R - Three doors fold to one side and the other folds to the other side with one of the doors operating as a traffic door
---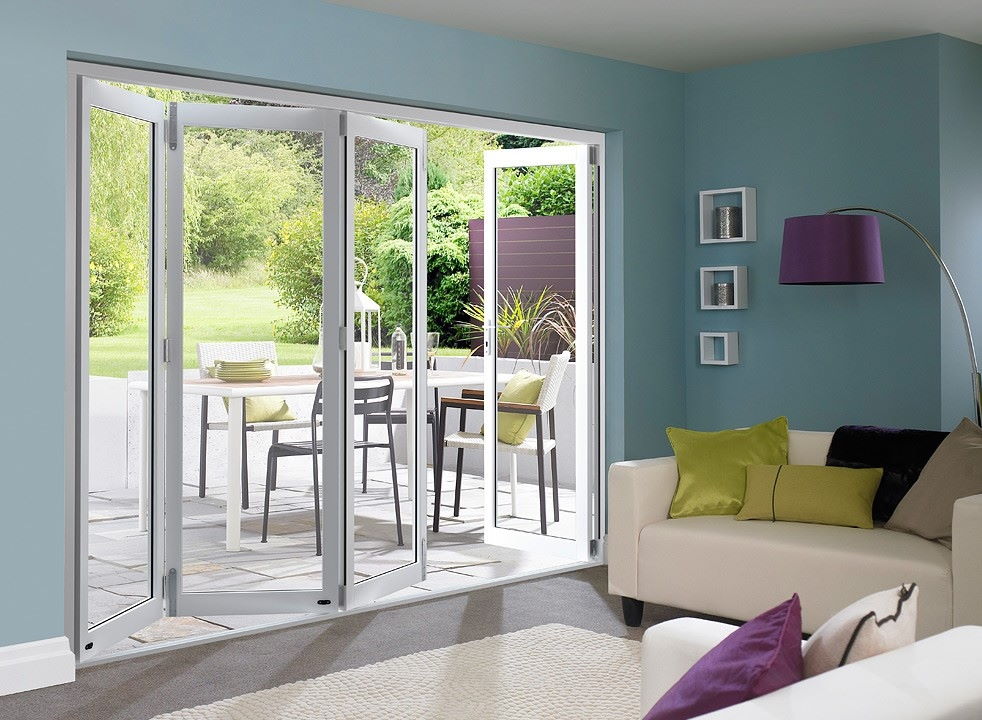 ---
Vufold four panel bifold doors
Take a look at our four panel bifold door options:
---
How to choose the right bifold door for your home
Bifold doors are a great way to add luxury and a modern look to your home. They offer a great alternative to traditional French doors and patio doors and are available in a range of different finishes including oak, aluminium and composite.
---
Use of the space
One of the biggest factors to consider when choosing the configuration for your bifold door system is configuring them in a way that works for you, your home and your needs.
If you want to increase the amount of natural light in your home or connect an indoor and outdoor dining area, bifold doors that fold completely away and larger spans of doors will help you to do this.
On the other hand, if you're just looking to replace an old door, a smaller bifold door will suit perfectly but will offer a modern upgrade and will help you to maximise your space.
---
Size of existing opening
The size of the opening you already have will largely determine the size of door you will need unless you undertake building work to make it bigger.
It will also be dictated by the size of your home and the space you have available.
---
Traffic door
A traffic door or lead door provides easier access on a day-to-day basis, so this is an important consideration if you have pets or children.
If you have an odd number of panels, one door can be used as a traffic door or access door. This is a popular and convenient option if you don't want to completely open the doors every time you want to go outside.
For more information on available numbers of panels and configuration options, please contact our expert team at Vufold today.
---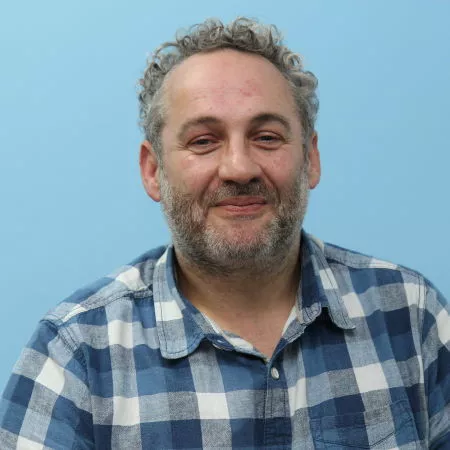 Author:
Richard Collins - Operations Director
About Richard Collins
Rick is an expert in lean practices and principles, and how they're applied to manufacturing, warehouse, administration and management of the business. As an operations director he oversees all areas of the business ensuring they run as efficiently as possible and has worked his way up through virtually every department since he joined us 13 years ago.
Read more about Richard Collins