Understanding French door accessories: blinds
---
Are you considering replacing your patio doors? A new French door set provides a stylish yet traditional garden door option, as well as security and practicality.
However, there's much more to think about than just the doors alone. To get the desired look and functionality for your home, you'll need to factor in elements such as colours, hardware, and accessories.
One of the most important accessories for French doors is blinds. While patio doors are perfect for allowing natural light and beautiful views to enter our homes, shades are required for controlling light levels, shade, temperature, and overall aesthetic.
Not sure where to start? In this guide, we take you through everything you need to know about choosing the right external French door blinds for you.
---
In this guide:
Read what to consider when choosing the right external blinds for you.
Read more about colour and style options, considering maintenance, installation, and more.
Read our options of French doors and blinds.
Find out more about how to hang blinds on external French doors.
---
Considerations for external French door blinds
---
Here are some of the key factors you should think about when researching and choosing the right external French door blinds for your home.
---
Blind types
---
---
Vufold French door blinds
---
At Vufold, we specialise in sleek, easy-to-install blinds for French doors. As perfect fit blinds, our products are placed on the inside face of the doors, and thus become an integral part of the door. This means that you do not need to move them to open the door, giving you easy and convenient access. Further, they do not need to be drilled in, making them easy to install and maintain:
Venetian: Venetian shutters are a classic option and are available in both wood and metal. They can, however, be very heavy, and aren't best suited to doors that are in frequent use.
Roller: Roller blinds are a popular choice for windows, but don't offer the most stylish solution when hung in front of a door. Further, if they are not fitted within the recess of the door, they can be time-consuming and fiddly to roll up for garden access.
Integral: Integral blinds are fitted within the glazing of the door. This works well for those who are looking for a permanent solution but leaves no scope for changing style without having the whole door set taken apart.
Vertical: Vertical options are a traditional choice, but the vertical fabric slats can often bunch or become uneven.
View our full range of accessories and blinds here.
It's worth considering whether blinds are the most suitable choice, or whether curtains or other styles of window coverings, such as shutters, work better for your space.
Is the main consideration shade, or privacy? Or do you need to maximize the light coming into your space? Think about how often the doors will be used and where they will be placed to inform your decision.
At Vufold, we believe sleek and subtle design can give you the best of both worlds. Some of the benefits of our French door blinds include:
---
More cost-effective in the long run when compared to curtains

Easier to clean in comparison to curtains and other blind types.
---
Choosing blinds for your external French doors
---
Everyone has their own sense of style and taste, so it's important that you find blinds that fit with the vision you have for your space. You should think about:
---
Colour and style options
---
Colour and style options are available with white or grey trim and in a selection of neutral and sleek colours: black, white, concrete, and iron. This works perfectly with the grey and white options available in our aluminium French door range.
---
Maintenance
---
Put simply, some blinds are easier to clean and maintain than others. Integral blinds, for example, cannot be accessed easily if there is a fault. Meanwhile, Venetian and vertical blinds are traditional choices but can be time-consuming to maintain.
Vufold blinds are easy to access, being mounted within the glass recess, and the concertina design won't sag, bunch or gather like other blind designs. Your new blinds should complement both the patio doors you choose and the interior design of your home.
---
Installation
---
When it comes to blinds for patio doors, installation can sometimes be a costly add-on. Budget carefully to determine if you can cover the costs of installation for your dream blinds.
If you choose Vufold, remember that all of our window coverings are designed specifically for hassle-free, mess-free installation. We include easy-to-follow fitting instructions and – even better - you don't need to drill into the doors, making installation quick and clean!
---
Vufold external French door ranges and blinds
---
At Vufold, we currently offer complementing blinds for our Status and Supreme French door ranges. Read more about each range below and find out about the matching products we offer:
---
Status
---
Our Status doors are our newest offering with aluminium framed French doors. We offer an entire Status range in both double and triple glazed glass options. Available in powder-coated grey or white, these doors are modern and sleek. Designed for the temperamental UK weather, our Status French doors will keep the cold out and the warmth in.
Our blinds for Status patio doors are available in black, concrete, iron, or white, so you can create the aesthetic you want.
---
Supreme
---
The Vufold Supreme range is our premium collection of aluminium doors and windows. Like the Status collection, they are designed for the British climate and come with a 15-year guarantee. The French doors in this range come in the same colours, and our matching blinds match perfectly in both colour and style.
For both of these ranges, we believe the best option is the coverings created specifically for these doors, offering optimal shade, light, temperature, and style.
Shop our full range of external French doors and French door blinds here.
---
Hanging blinds on external French doors
---
How to hang your blinds – and who can hang them – completely depends on the style you choose. Roller blinds and Venetian blinds can be self-fitted in some circumstances, while integral blinds must be pre-fitted by your supplier.
If you opt for Vufold French door shades, installation is straightforward, and you can do it yourself. We design our blinds specifically with this purpose in mind. We offer in-depth advice and instruction in our guides.
---
Get in touch
---
If you want to find the perfect choice for your French doors, get in touch with the experts at Vufold today. We will take you through all of the options available to you, and help you find the perfect solution to suit your space and style.
---
RELATED CONTENT
---
---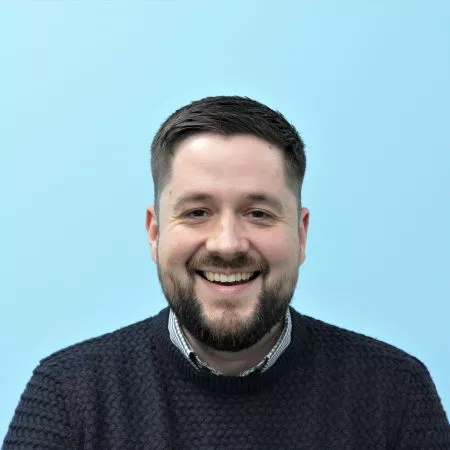 About David Ross
David has over 20 years' experience in the glazing industry across a variety of roles. He joined Vufold in 2012 and his mission is – 'to make buying windows and doors as easy and stress free as possible'. He is committed to constant improvement and was instrumental in creating our innovative direct-to-consumer e-commerce platform to help grow and expand the business.
Read more about David Ross