Vufold vs Wickes: Composite and wooden front doors
If you've lived in your home for a long time and your front door is showing signs of wear and tear, is letting the cold air in or simply doesn't look its best, you'll probably want to replace it with a new door. While everyone's tastes and requirements are different, a quality front door will be made-to-measure, easy to maintain, aesthetically pleasing, incredibly secure and capable of keeping out draughts and noise.
If you're a first-time homebuyer or you have never bought a front door before, we're here to put all your worries to an end with this guide. You might be familiar with some front door brands but are not sure of how their composite and wooden front doors differ. Here, we will compare composite and wooden front doors from Wickes with Vufold's Ultimate range and outline some key factors to bear in mind when choosing the right front door for your home.
---
---
Front doors from Vufold and Wickes: Summary
Vufold's Ultimate range of wooden front doors are also available from Wickes.
 
Vufold
Wickes
Materials
Cross-laminated hardwood foam (CLPF) core, five-layer cross-grained hardwood sheet, hardwood veneer.

Wooden:

Oak veneer
Pine
Ply-faced
Hardwood veneer

Composite:

glass reinforced plastic (GRP) with a polyurethane core.

Size range

1981mm x 762mm
1981mm x 838mm
2032mm x 813mm

Wooden:

1981mm x 762mm
1981mm x 838mm
2032mm x 813mm

Composite:

2100mm x 840mm
2100mm x 880mm
2100mm x 920mm

Available finishes
Fully factory-finished with a wood coating system.

Wooden: Untreated or factory pre-finished.
Composite: Fully finished.

Door operation
If you're just buying a door and fitting it to an existing frame, the door can be reversible or open inwards or outwards. Ultimate doors are designed to only open inwards when fitted to a new frame.

Inwards or reversible.
Ultimate range designed to open inwards only when fitted into a new frame.

Installation

The door requires advanced joinery skills to fit, so it's advised that you hire a skilled professional to install your new door for you.
Touch-up kit, iInstallation manual, hardware, drill bits and fixings provided.

DIY. Installation touch-up kit provided.
Touch-up kit, installation manual, hardware, drill bits and fixings provided with Ultimate range.

Trimmable?
Specific doors can be trimmed by 40mm height and 24mm width for easy door replacement in existing frames.

Wooden: Many trimmable by up to 10mm height and 10mm width; others trimmable from 24mm from height and width.
Composite: No.

Price
From £479.

Wooden: From £105.
Composite: From £570.

Delivery
Within three working days.

Wooden: Within seven days.
Composite: Within 27 days from supplier.

Guarantee
10 years against manufacturing faults.
10 years against manufacturing faults.
Bespoke service?
Yes.

Wooden: No.
Composite: Yes.
---
The main similarities between Vufold and Wickes front doors
Colours
Vufold's Ultimate range of wooden front doors are available in two classic options of oak and anthracite grey. Wickes' wooden doors are available in grey, light grey, oak and unfinished natural. Their composite doors are available in grey, green, white, black, oak and red.
---
Opening directions
Ultimate door and frame kits from Vufold are designed to open inwards only. However, Ultimate doors can be fitted to open inwards or outwards, or be reversible, when installed into an existing frame.
Most front doors from Wickes open inwards only, but some are reversible and available in either right or left hand opening.
---
Frosted glass
The frosted glass in Vufold Ultimate doors are Argon-filled double glazed units using European Standards-certified low-E toughened safety glass. This offers privacy and security while also looking stylish and modern. Wickes front doors are either glazed or partially glazed with a variety of different glass design options.
---
Insurance-compliant door furniture
As well as optional door frame kits, you can add high-quality ironmongery to your Vufold Ultimate door. This includes a sturdy, strong and insurance-compliant five-lever deadlock that conforms to BS2621 and a satin nickel night latch that complies to BS 8621-2007.
Wickes has the option of fitting a five-lever sash lock to your external wooden doors for additional safety. Others have a chrome-plated or brass-plated Vectis locking system. Their composite doors have Yale Lockmaster locks.
---
What to consider when choosing between Vufold and Wickes front doors
Finishes
When choosing a new front door, you should consider whether you want a door which is fully finished and ready to go, or unfinished so you can add your own touch. However, this option involves extra time and expense, and you may not achieve the final finish you had in mind if you do it yourself.
Composite front doors from Wickes are GRP-finished and their wood doors are unfinished or pre-finished. Vufold Ultimate wooden doors are fully factory-finished with a three-coat high-build microporous wood finishing system.
---
Quality of materials
Front door materials need to be fully compliant with building regulations. Customer reviews are also helpful for understanding how a front door performs in actual homes and whether it warps, swells, allows water ingress, or ripples and splits the veneer. Vufold front doors are 5-star rated and compliant with Part L of the building regulations on energy performance.
---
Delivery
If you're in a hurry, chances are that your door will arrive more securely and quicker with Vufold. Our two-man home delivery service is available within three working days whereas Wickes wooden doors are delivered within seven days or within 27 days from the supplier for a new composite door.
---
Guarantees
Guarantees are an important detail to consider when choosing a new front door for your home, as a guarantee provides extra peace of mind in the door's performance and replacements for faulty parts. Vufold front doors and glazing units are supplied with a 10-year guarantee against manufacturing faults. Wickes wooden and composite doors both have 10-year guarantees.
---
Choosing between Vufold and Wickes front doors
There is a range of factors to consider when finding the right front door for your home, including colour, bespoke services, delivery, glass options, additional accessories, and, of course, your budget. While Wickes provides a range of wooden and composite front doors that are engineered with jointless and core construction for increased resistance, Vufold doors are constructed to a higher standard with better quality materials and offered with a bespoke service.
See our website for our full range of front doors, or get in touch with our expert team for more information.
---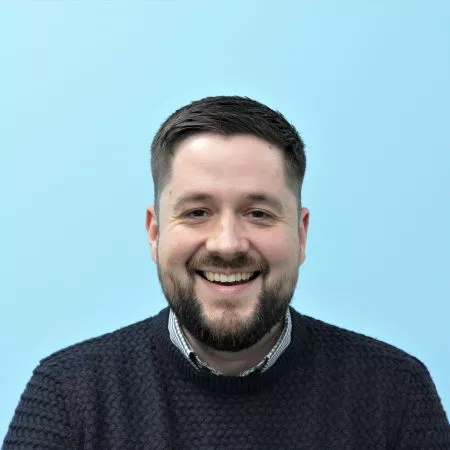 Author:
David Ross - Sales Manager
About David Ross
David has over 20 years' experience in the glazing industry across a variety of roles. He joined Vufold in 2012 and his mission is – 'to make buying windows and doors as easy and stress free as possible'. He is committed to constant improvement and was instrumental in creating our innovative direct-to-consumer e-commerce platform to help grow and expand the business.
Read more about David Ross