Vufold vs Solidor: Comparing composite front doors
Whether you're looking to replace your worn front door, are working on a building project, or simply want to refresh the look of your property, choosing a new front door for your home is not something that ought to be rushed. Factors to consider include door design, colour, materials, energy efficiency, hardware options, security and manufacturing quality.
A composite external door is guaranteed to be strong, durable and incredibly thermal efficient—not to mention stylish and low maintenance. When choosing a new composite door for your home, you should do your research into different suppliers before making your final purchase.
In this article, we'll compare the key similarities and differences between Vufold and Solidor front doors to help you find the perfect composite door for your home. Click on one of the links below to jump to that section:
---
---
Front doors from Vufold and Solidor: Summary
 
Vufold
Solidor
Materials
Insulating foam, laminated veneer lumber and five-layer cross grained hardwood core, hardwood veneer, microporous wood coating.
Composite timber slab, uPVC outer skin.
Size range

1981mm x 762mm
1981mm x 838mm
2032mm x 813mm

Side panels are available to extend the aperture.

Made to measure.
Available finishes
Oak or Ultimate Grey factory finish.
uPVC outer skin is available in 23 colours.
Installation
Recommended being installed by a skilled professional.
Available through local Solidor installers.
Trimmable?
Yes.
N/A
Price
From £479.
POA
Delivery
Within three working days.
Estimate upon enquiry.
Guarantee
10 years against manufacturing faults.
10 years.
Bespoke service?
Yes.
Yes.
---
The main differences between Vufold and Solidor front doors
A key difference between Vufold and Solidor composite front doors is the materials used. Each Solidor composite door is constructed from an engineered timber slab that utilises dense timber on the outside to maximise rigidity and durability, and a lighter timber at the heart to act as an insulator. The doors are then finished with a uPVC plastic skin which protects the door against the elements.
Vufold front doors are constructed from several different layers rather than a single slab. The core of the doors has a laminated veneer lumbar structure which is filled with insulating foam to prevent heat loss. Extra-wide solid hardwood lipping allows for the doors to be trimmed to size. This inner core is covered in a sheet of five-layer cross-grained hardwood, which is incredibly tough and durable. Finally, the door is factory finished with a flexible, three-coat microporous wood finishing in either Natural Oak or Anthracite Grey, and this works to both protect the wood and give a stylish, sleek finish.
Solidor has a large range of colour options available and customers have the opportunity to select one colour on the outside of the door and a different colour on the inside. There are just the two colour options available with Vufold front doors, but we have taken care to choose colours that are incredibly popular with modern homeowners and won't lose their appeal over time.
Solidor also has a variety of glazing and glass design options to choose from, including frosted, decorative, etched and textured. At Vufold, the glass on our doors is frosted 21mm argon-filled double glazing that provides privacy while also letting plenty of natural light in. The range of front doors available to order on our website has been designed to suit current popular tastes and trends, but we also have a bespoke design service should you be looking for a completely unique front door.
---
What to consider when choosing between Vufold and Solidor front doors
Security is an important factor to consider when purchasing a new composite entrance door for your home. The 48mm solid timber core design of Solidor doors provides durability, and the Avantis lock and cylinder guard will go into a lock-down mode when intruders attempt to force entry via the lock. Vufold doors are available with an insurance-compliant night latch, plus a five-lever deadbolt for additional security during the night. Our doors are designed to be incredibly durable and secure thanks to the five-layer cross-grained hardwood exterior.
You'll also want to consider the energy efficiency of a new door. Wood makes for an effective natural insulator, which is why Solidor uses solid engineered timber slabs for its front doors. However, wood is not as effective in limiting heat transfer as manmade materials such as foam. That's why at Vufold we use a unique CLPF core that combines foam insulation with cross-laminated hardwood to provide exceptional levels of energy efficiency as well as strength. Our front doors can help you to keep the heat locked in during the winter months in order to reduce your heating costs.
When planning your dream door, you ought to think about the accessories you'll need to complete the entryway to your home. Both Solidor and Vufold have a range of door furniture to choose from, including handles, letterboxes, post boxes and door viewers.
Finally, be sure to weigh up delivery times when preparing to order a new front door. At Vufold we use a two-man delivery service to get your new door delivered to your home within three working days for free. Solidor does not stipulate their estimated delivery times so if you need a fast turnaround, Solidor is not the ideal solution.
---
Choosing between Vufold and Solidor front doors
Finding a new entrance door for your home should be a process that factors in several key features, including aesthetics, materials, sound and thermal insulation and overall durability. While Solidor has several composite door ranges and numerous colour options to choose from, their variable pricing and long lead times could mean that you not only have to pay more than what you expected, but you could also be waiting a while for your door to be delivered and installed. Vufold front doors are constructed using high-quality, innovative materials, priced in a transparent way and conveniently delivered quickly for free.
Take a look at our customer projects to see our doors in action, or visit our Advice Centre to find the perfect door style for your home or project.
---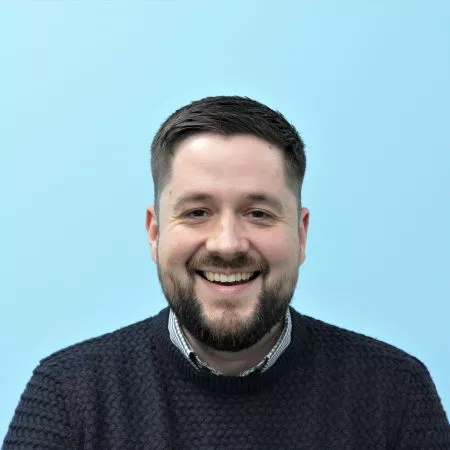 Author:
David Ross - Sales Manager
About David Ross
David has over 20 years' experience in the glazing industry across a variety of roles. He joined Vufold in 2012 and his mission is – 'to make buying windows and doors as easy and stress free as possible'. He is committed to constant improvement and was instrumental in creating our innovative direct-to-consumer e-commerce platform to help grow and expand the business.
Read more about David Ross