Vufold vs Aspire Doors: Comparing wooden front doors
Whether you're looking to refresh your home's exterior, want to improve your property's security, or are building a whole new home and entranceway, choosing the right front door is a big decision. When you first begin the search, be sure to consider carefully which factors are most important to you and your property. Affordability, security, style, longevity and energy efficiency all vary according to the door style and manufacturer.
In this guide, we'll compare Vufold's Ultimate wooden front doors with Aspire Doors' external wooden door range to help you the perfect door for your home or project. Click on one of the links below to jump to that section:
---
---
Wooden front doors by Vufold and Aspire: Summary
 
Vufold
Aspire Doors
Materials
Laminated veneer lumber, insulating foam, five-layer cross-grained hardwood, hardwood veneer.
Engineered timber core, oak veneer.
Size range

1981mm x 762mm
1981mm x 838mm
2032mm x 813mm

Side panels are available to extend the aperture.

1981mm x 762mm
1981mm x 838mm
2032mm x 813mm

Available finishes
Fully factory finished in oak or anthracite grey.
Unfinished.
Installation
Requires advanced joinery skills, so is recommended to be installed by a skilled professional. Touch-up kit, installation manual, hardware, drill bits and fixings provided.
DIY.
Trimmable?
Yes.
Yes.
Price
From £479.
From £275.
Delivery
Within three working days.
Within five working days.
Guarantee
10 years against manufacturing faults.
Two years against manufacturing faults, five years against glass manufacturing faults.
Bespoke service?
Yes.
No.
---
What are the main differences between Vufold and Aspire front doors?
Aspire external front doors provide good durability at an affordable price. The Ultimate range of wooden front doors from Vufold offers high quality and performance, with excellent levels of security and energy efficiency.
Both Aspire and Vufold wooden front doors are finished with a veneer, but their cores are very different. Aspire's doors have an engineered timber core, which gives them a good level of strength and durability. Vufold wooden doors have a unique CLPF core, which combines insulating foam with cross-laminated hardwood to provide high levels of strength and durability while boosting thermal efficiency and reducing heating costs.
Aspire doors are delivered unfinished, which means they must be stained or painted before installation. This allows you to add your own finishing touch but also demands extra time and expense. Ultimate doors from Vufold are fully factory finished with a three-layer microporous wood finishing system that protects the material and gives a chic, smart finish. An installation touch-up kit is provided with the doors so that trimmed edges, if applicable, can easily be refinished before fitting. There are two timeless colour options available for our Ultimate doors: grey, which is incredibly popular with modern homeowners, or oak for a more traditional feel.
Aspire doors with decorative glass have 17mm doubled-glazed argon-filled low-E units, and their frosted glass options use 14mm units. Vufold doors use frosted, 21mm argon-filled double glazing which provides privacy while allowing plenty of light to filter into the home. Plus, our toughened safety glass offers an additional level of security and safety.
All Aspire wooden front doors come with a two-year manufacturing defects guarantee on the doors themselves, and a five-year guarantee against glass manufacturing defects. Vufold Ultimate doors and glazing units come with a 10-year guarantee against manufacturing defaults, which is a testament to the high-quality materials and manufacturing methods that we use to ensure our doors are built to last.
---
What to consider when choosing between Vufold and Aspire wooden front doors
Energy efficiency is a major factor to consider when choosing between different wooden entrance doors for installation in your home. Aspire doors are constructed from engineered timber and oak veneer, and while wood is a fairly efficient natural insulator, it is not as thermally efficient as many manmade materials. Vufold doors have a combination of insulating foam and cross-laminated hardwood. The foam acts as a thermal break in order to minimise heat loss from the home.
Here at Vufold, we pride ourselves on using the best quality materials for the job. We use responsibly sourced engineered hardwood, high-quality 21mm argon-filled frosted double glazing units, and a durable wood coating system to ensure our doors provide longevity and excellent performance. Aspire doors are designed for affordability, which means that lower-quality materials may be used to achieve lower price points.
Aspire doors are sold on their own, without hardware or ironmongery such as handles, locks, letterboxes or door viewers. They also do not come with frames, which makes them best suited to homes where a frame is already in place. Vufold doors are also sold on their own, but our online configuration system ensures you have all the compatible hardware you need for your new door. We also offer frame kits and have a wide range of door furniture available to help you customise your entryway.
Finally, be sure to consider delivery when choosing your front door. Vufold's two-man delivery system will get your door to you for free within three working days, whereas Aspire's delivery window is five working days. Their service is also free.
---
Choosing between Vufold and Aspire front doors
The key differences between Aspire and Vufold are materials, pricing, glazing and guarantees. If you're looking for a simple and unfinished wooden front door, Aspire might be for you. If your budget allows for high-quality materials and construction, as well as excellent energy efficiency and security, opt for Vufold wooden doors. You might also want to consider your door operation options before installation. Our Ultimate doors are designed to open inwards only when fitted into a new frame but can be reversible, inwards or outwards-opening when fitted into an existing door frame.
To find out more about our products and discover the perfect front door for your home, visit our Advice Centre today.
---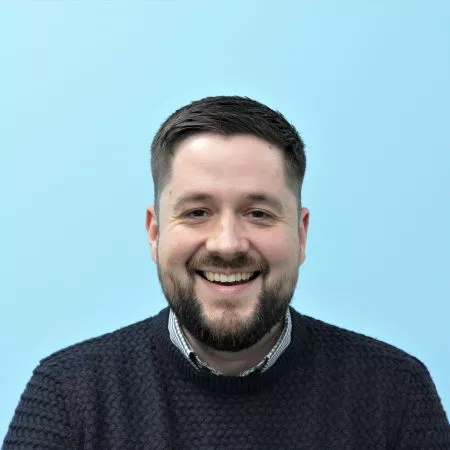 Author:
David Ross - Sales Manager
About David Ross
David has over 20 years' experience in the glazing industry across a variety of roles. He joined Vufold in 2012 and his mission is – 'to make buying windows and doors as easy and stress free as possible'. He is committed to constant improvement and was instrumental in creating our innovative direct-to-consumer e-commerce platform to help grow and expand the business.
Read more about David Ross
---