Vufold vs Anglian: Composite and wooden front doors comparison
A front door is one of the most crucial components of your home's design. The right front door can bring elegance and sophistication, and even revitalise your home's entire aesthetic. Therefore, choosing the right front door is key.
Part of the process of choosing a new front door should include deciding which material you want your door to be constructed from, and which front door supplier to acquire this from. This article will compare Vufold's Ultimate range of wooden front doors with wooden and composite front doors from Anglian, considering the similarities and differences between the products to help you find the best front door for you and your home. Click on one of the links below to jump to that section:
---
---
Front doors from Vufold and Anglian: Summary
 
Vufold
Anglian
Materials
Laminated veneer lumber, insulating foam, five-layer cross-grained hardwood, hardwood veneer.

Wooden: Timber hardwood.

Composite: Timber, uPVC, glass reinforced plastic, foam insulation, steel reinforcement.

 

Size range

1981mm x 762mm
1981mm x 838mm
2032mm x 813mm

Made to measure.
Available finishes
Fully factory-finished Anthracite Grey or Natural Oak.

Wooden: 200 colours available.

Composite: 30 colours available.

Thermal efficiency
U-value of 1.6 (when fitted with optional door frame kit).
Wooden: U-value of 1.8. Composite: U-value of 1.5-1.8.
Security
Insurance-compliant five-lever deadlock, satin nickel night latch and stainless steel ball-bearing hinges available.
Wooden: Yale three-star cylinder lock. Composite: Ultion three-star cylinder lock.
Price
From £479.
No standard pricing. Quote given on home evaluation.
Delivery
Within three working days.
Depends on the custom door. Can take weeks to deliver.
Guarantee
10 years against manufacturing faults.

Wooden:

10 years for the door.
15 years for sealed units.

Composite:

10 years for parts and labour.
Five years for hardware.
Five years for Ultion cylinder locks.

Bespoke service?
Yes.
Yes.
---
The main differences between Vufold and Anglian front doors
Colour options
Anglian offer over 200 colours for their wooden doors and over 30 composite door colour options, as well as the option to have a different colour on the inside and outside. Vufold Ultimate wooden doors are available in two classic colours: Anthracite Grey and Natural Oak.
---
Thermal efficiency
A composite door from Anglian will have a U-value of 1.5-1.8, and a timber hardwood door will have a U-value of 1.8. Ultimate wooden front doors from Vufold have a U-value of 1.6, meaning that you are likely to have much less energy loss with an Ultimate door and, as a result, will notice much better savings on your energy bills.
---
Sizing
Vufold doors are available in a selection of standard sizes but some are also trimmable by 40mm height and 24mm width for easy replacement in existing door frames. Anglian do all of their sizings by the individual customer in a made-to-measure service. Despite the benefit of having an exact fit, this means that the process of planning, choosing the design, getting a quote, having the new door made then delivered and installed will take significantly longer.
---
Pricing
The price range of our Ultimate doors starts at £489 for the Oslo door, up to £2299 for the Malmo 2.24m which is a complete door set that includes the door, sidelights, frame and fitting kit. Quotes for Anglian doors are on a case by case basis and are dependent on a home evaluation. This means that Anglian wooden and composite doors could require a larger budget than Vufold Ultimate doors, which have a more transparent pricing system.
---
What to consider when choosing between Vufold and Anglian
Materials and finishes
Front doors can be manufactured from a variety of different materials, each with their own strengths and weaknesses that you should research before making your final purchase decision. You should also think about the door style and finish you want, including whether you want a brighter, more contemporary aesthetic or a traditional look of natural wood.
Vufold Ultimate doors have a more stylish natural wood appearance than Anglian hardwood doors, and offer greater strength, security and thermal efficiency due to their innovative construction which is compliant with Part L of the Building Regulations on energy performance.
---
Security
This relates to both the quality of the materials used (see above) as well as the security accessories included (see below). Vufold Ultimate doors are available with an insurance-compliant five-lever deadlock which adheres to BS2621 and night latch conforming to BS 8621-2007. Wooden doors from Anglian are fitted with BSI-approved Yale three-star cylinder locks, and their composite doors are fitted with Ultion three-star cylinder locks.
---
Glass options
When choosing a new front door, consider whether you want side panels (one or two, full or half) as well as the glass design options for the door itself. Vufold Ultimate doors have frosted, 21mm argon-filled, double glazed units that use low-E toughened safety glass which is European Standards-certified. Anglian have a range of decorative glass options, or you can create your own.
---
Accessories
Whether you opt for a wooden or composite door, you will need to think about how you can personalise it with optional extras and accessories like ironmongery. You will find a wide range of door furniture available from both Vufold and Anglian, including door handles, letterboxes and hinges. Vufold front doors are also available with night latches, door viewers and post boxes.
Wooden doors from Anglian are available with door knockers, handles and letter places in gold, chrome or black. Their composite doors have these accessories in additional colours including white, as well as different styles depending on the range.
---
Frequently asked questions
Why choose a wooden front door?
A wooden front door design has a classic, natural aesthetic which compliments the exterior of any home. The responsibly sourced engineered hardwood interspersed with insulating foam used for Vufold Ultimate doors provides excellent durability, security and thermal efficiency.
What are the benefits of choosing front doors with glazing?
Glazing not only increases the door's aesthetic value but also improves thermal efficiency. Glazed front doors allow natural light to stream into the home, which is ideal for hallways that are particularly dark.
What is included in a Vufold wooden front door set?
Vufold front door sets come with the door of choice, chosen handle, and panel/sidelight options if required.
---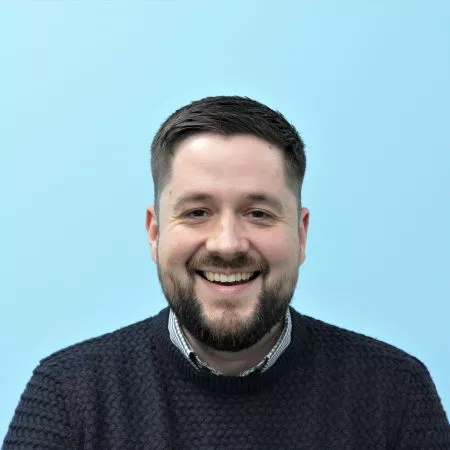 Author:
David Ross - Sales Manager
About David Ross
David has over 20 years' experience in the glazing industry across a variety of roles. He joined Vufold in 2012 and his mission is – 'to make buying windows and doors as easy and stress free as possible'. He is committed to constant improvement and was instrumental in creating our innovative direct-to-consumer e-commerce platform to help grow and expand the business.
Read more about David Ross
---